03/13/2018
7-Eleven Gives Consumers 7 Million Reasons to Join 7Rewards Program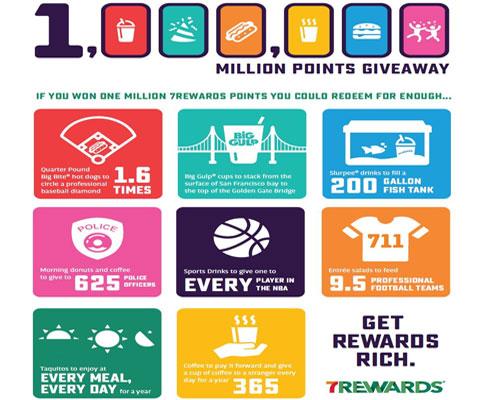 IRVING, Texas —The Million Points Giveaway Sweepstakes is giving consumers more reasons to sign up for the 7-Eleven Inc. 7Rewards loyalty program.
Seven winners will get "rewards rich" by winning 1 million 7Rewards points each, redeemable to buy food and drinks at participating locations, the convenience store retailer announced. Customers can unofficially earn "Pointillionaire" status, giving them an abundance of reward points and 7-Eleven products at their disposal.
The sweepstakes runs through April 28 and winners will be drawn weekly.
The Million Points Giveaway coincides with the recent 7Rewards loyalty platform enhancement that adds a points-based loyalty program. Now, consumers can easily earn points on almost everything they buy. The in-app menu is designed to provide the customer with what they want as it is curated with their favorites, according to 7-Eleven.
"Our strategy to make every customer's interaction with 7-Eleven valuable and delightful just got bigger and better. The enhanced 7Rewards app gives customers more ways to earn and redeem points in order to get free stuff," said 7-Eleven Chief Digital Officer and Chief Information Officer Gurmeet Singh.
Giving away a million points each week gets our customers excited — just like the new 7Rewards points program grabbed their attention. Since the launch, we've gone from 9 million members to over 12 million and counting.
The enhancements to 7Rewards are key aspects of a companywide initiative to create greater customer engagement by personalizing the customer experience, both in-store and through digital technologies. 7‑Eleven updated the app specifically to make their customers' experiences in and out of the store even more enjoyable, the company stated.
One million points could earn 7Rewards members approximately:
1,250 medium Slurpee drinks;

833 Big Bite hot dogs; or

500 Melt sandwiches.
Million Points winners can redeem their points instantly on any eligible product. Items listed in the app include: hot and cold beverages and sandwiches; fresh and packaged bakery; snacks; candy and more. Customers must be registered to redeem their rewards.
To enter the sweepstakes, customers scan their personal barcode in the 7-Eleven mobile app when checking out. The purchase of a featured product earns an extra entry. 7Rewards members can scan the app to enter up to six times a day, or 42 times per week. The entry period starts over each week.
In addition to scanning the app, customers can use their registered loyalty card or the barcode obtained by messaging the 7-Eleven Chat Bot on Facebook Messenger.
Experience-of-a-lifetime prizes include:
Week 1, March 11-17: Round-trip airfare for two to Sonoma, Calif.
Provided by Monster, the trip includes hotel accommodations for two nights, two Hot Pass tickets to Sonoma Raceway, ground transportation to and from the event, and $500 spending money. The average retail value (ARV) is $3,330.
Week 2, March 18-24: Racing experience in Austin, Texas
Provided by 7-Eleven, the trip will take place Oct. 19-21, and includes round-trip airfare, hotel accommodations for three nights, and two VIP track passes. The ARV is $3,500.
Week 3, March 25-31: Tickets to Men's Division 1 Basketball weekend in Minneapolis
Provided by Reese's, the trip will take place April 6-8 and includes two tickets to the Men's Final Four Basketball Championship (includes three games) and $5,000 spending money. The ARV is $5,750.
Week 4, April 1-7: Live music experience in Miami
Provided by Pandora, the trip in June includes round-trip airfare, hotel accommodations for two nights, two VIP passes to a live event, ground transportation and spending money. The ARV is $5,000 each.
Week 5, April 8-14: Home media room giveaway
Provided by Coca-Cola, the winner will receive a $3,000 gift card toward media room seating and a $3,000 gift card for use toward media room electronics. The winner will also get unlimited streaming movies for one year, Coca-Cola 2-liter and 7-Eleven pizza for one year, a Postmates gift card, four framed movie posters, and Coca-Cola-branded kettle corn popcorn maker, collectible mini fridge, plaid blankets and double-walled tumblers. The ARV is $8,148.
Week 6, April 15-21: Tickets to 2019 Pro Football event in Orlando, Fla.
Provided by PepsiCo, the trip will take place Jan. 27 and includes round-trip airfare, hotel accommodations for four nights, two tickets to pro football event, two tickets to a theme park, ground transportation and spending money. The ARV is $4,750.
Week 7, April 22-28: Paris excursion
The trip for two is provided by Perrier and includes round-trip airfare, hotel accommodations for four nights and $500 spending money. The ARV is $7,600.
Customers can also earn bonus points on select items as well as receive digital coupons. When 7Rewards members buy a participating item, a digital coupon is automatically applied during checkout.
There is no purchase necessary to enter the Million Points sweepstakes. Odds depend on the number of entries received. The sweepstakes is open to legal residents of the 48 contiguous states who are 18 years of age. It will end at 11:59:59 p.m. EST on April 28. Multiple entry deadlines and drawing dates apply. 
Irving-based 7-Eleven operates, franchises and/or licenses more than 65,000 stores in 18 countries, including 11,600 in North America.