7-Eleven Hopes to Strike Gold With New Limited-Time Beverage
Get great content like this right in your inbox.
Subscribe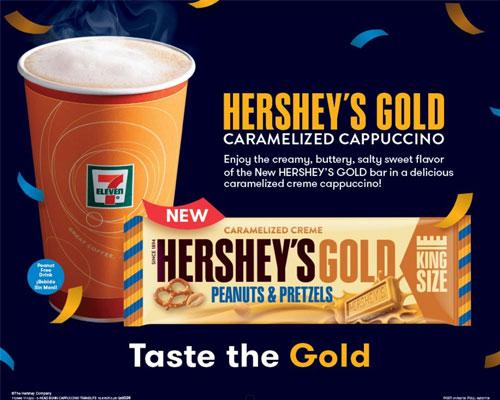 IRVING, Texas — 7-Eleven Inc. has struck gold with its new, exclusive Hershey's Gold caramelized crème cappuccino.
The new 7-Eleven Hershey's Gold cappuccino mimics the rich buttery salty sweet taste of its namesake candy, according to 7-Eleven, adding that it began working months before the new candy bar launched to develop the exclusive flavored cappuccino.
"When Hershey approached us about creating a new cappuccino drink flavored like a delicious new candy bar, we jumped on board," said Shawn Barnes, 7-Eleven senior category manager. "Our customers choose 7-Eleven cappuccino and hot chocolate drinks to treat themselves, and our goal is to offer rich, decadent flavors you can't find anywhere else. Hershey's Gold is exactly that, and people love it — both as a candy bar and a cappuccino."
The introduction of the limited-time hot beverage comes on the heels of the launch of Hershey's Gold bars, The Hershey Co.'s first candy bar launch in 20 years. Coining it "the fourth flavor of Hershey bars," Hershey describes the new confection as creamy and crunchy, salty and sweet. The golden-colored bar is a mix of buttery-sweet caramelized crème and crunchy bits of pretzels and peanuts.
The confectionery bars hit 7-Eleven store shelves in December and has become one of its top-selling candy offerings, according to the convenience store retailer. They are available in standard and king-size options at participating 7-Eleven stores.
Now through Feb. 28, shoppers can get a free Hershey's Gold standard bar with the purchase of two standard bars at participating c-stores.
Based in Irving, 7-Eleven operates, franchises and/or licenses more than 65,000 stores in 18 countries, including 11,600 in North America.