7-Eleven Partners with Dr. Pepper on KISS Cups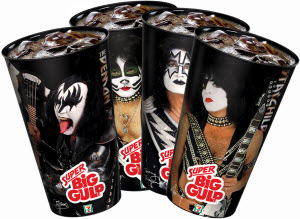 LOS ANGELES -- 7-Eleven customers will be able to collect four Super Big Gulp cups bearing the likeness of one of the members of KISS, an American rock bank currently on tour across North America. The cups are available in participating U.S. 7-Eleven convenience stores this month through the band's partnership with Dr Pepper.

"KISS has a huge following, and the legendary rockers' appeal cuts across generations," said 7-Eleven vice president and CMO, Rita Bargerhuff, in a statement. "For 7-Eleven to provide these special cups in September while the band is on its concert tour will be a bonus for baby boomer, Gen X and millennial fans."

Each of the black cups features an individual close-up of a band member in signature black and white make-up. Ross von Rosenberg, art director at TPN, part of the FreshWorks consortium of agencies serving 7-Eleven, spoke of the style he used to create the new cups: "I used metallic ink and rock-and-roll style graphics to emphasize the heavy metal aspect of these cups and make KISS appear larger than life. And really, I just wanted them to look as awesome as a face-melting KISS guitar solo sounds."