AAA: 48.5 Million Americans Planning a Thanksgiving Road Trip
Get great content like this right in your inbox.
Subscribe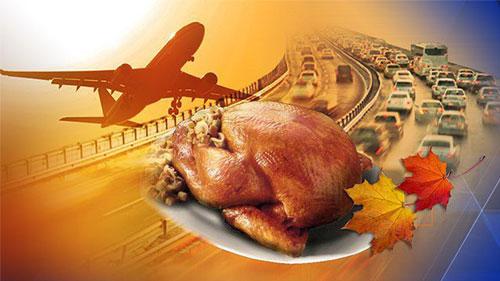 ORLANDO, Fla. — This Thanksgiving, 54.3 million Americans will journey 50 miles or more away from home, a 4.8-percent increase over last year, according to projections from AAA.
The Thanksgiving holiday period is defined as Wednesday, Nov. 21 through Sunday, Nov. 25.
This year's holiday weekend will see the highest Thanksgiving travel volume since 2005, with 2.5 million more people taking to the nation's roads, skies, rails and waterways compared to last year. 
"Consumers have a lot to be thankful for this holiday season: higher wages, more disposable income and rising levels of household wealth," said Bill Sutherland, AAA Travel senior vice president. "This is translating into more travelers kicking off the holiday season with a Thanksgiving getaway, building on a positive year for the travel industry."
According to AAA, Thanksgiving travel forecasts by the numbers are:
Automobiles: Approximately 48.5 million will drive this Thanksgiving, which is nearly 5 percent more than in 2017.
Planes: The largest growth in holiday travel is by air, increasing 5.4 percent, at 4.27 million travelers.
Trains, buses and cruise ships: Travel across these sectors will increase by 1.4 percent, with a total of 1.48 million passengers.
Other findings include:
Travel Times
AAA and global transportation analytics company INRIX predict drivers will experience the greatest amount of congestion Thanksgiving week during the early evening commute period, with travel times starting to increase on Monday, Nov. 19. Drivers in San Francisco, New York and Boston will see the largest delays — nearly quadruple normal drive times.
"Thanksgiving is one of the busiest holidays for road trips, and this year will be no different," said Trevor Reed, transportation analyst at INRIX. "Knowing when and where congestion will build can help drivers avoid the stress of sitting in traffic. Our advice to drivers is to avoid commuting times in major cities altogether or plan alternative routes."
INRIX also expects that delays getting to the nation's busiest airports could be as long as an hour and a half.
Gas PRICES Won't Slow Down Holiday Drivers
Drivers will pay the highest Thanksgiving gas prices in four years, with a national average of $2.79 as of Nov. 1. That average is 31 cents more than a year ago.
"Motorists have become accustomed to this year's more expensive gas prices and won't let higher fuel costs deter them from taking Thanksgiving road trips," said Jeanette Casselano, AAA's gas price expert.
Best Time to Buy
An analysis of AAA's flight booking data from the last three years revealed that the Tuesday and Wednesday prior to Thanksgiving are usually the most popular air travel days and have the highest average price per roundtrip ticket. Meanwhile, Thanksgiving Day consistently has the lowest average price per ticket and is the lightest travel day.
Most travelers booked their flights for Thanksgiving between Sept. 23 and Oct. 25, paying an average ticket price of $478 roundtrip. Procrastinating travelers who still need to book their flights may find cheaper airfares, paying an average ticket price of $459 between Nov. 8 and Nov. 15, according to AAA.
Travel Destinations
Many travelers will seek iconic American cities, theme parks and other warm-weather destinations this Thanksgiving. 
Orlando, New York and Anaheim, Calif., lead this year's top 10 holiday destinations based on AAA's online and travel agency air and tour bookings. 
Punta Cana, Dominican Republic; Dallas/Fort Worth; and Miami are also gaining popularity as holiday spots compared to last year.
The top 10 travel destinations this Thanksgiving are:
Orlando

New York

Anaheim

Punta Cana

Las Vegas

Cancun, Mexico

Dallas/Fort Worth

Honolulu

Washington, D.C.

Miami