AAA Fuel Gauge Report: Gas Price Declines May Not Last
WASHINGTON, D.C. – The national average price for regular gasoline fell 2 cents to $3.61 per gallon this week and has declined for 15 of the last 17 days, according to the latest AAA Fuel Gauge Report. This is 14 cents more than one month ago, but comparable year over year.
On July 17, the national average price was a quarter higher than one year ago, but 20 days later, the year-over-year premium has dropped to less than half a cent. If the national average drops below last year's price, it will mark the first time since June 1 that drivers will enjoy a yearly savings at the pump.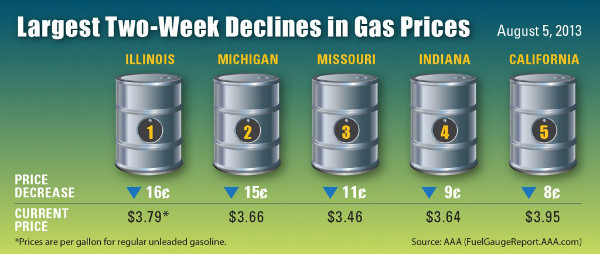 Despite this, the national average as of Aug. 5 was the third highest on record for the calendar day, following $3.87 in 2008 and $3.70 in 2011.
Gas prices dropped just over a penny during the first five days of the month. The national average in August declined 5.9 cents in 2010 and 8.9 cents in 2011, but rose 33 cents in 2012. Gas prices may increase in the coming weeks due to potential late-summer hurricanes and ensuing refinery problems, AAA predicted.
However, if no major hurricanes threaten the Gulf Coast and refineries continue to run smoothly heading into the mid-September transition to winter-blend fuel, gas prices could remain flat or even decline further, AAA predicts.
Drivers are paying less at the pump than they did one week ago in all but 10 states in the Mountain, Central and Midwest regions. Midwest states, in particular, continue to experience rollercoaster pump prices, including Michigan and Indiana, which have posted weekly price increases but also rank near the top of the largest two-week declines in the country, according to the report.