Aloha Island Mart Earns Hawaii's Retailer of the Year Recognition
Get great content like this right in your inbox.
Subscribe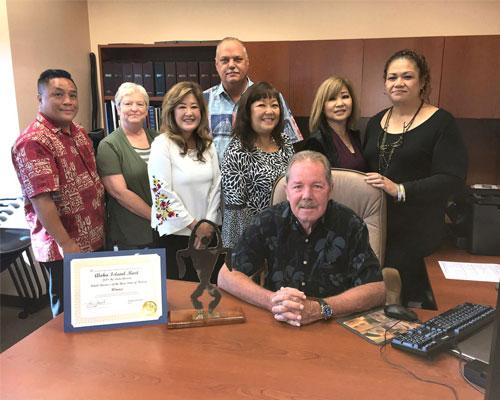 HONOLULU — Aloha Island Mart was named winner of the 2018 Ho'okele Award for Retailer of the Year for the State of Hawaii.
Presented annually by the Retail Merchants of Hawaii, the Ho'okele Awards honor an outstanding business that contributed to the success and vitality of the retail industry by serving the community and earning respect from their peers.
"We are so proud to be recognized as the 2018 Retailer of the Year for the State of Hawaii," said Gary Altman, general manager of company-operated stores for Aloha Petroleum Ltd. "This award reflects the great attitude and commitment of our convenience store employees who provide our customers with the highest levels of excellence, innovation, and aloha spirit."
In its nomination, Aloha Island Mart was recognized for understanding the local market, listening to its customers and supporting the community, as demonstrated by the following:
Over the last several years, Aloha Petroleum renovated a number of its Aloha Island Marts to better serve customers. Aloha Island Mart's new look combines traditional Hawaiian architectural elements with modern design features. The result is an attractive and functional convenience store that enhances the customer shopping experience and reinforces the iconic brand and deep local roots, according to the company.


 

Aloha Island Marts was the first retail business in Hawaii to adopt the 

Department of Health's "Choose Healthy Now" project, which increases consumer access to healthy food and beverages by labeling healthier items at the point-of-decision.


 

Invested in the community, Aloha Island Mart engages customers in fundraising for local nonprofit organizations through an in-store canister collection program. In the last year alone, these fundraisers raised more than $60,000 for Hawaii organizations, including American Red Cross, Make-A-Wish Hawaii, Boys and Girls Club and the American Heart Association, among others, through customer donations and matching funds.
Aloha Petroleum is one of the largest gasoline marketers and convenience store operators in Hawaii, and markets through approximately 100 Shell, Aloha and Mahalo branded fueling stations and 50 Aloha Island Marts, four Menehune Food Marts, three Subways and four Dunkin' Donuts restaurants.