Altria's E-Cigarette Will Hit Indiana Market in August
NEW YORK -- The Altria Group Inc.'s Nu Mark LLC subsidiary will have a busy second half this year, launching the MarkTen electronic cigarette and expanding distribution of its Verve disc.
The products coming out of Nu Mark meet Altria's goal to focus on changing portfolios to meet the changing demands of adult tobacco consumers, Altria's Chairman and CEO Marty Barrington said during the Richmond, Va.-based company's Investor Day in New York this morning.
Citing government data, Barrington said there are 66 million adult consumers across all tobacco products -- with 44 million cigarette smokers and 7.5 million smokeless tobacco users. In addition, 50 percent of adult consumers say they are interested in innovative products.
Nu Mark will take a step to further fulfill that interest when it rolls out MarkTen in a lead Indiana market in August, Barrington said. No date has been set for a national rollout.
The e-cigarette category is growing, but it is coming off a small base. While trial is there, existing products often don't meet adult consumers' expectations, the chief executive said.
"In our view, the category is in the early stages and time will tell how it will evolve," Barrington explained. "We also believe now is the appropriate time to enter the category."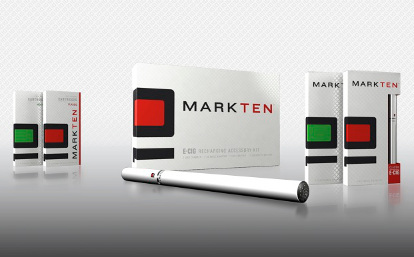 MarkTen will be available in two varieties: classic and menthol. Unlike existing products on the market, MarkTen can be used as either a disposable e-cigarette or a rechargeable e-cigarette. If an adult consumer chooses to use it as a rechargeable product, they would need to purchase additional cartridges and charging accessories.
Retailers will decide the price, but the company believes it will sell for around $9.50.
MarkTen's target audience is adult cigarette smokers and adult vapor consumers. The product makes no health claims and will include a warning on the package, Barrington said.
"These are the early days of the electronic cigarette category. The question really is: What is the category going to be tomorrow?" Barrington said. "Because it is so early, it is hard to know that."
It is also too early to talk margins. The tobacco space generally enjoys good margins, but several issues come into play with electronic cigarettes: excise taxes, regulatory changes and how many consumers will actually migrate to e-cigarettes. He said the company will be at the table when these issues are sorted out.
"We are a market leader and we intend to act like a market leader," Barrington stated.
As for Verve, which hit the shelves in 60 Virginia stores in August, Nu Mark will expand distribution to 1,200 stores in the state during the second half of this year. Verve, a tobacco-less nicotine disc, will be available in these additional locations as an improved product, with enhanced marketing based on response from the initial test stores.