10/26/2017
Amazon Joins Walmart in Offering In-Home Delivery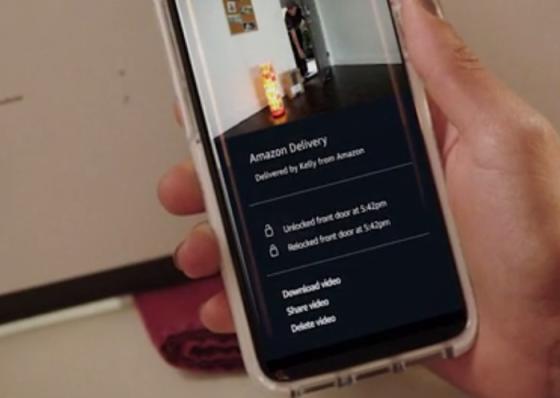 SEATTLE — Amazon's latest effort to disrupt the retail industry comes in the form of a new in-home delivery service available exclusively to members of its Prime program.
Amazon Key, which will become available to Prime members in 37 U.S. cities Nov. 8, enables delivery of Amazon.com products into the homes of customers.
The e-retailer hopes to give its customers a safe and secure way to receive packages when they are unable to accept them in person. Amazon Key will roll out to additional markets over time.
While the in-home delivery comes at no extra charge to Prime members, it does require the purchase of the Amazon Key In-Home Kit, priced at $249.99. The kit comes with an Amazon Cloud Cam unit and one of several compatible smart locks. Customers can either install the kit themselves or have a professional do so with no service fee.
With the Amazon Key app, customers will be able to track the deliveries in real-time, and even watch live as the delivery occurs via the Amazon Cloud Cam. The delivery also can be reviewed on the app after the delivery has taken place.
Other security safeguards include Amazon verifying that the correct driver is at the correct order's corresponding address using an encrypted authentication process before granting access into the customer's home. Customers can also set the frequency and length of time a delivery person has access to their home.
"Amazon Key gives customers peace of mind knowing their orders have been safely delivered to their homes and are waiting for them when they walk through their doors," said Peter Larsen, vice president of delivery technology at Seattle-based Amazon. "Now, Prime members can select in-home delivery and conveniently see their packages being delivered right from their mobile phones."
Walmart has been testing a similar service in Silicon Valley, partnering with smart-lock provider August Home. If no one responds to the doorbell at the time of delivery, a one-time pre-authorized code is sent to the driver, who can then make an in-home delivery that's captured via a security system and able to be viewed by the customer. The big-box retailer is using Menlo Park, Calif.-based same-day delivery provider Deliv for the pilot program.
With Amazon Key, access requires neither keys nor codes. This will allow Amazon to roll out integrations with additional service providers that their customers would also be able to allow into their homes, including home cleaning service Merry Maids and pet sitting and walking service Rover.com. There are currently more than 1,200 services from providers in the Amazon Home Services network.
"Amazon continues to carve out its niche as more than just a retailer," said Tushar Patel, chief marketing officer of Kibo, a Dallas-based omnichannel solutions provider. "It's a way of life, and one that encompasses the spirit of personalization."
To read the full story, visit Convenience Store News' sister publication Progressive Grocer.