09/18/2018
Amazon Opens First Amazon Go Store Outside Seattle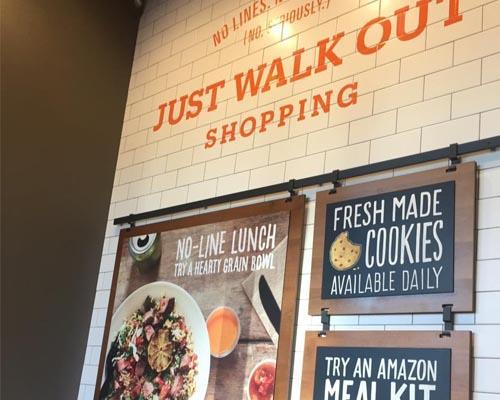 CHICAGO — Amazon Go is on the move across the country, landing in the Windy City.
The retail giant opened the doors on its latest cashierless location in Chicago on Sept. 17. The 2,000-square-foot store will be open from 7 a.m. to 8 p.m. weekdays at 113 S. Franklin St., on the first floor of the complex where Amazon's Chicago office is located, according to the Chicago Tribune.
It is Amazon's fourth Amazon Go and the first outside of Seattle, its hometown. The first store welcomed customers in January.
Similar to the other three locations, customers scan the Amazon app on their smartphones upon entering the store. The store uses "Just Walk Out Technology," which relies on cameras and sensors to track what shoppers remove from shelves and what they put back. Customers are billed after leaving the store using credit cards on file.
Answering critics who fear the technology will allow Amazon to run stores with fewer employees, Gianna Puerini, vice president of Amazon Go, said getting rid of traditional checkout wasn't about eliminating workers, but rather getting rid of part of the brick-and-mortar shopping experience most customers wouldn't miss.
"I don't know a ton of people who say, 'I love the part where I wait in line and they ring up all my stuff,'" she told the news outlet.
She declined to say how many people the store employs, but she said Amazon Go still needs workers to take deliveries, stock shelves and help customers.
The Chicago Amazon Go offers a product mix of pre-made sandwiches, salads and snacks alongside traditional convenience store items. Some fresh items, delivered daily, are made by Amazon off site and some are prepared by local companies like Fairgrounds, Farmer's Fridge and I Love Sweets.
Hot prepared food is not available; however, the store features ready-to-heat items and two on-site microwaves. It also sells two-person meal kits to take home.
While other companies are testing checkout-free concepts, Dilip Kumar, vice president of technology for Amazon Go and Amazon Books, told the Chicago Tribune that Amazon wanted to find a way to do it without any extra steps on the customer's part
"Every time we have removed a little bit of friction, it has always paid dividends," he said.