Checkout-Free Amazon Go Store Finally Opens to the Public
Get great content like this right in your inbox.
Subscribe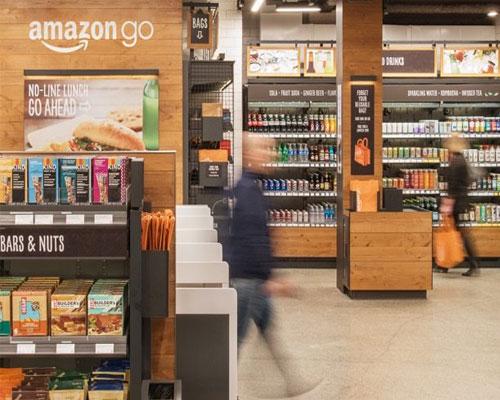 SEATTLE — After a year of testing, Amazon Inc. has opened its checkout-free grocery store concept to the public.
Located at 2131 7th Ave. in Seattle, Amazon Go is a roughly 1,800-square-foot store that uses "Just Walk Out Technology," relying on cameras and sensors to track what shoppers remove from shelves and what they put back. Customers are billed after leaving the store using credit cards on file.
According to the ecommerce retailer, in order to shop at Amazon Go, all customers need is an Amazon account, the free Amazon Go mobile app, and a recent-generation iPhone or Android. When they arrive, they use the app to enter the store, "then feel free to put your phone away — you don't need it to shop. Then just browse and shop like you would at any other store. Once you're done shopping, you're on your way! No lines, no checkout," the company said on its website.
Amazon Go offers ready-to-eat breakfast, lunch, dinner and snack options made by company chefs and local kitchens and bakeries; a selection of grocery essentials ranging from staples like bread and milk to artisan cheeses and locally made chocolates; and chef-designed Amazon Meal Kits that includes all ingredients needed to make a meal for two in about 30 minutes.
Aside from the checkout process, much of the store will feel familiar to shoppers, as Amazon has printed price tags just as traditional brick-and-mortar stores do, Reuters reported. Associates available in the store work in the kitchen to prep ingredients, make ready-to-eat food, stock shelves and help customers. An additional associate is stationed at the store's wine and beer section to check IDs.
The convenience-style store opened to Amazon employees only on Dec. 5, 2016, in a test phase. At the time, Amazon said it expected members of the public to begin shopping the store in early 2017. However, the retailer faced challenges along the way, like correctly identifying shoppers with similar body types, and children moving items to incorrect places.
Gianna Puerini, vice president of Amazon Go, said in an interview that the store worked very well throughout the test phase, thanks to four years of prior legwork. "This technology didn't exist. It was really advancing the state-of-the-art of computer vision and machine learning," she noted.
The ecommerce giant did not discuss if or when it will add more Amazon Go locations, and reiterated it has no plans to add the technology to the larger and more complex Whole Food stores it acquired last year, reported Reuters.