Artemis Enters C-store Industry With First Acquisition
HILTON HEAD, S.C. -- Artemis Acquisition Corp., a holding company, has acquired Travel Center Partners Inc., including its four convenience stores, one quick-service restaurant (QSR) and a car wash. Artemis executives exclusively told CSNews Online that this is just the beginning for the company, as it plans to build and acquire many more c-stores, gas stations and QSRs in the future.
Artemis, which closed the transaction on Dec. 31, now operates the locations under a new Travel Center Partners subsidiary. The acquired assets include: Bluffton, S.C.-based Ultimate Car Wash & Family Market, which also features an EV PEP electric charging station; Bryan's Country Store/U-Haul Rental in Hardeeville, S.C.; 1780 Country Store/C-Store in Hardeeville, S.C.; EZ Mart truck stop and the attached 24 Hour Grill in Rincon, Ga; Dairy Queen in Bluffton, S.C.; and Neighbors Full Service Car Wash in Bluffton, S.C. Two of the c-stores sell gasoline under the Shell banner, one is branded Texaco and the fourth sells unbranded gasoline.
Artemis President and Chairman Pete Iodice, who founded Travel Center Partners in 2011, told CSNews Online that the company is currently negotiating to purchase another c-store and gas station in Hilton Head, S.C., and is conducting about 20 more negotiations in the industry.
"The reason we purchased the particular c-stores we did is because they fit the business model I've had for 25-plus years," Iodice explained. "I always try to find underperforming stores where I think the problems can be corrected."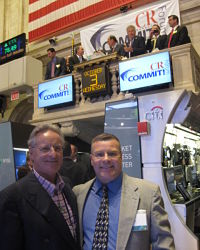 Pete Iodice and Robert Nash
recently rang the closing bell
at the NYSE Euronext Inc.

CSNews Online was the first to report on Travel Center Partners' creation. A July 2011 story detailed Iodice's plans to make Travel Center Partners a subsidiary of a holding company that would own more than 50 independent c-stores and be publicly traded on the NASDAQ small market capitalization exchange. Since then, Iodice and his partners purchased the Artemis name because it was already a fully reporting Securities and Exchange Commission (SEC) company, as a non-valued "shell" company.
"That took about four or five [hurdles] out of about 10 hurdles you have to cross to become a publicly traded company," he said.
To date, the company has fielded more than 100 calls from single-store owners who were having difficulty receiving bank financing during the difficult post-recessionary period.
"We have a list of c-stores that are ready to sell their business or are seeking an equity partner," Iodice said. He stressed that the underperforming locations the company now operates have already been turned around significantly, with 20 percent or more in sales increases since it took over operations. Iodice added that Artemis will purchase other convenience stores with similar underperformance issues.
"Most underperforming stores have common denominators," he said. "Some things really stand out. One problem I see over and over again is a person enters the convenience store business thinking it is a lot easier than it actually is. They discover it's a very hard, 24/7 business and they get burnt out quickly and subsequently underfund the business. We can correct that by bringing in the proper management and returning the proper morale to the store."
Artemis' four c-stores are all full-service locations with high-margin foodservice operations, including one site that is home to a Krispy Krunchy Chicken location. "Every one of our locations has a freestanding restaurant or a QSR, expect for our standalone car wash [of course]," said Robert Nash, senior vice president of Artemis and Travel Center Partners.
FUTURE GOALS
Looking ahead, Iodice believes the holding company can build two new c-stores per year for the next five or six years, and conservatively acquire anywhere from four to six stores a year. "My target is to build one new store and acquire four to six each year," he relayed. "I always try to be somewhat cautious when you speak about the future because you never know." 

Artemis plans to build and acquire stores only in the Southeast, but the holding company will expand beyond its current base of South Carolina and Georgia. It is actively seeking acquisitions from Virginia all the way to Florida. "We may even branch out into Alabama," said Iodice. "I don't think we will be able to go much further than that. But it's important to note that we don't want to limit ourselves. If there is a great acquisition that meets our business model outside of our region, we will seriously look at it. But our focus will be the Southeast for the next three or four years."
The company completed its 8K filing with the SEC on Jan. 8. Being a publicly traded company will provide many advantages, Iodice noted. "No. 1, you can use your stock as currency. No. 2, we can award all associates who work for us part-ownership in the operation in which they are working. No. 3, I can also give the award of stock appreciation to the management team and executive management team who helped the company become public. Fourth, we can offer some of the less fortunate the ability to own some of our stock through charitable donations, so we can be good citizens," he said.
Iodice is no stranger to taking companies public. He has taken two retail companies public in the past, both of which were purchased by larger competitors at a later date. This marks the first time, however, that he has taken a holding company public.
For more information on Artemis Acquisition Corp. and Travel Center Partners Inc., contact Robert Nash at (315) 652-2274 or visit the company's website at http://artemisacquisitioncorp.com.