Austin Corner Store Transforms Into Formula One Pit Stop
AUSTIN, Texas -- Formula One (F1) racing is making one pit stop in America this year at the U.S. Grand Prix, which will take place here at the Circuit of Americas track Nov. 15-17. To celebrate the circuit's arrival, Red Bull North America and the Corner Store chain have teamed up to give customers at one store their own F1 racing experience.
As customers arrive at the Corner Store at 6306 Riverside Drive in Austin, they are greeted with red and white bumpers that mimic an F1 track. Each fuel pump has been turned into a miniature pit stop, with life-size photos of Infiniti Red Bull Racing drivers Mark Webber and Sebastian Vettel. Even Corner Store's employees are wearing Infiniti Red Bull Racing hats as they greet customers.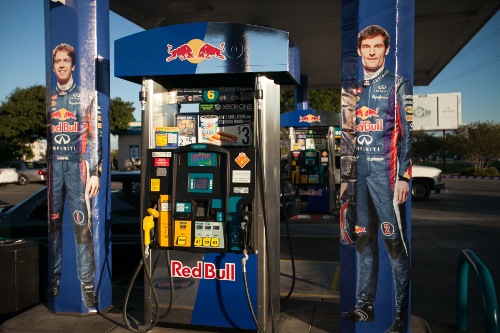 "Since Austin hosts the only F1 race in America, we wanted to bring the buzz and excitement of the international circuit to our customers there," said Kim Bowers, CEO of CST Brands Inc., the parent company of Corner Store.
The Riverside Drive store's takeover will run through November, according to the c-store retailer. In addition, all Corner Store locations throughout Austin, as well as those in Dallas and San Antonio, will feature Infiniti Red Bull Racing-branded coolers and in-store point-of-purchase materials.
The Formula One circuit spans five continents and has a worldwide audience. The circuit consists of 11 teams who compete with two drivers capable of reaching speeds of nearly 200 miles per hour for up to two hours, yielding horsepower in the 800 range and managing forces in excess of 4G as they round corners.
Infiniti Red Bull's drivers have a range of accomplishments. Webber has achieved nine wins, 39 podium and 12 pole positions, while Vettel secured his fourth straight F1 world title last month in India. Vettel is the youngest driver to win four titles and only the fourth man in history to do so.
CST Brands operates more than 1,000 c-stores in the Southwest under the Corner Store banner.