A-B Chooses Louisville to Pilot New Bud Light Vented Can
ST. LOUIS -- Louisville, Ky., might be known for its mint julep -- a favorite at the Kentucky Derby -- but Anheuser-Busch InBev (A-B) plans to make the city famous for another type of libation.
The brewer selected Louisville as the pilot market for its new 12-ounce Bud Light Vented Can. After opening the mouth of the can, consumers simply give the can tab an extra push to activate the vent underneath, according to A-B. This releases additional air flow into the can, intended to create a smoother pour with less "glug."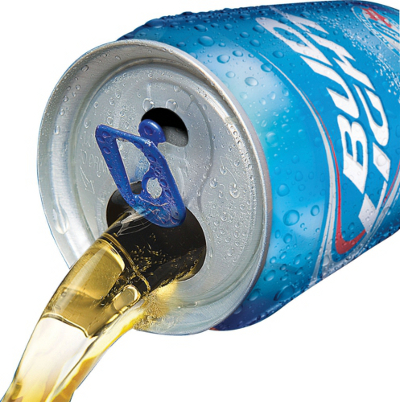 "The great thing about our new Vented Can is that it's activated by a common skill among beer drinkers: opening a can of Bud Light," said Rob McCarthy, vice president of Bud Light. "With just an extra push on the tab, beer drinkers can unlock the smoothest drinking experience in the world."
St. Louis-based A-B has been developing the Bud Light Vented Can for more than two years to ensure the self-contained vent mechanism provides a better drinking experience and is easy to use.
The Bud Light Vented Can will be available in specially marked 12-packs throughout the Louisville area. A local marketing campaign will support its test launch.
A-B also announced this week that it took home 15 medals from the North American Beer Awards, including a gold medal in the cider category for its newest brand, Stella Artois Cidre. Other gold medals were awarded to its Leffe Brune, O'Doul's and Hurricane High Gravity brands.
Grabbing silver medals were A-B's Michelob Ultra, Busch, Busch Ice and Busch NA brands. And earning bronze medals were Goose Island Honkers Ale, Budweiser Select, King Cobra, Stella Artois, Budweiser Black Crown, Spaten Oktoberfest and O'Doul's Amber.
"There are a number of great breweries in North America, and I'm proud to say that Anheuser-Busch won more medals than any other brewer," said Pete Kraemer, head brewmaster for A-B. "We invest extra cost, time and extensive checks to produce the best and most consistent beers in the world."
More than 1,400 beers were entered by brewers of all sizes across the country into the awards program organized by the North American Brewers Association. Winners were recognized during a ceremony in Idaho Falls, Idaho.