The Benefits of Biodiesel 
Get great content like this right in your inbox.
Subscribe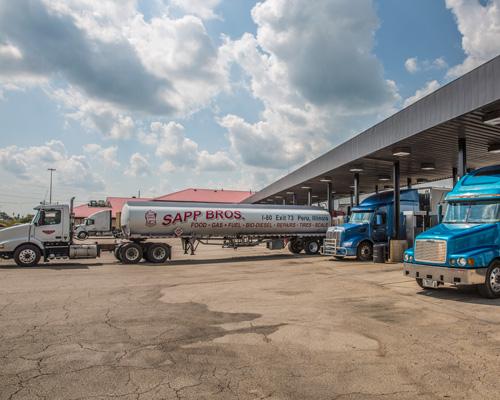 Part of my job is to tell fuel retailers about the advantages of offering biodiesel blends at their pumps. But today, you don't have to take my word for it. Instead, I'll turn it over to one of your peers.
"Economically, biodiesel is a good thing for retailers. It's also a sustainable fuel. And it's made us more competitive." Those are the words of Kevin Cassidy, vice president of Sapp Bros. Travel Centers, which operates 17 locations stretching from Pennsylvania to Salt Lake City. Cassidy is also vice president of Sapp Bros. Petroleum, a separate fuel wholesale business.
Most of the chain's travel centers are along Interstate 80 and see lots of customers seeking fuel, as well as products in their convenience stores. Being on a busy interstate also means there's lots of competition from other retailers. Sapp Bros. has found that one way to improve their margins and gain a competitive advantage is by offering biodiesel blends at diesel islands.
Easy Transition to Biodiesel
Cassidy points to the company's Illinois travel center as a good example. Sapp Bros. Peru is located 100 miles west of Chicago on I-80. It serves 750,000 customers per year and has 14 diesel islands, 12 gas fueling stations, two restaurants, the typical c-store snack and drink options, a service center, lots of amenities for professional drivers, and even a chapel. It started selling biodiesel blends in 2005.
"The state of Illinois established a sales tax exemption on blends of B11 and higher that still stands, and it made sense to do it," Cassidy says. "The B100 was priced attractively, below what our petroleum diesel cost. And we were able to offer a B11 blend at 8 cents per gallon below our No. 2 ULSD. It went over very well with our customers."
He adds that other Sapp Bros. locations outside of Illinois also sell biodiesel blends.
Sometimes, retailers are hesitant to add a new type of fuel because they fear it will require significant and expensive infrastructure upgrades. Cassidy says that's not been his company's experience with biodiesel, and they've realized a quick return on their investment.
"To get started with biodiesel, our infrastructure upgrades were minimal," Cassidy says. "It was around an eight-month payback."
Sapp Bros. Peru converted a 12,000-gallon underground storage tank to hold B100, which is 100 percent biodiesel. The biodiesel is piped over to a loading station where petroleum trucks pull up, and Sapp Bros. splash blends by loading the B100 to the top of a truck's tank. The truck then unloads the blended fuel into tanks that feed the diesel islands.
B20 a Smart Choice
Sapp Bros. Peru has found that not only does biodiesel pay off, but using a higher blend is often the best choice. Its system makes it easy to adjust blend levels, and Sapp Bros. Peru frequently goes up to a B20 blend, meaning it is 20 percent biodiesel and 80 percent petroleum diesel.
"The blending economics make B20 a smart choice for us," Cassidy says. "And I've had drivers say it has cleaned up their fuel systems, cleaned their fuel injectors, and they actually get better mileage with biodiesel blends vs. a regular No. 2 ULSD because of the clean injectors."
Sapp Bros. Peru sells B11 throughout the winter and will go up to B20 on milder winter days. Illinois is not exactly known for having warm winters, nor are many places that I-80 passes through, making Sapp Bros. travel centers real-world examples of biodiesel working just fine in the cold. Cassidy says that by using a good cold weather additive, they've had no issues with storage tanks, dispensers or customers.
The Benefits Extend Inside
Sapp Bros. has been pleased to find that the benefits of biodiesel also make their way inside its stores.
Offering more options at the pumps helps to attract a bigger assortment of customers, such as drivers hauling goods for fleets that have their own sustainability goals or are trying to meet those of their customers.  
"Besides filling up with fuel, they're inside your stores," Cassidy says. "They're shopping, maybe getting something to eat. There are benefits to bringing in new faces."
Jon Scharingson is executive director, sales and marketing, at Renewable Energy Group Inc. (REG). He can be reached at [email protected]. REG is a leading producer of biodiesel and renewable diesel, with 14 active biorefineries and an extensive network of terminals. For more information, visit regi.com.
Editor's note: The opinions expressed in this column are the author's and do not necessarily reflect the views of Convenience Store News.