Big Y Getting Into the C-store Business
SPRINGFIELD, Mass. -- Big Y Foods Inc., one of the largest independently owned supermarket chains in New England, is getting into the convenience store business. The company announced today that it is partnering with F.L. Roberts & Co., the largest independent petroleum marketer in western Massachusetts, to launch a new brand of convenience stores with fuel under the banner Big Y Express.
The first store will open this fall in Lee, Mass., at exit 2 of the Massachusetts Turnpike.
The new c-store concept -- the result o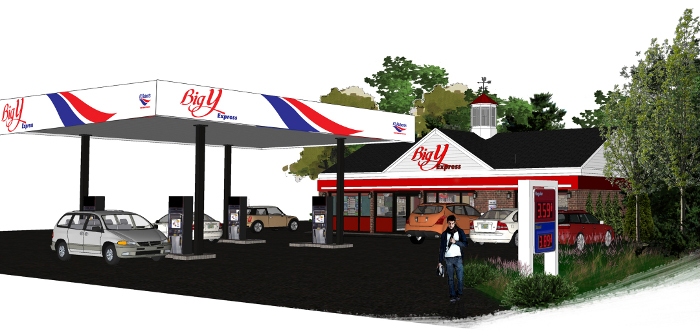 f a carefully crafted strategic alliance -- will incorporate a new and unique retail design and merchandising format for both Big Y and F.L. Roberts. The inaugural location will feature the traditional F.L. Roberts product mix, along with many Big Y proprietary, private brand products such as Big Y milk and fresh-baked breads. This will be Big Y's first venture into the vehicle fueling arena.
Uniquely, both Big Y Savings Card customers and F.L. Roberts RewardsPlus customers who shop at the new Big Y Express facility will have the ability to save money on gas purchases and earn discounts toward other store merchandise. In addition, the new venture will combine both companies' customer loyalty programs, allowing Big Y customers to use their Silver Savings Card at F.L. Roberts' locations for the same benefits offered by the RewardsPlus program.
Drawing on their different industry's expertise, the strategy is to create "a new and exciting generation of convenience stores," the companies stated.
"This new partnership gives us the best of both worlds. On the one hand, we can learn about gas stations and convenience stores. On the other, we are able to provide our expertise in food, coupled with a strong private brand, to enhance the experience for our customers," said Big Y President and Chief Operating Officer Charles L. D'Amour.
The first Big Y Express location will be just several hundred feet from Big Y's new World Class Market on Housatonic Street in Lee, which will provide exceptional product support for the new venture. F.L. Roberts supplied fuel to the previous operator of this service station site, which will now feature Big Y-branded gasoline and diesel fuel.
Big Y and F.L. Roberts have been conducting business in western Massachusetts for more than 75 years and 90 years, respectively. Big Y currently operates 60 stores throughout Massachusetts and Connecticut with almost 10,000 employees. F.L. Roberts owns and directly operates a nearly 60-site network of automotive service companies, including 26 convenience stores, two truck fueling facilities, 19 car washes and nine Jiffy Lube locations, and employs 500.
Over the years, the two companies have done cross-marketing efforts, making Big Y Express "a logical next step in their relationship," they noted.
F.L. Roberts will be the operating partner and fuel supplier of the new convenience stores, while Big Y will provide its expertise in marketing snack; grocery; fresh-made, ready-to-eat offerings; and private label products.
"In keeping with both families' commitments to our founder's roots -- Grandpa Frank for Roberts, and Paul and Gerry for Big Y – this alliance is very unique in today's challenging business environment by adding to our economy's local economic growth," said F.L. Roberts President Steve Roberts. "Instead of selling out to a big conglomerate or chain, two local, well-established companies are combining their expertise to help each other grow to better service our customers and communities."