06/06/2012
Bolla Oil Finds Way to Save More Than $2M a Year
GARDEN CITY, N.Y. -- As the U.S. economy seemingly weakens on a daily basis, finding ways to cut costs is paramount for convenience store operators. But considering that most budgets were slashed to bare-bones levels during the previous recession, how can a retailer cut more costs?
Bolla Oil Corp., owner and operator of 75 c-stores and gas stations, 16 automobile repair stations and four car washes, has found a new way to not only cut costs, but also open up the possibility for additional revenue in the future.
The company founded Bolla Transport LLC, a modern fleet of high-tech trucks that delivers about 200 million gallons of fuel yearly to its company-owned stations, franchisees and independently operated locations that Bolla Oil serves.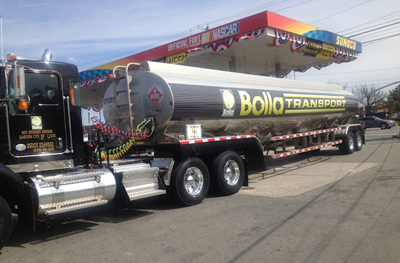 "In order for us to be efficient, we looked at every opportunity at all of our divisions in order to maintain our costs for operations," Harry Singh, president and CEO of Bolla Oil, told CSNews Online. "Bolla Transport allows us to control our [fuel] deliveries, so we can be more efficient regarding our retail prices."
Singh closely monitors the price of oil on a daily basis. Owning a transport company allows him to time when it is best to purchase fuel and subsequently load up Bolla Transport trucks with as much of fuel as possible at that moment. Prior to forming the transport division, Bolla Oil had to rely on the price a jobber charged for the fuel.
"We have a target of saving an average of a penny per gallon," Singh noted. "We expect to deliver between 150 million and 180 million gallons of fuel this year. Next year, we expect 200 million gallons to be delivered. So, in turn, that means an additional $2 million in profit added to our bottom line annually."
Singh admitted that timing the oil market is not an exact science. But the company has thus far picked the proper times to purchase petroleum about 90 percent to 95 percent of the time, he said.
"You can control when you pick up your product and when you don't," he explained. "You can hedge your product."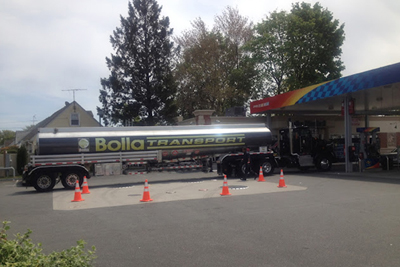 Singh also believes his company can save even more money via delivery costs. "We were often charged 3 cents to 4 cents per gallon for delivery costs. We expect to save 15 percent to 20 percent of those costs," he said. "You need to have the right people in place working for you in this area of the business. But we think it will become a crucial part of Bolla's business. Bolla Transport allows us to be very competitive on the price side."
The benefits of bringing a logistics company in-house reach even further. "Transportation companies that work with oil companies are struggling today with union issues," reported Singh. "They have very tight controls regarding the way union drivers work. We don't have those issues. We are a non-union company. In fact, we have people who have voluntarily left unions to work for us because we are flexible."
He added that this flexibility enables drivers to work overtime and during their desired shifts. "We give people a reason to be loyal to us," he said.
As for the near future, the chief executive said Bolla Transport will only focus on delivering fuel to Bolla-owned and -operated sites. However, longer term, the transport company will entertain the possibility of providing fuel to other interested parties.
According to Singh, cost savings attributed to Bolla Transport will be used to reinvest in the parent company. This will include building new convenience stores and gas stations, as well as upgrading existing sites.
Bolla Oil, which sells gasoline under the ExxonMobil, Sunoco and Gulf brands, owns its own construction company that will build and renovate the locations.
Specifically, Bolla Oil plans to open 10 to 15 new sites per year, staying within the New York metropolitan area at this time. "I believe gasoline still has a long life ahead of it. I definitely think gasoline will not disappear in the next five or 10 years. Now is the time to develop beautiful sites," said Singh. "Bolla wants to be in a position to compete with chains like Wawa and Sheetz that may enter the New York [City] market in the future. We are getting to the point where we can compete with any major player that moves in."