BONUS CONTENT: NOCO Is More Than Just Convenience
TONAWANDA, N.Y. -- NOCO Inc. may be known in convenience industry circles as the operator of NOCO Express stores across western New York, yet c-stores merely scratch the surface of this multifaceted company.
In 1964, NOCO, then operating as R.B. Newman Fuel Corp., opened its first full-service gas station, selling gas to customers for 20 cents a gallon. Well before that, though -- 31 years to be exact -- the company began serving residents near its Tonawanda, N.Y., base with just one coal truck. Not long after, founder Reginald B. Newman expanded into residential heating oil.
With that, the company was off and running — serving commercial and industrial customers with lubricants, gasoline and diesel fuel in 1950 and acquiring Mobil Oil Co.'s home heating oil business, as well as several other small distributors, in 1958.
Even bigger changes came as the second generation of the Newman family — Donald and Reginald Jr. — took control of the family business from their father in 1971. During that period, the company acquired a 33-million-gallon petroleum terminal from The Gulf Oil Co. and gained access to the region's Niagara River.
Michael Newman, current executive vice president of NOCO and part of today's third generation of family leadership, points to the Gulf acquisition as a major highlight in the company's history. "That has given us a lot of opportunity," he said. "We've been able to accommodate the different products that have come into the marketplace."
Those new opportunities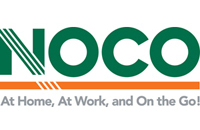 have included expanding NOCO's home heating oil business through the acquisitions of Ashland Oil's local home heating business and Akron Oil Corp.; the expansion of its lubricant distribution market to eastern New York and New England; and the distribution of propane to commercial and residential customers.
Most recently, NOCO — which formerly changed its name in the 1980s — began offering residential natural gas and electricity, as well as commercial electricity seven years ago.
Today, with Michael Newman and his brother Jim at the helm, the company is moving ahead as a true triple threat. It is expanding its convenience store presence and making its mark internationally by expanding its lubricant distribution and fuel business into areas of Ontario, Canada.
"We have become more of a house of businesses, rather than just a business," Michael Newman said. "We are trying to manage a number of different opportunities. Maybe one of those opportunities won't make it, but the ability to have opportunities will make it."
For more on NOCO Inc., check out the July cover story of Convenience Store News.