BP's 'Miles' Pump Wins 2018 Shopper Marketing Effie Award
Get great content like this right in your inbox.
Subscribe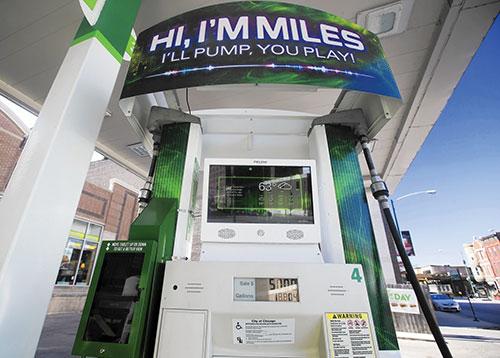 SCHAUMBURG, Ill. — BP's fuel pump with a personality, "Miles," is a recipient of a 2018 Shopper Marketing Effie Award. The annual awards program honors the most effective shopper marketing efforts of the year.
The competition attracts case studies from manufacturers and retailers in the United States and Canada. Those selected as winners represent cases that best demonstrated how they effectively solved a shopper marketing challenge, connected with their shoppers, influenced them along the path to purchase, and inspired them to become buyers. Winners were announced at the Path to Purchase Institute's Shopper Marketing Celebration in March.
BP has historically targeted consumers by pumping out gas characteristics and selling points of why its gas is better for cars. But younger drivers are less excited about cars and see vehicles as just a requirement of a busy life. BP has used this to focus on an entirely new experience around pumping gas, according to Shopper Marketing magazine.
Starting in select BP locations in Chicago and New York, BP modified and placed interactive pumps that it dubbed "Miles," which communicated with drivers during those few captive minutes while refueling.
Miles quizzed consumers with trivia questions, took Snapchat-like photos for them to share, provided news and weather, and played that consumer's favorite music via Pandora.
To help call attention to the new test pump, media walkthroughs were held for journalists to experience and cover. "Good Morning America" did a piece, and content partnerships were done with The Onion and The A.V. Club outlets where Miles was the focus of short videos that were spread via social networks. Radio spots released info on where Miles was and what to try.
The campaign generated 833 million media impressions and, in two months found its way into 2,000 broadcast segments including stories from Yahoo Tech, The Verge, ABC, Chicago Tribune, New York Post and Ad Week.
The campaign saw higher rates of brand recall from consumers, and gasoline volume grew by 9 percent in Chicago and 6 percent in New York.
The biggest gain, though, was seeing people have a revolutionized, more enjoyable experience at the pump. A Facebook brand tracker study showed that BP improved its standing as a brand that provides a better experience among people exposed to the pump vs. those who were not.
Convenience Store News, Shopper Marketing and the Path to Purchase Institute are all properties of EnsembleIQ.