09/13/2017
Break Time Stores Get a Modern, Open Look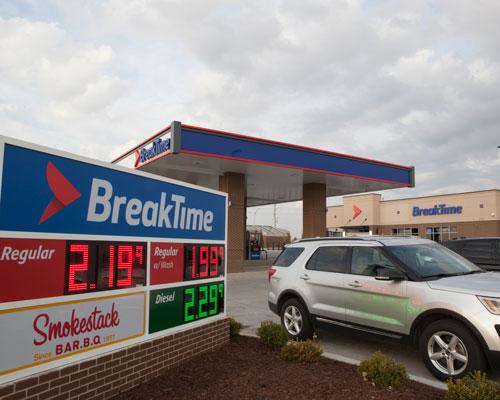 COLUMBIA, Mo. — Break Time, the convenience store chain owned and operated by Columbia-based MFA Oil Co., isn't hitting the brakes on innovation. Earlier this year, Break Time opened the doors to its 74th location, in Lee's Summit, Mo., which showcases a new modern, open concept that is focused on enhancing the customer experience.
Although Break Time has been fairly consistent with its store model over the last several years, the chain wanted to design a new 5,000-square-foot store that customers would find inviting from the moment they pulled into the parking lot.
"We felt that we needed to bring a more modern, open look to our stores so our customers didn't feel pressured to make a decision. We feel we accomplished this with how open the store feels," Curtis Chaney, MFA Oil's senior vice president of retail operations, told Convenience Store News.
To create the desired shopping experience, Break Time made a series of simple, yet effective changes to the store's aesthetics.
For starters, the ceilings in the store were raised, including in the beer cave, where automatic doors were added. Next, the automatic entrance doors were moved to the front of the store, while the checkout was repositioned to the side. Previously, the checkout sat at the center of the store. Lastly, tile was eliminated from the sales floor and replaced with a stained concrete look with wood embellishments and a calming color palate.
"Previously, we could build a 5,000-square-foot store that felt small because of many things deemed necessary such as drop ceilings, center checkouts and bulkheads. By eliminating these design elements, we were able to build a 5,000-square-foot store that felt very open and inviting to the consumer," noted Chaney.
With these clean and warm enhancements incorporated, Break Time customers can now walk into the Lee's Summit store and immediately see its foodservice area, as well as easily navigate to the beer cave and seating area.
In addition to its differences in layout and design, Break Time's 74th store stands apart from other locations on account of its foodservice offering. This is the retailer's first location to offer Smokestack Bar.B.Q., a new carryout food concept.
In addition to Smokestack Bar.B.Q., Break Time continues to offer customers Hunt Brothers Pizza, Dashboard Diner sandwiches, f'real shakes, roller grill options, a beer cave, and traditional c-store fare at the Lee's Summit store.
THE NEW NORM
Since opening the Lee's Summit location, Break Time has put welcome signs on three additional new stores, all of which have incorporated some aspects of the new prototype design.
Break Time also rebuilt an existing store in Clinton, Mo., to have the same floor plan as the Lee's Summit location and include Smokestack Bar.B.Q.
Going forward, Break Time plans to use the prototype design in all of its new-to-industry locations, making it "the norm" but adapting depending on the size of the location, said Chaney. Any remodel or upgrade will incorporate elements where possible, too. 
Break Time currently operates convenience stores across Missouri and Arkansas.
Look in the September issue of Convenience Store News for more on Break Time's prototype.