Buc-ee's Sits Atop the Throne With Highest-Rated Restrooms
Get great content like this right in your inbox.
Subscribe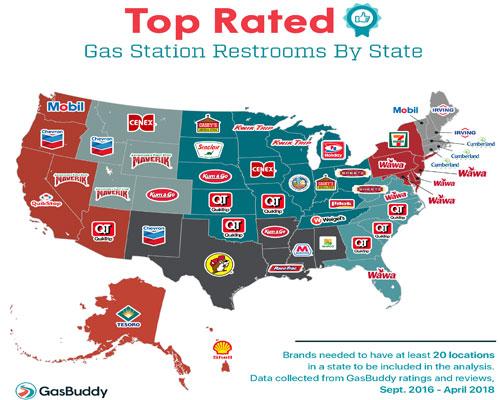 BOSTON — As the peak summer driving season approaches, GasBuddy revealed which gas station brands have the highest-rated restrooms to eliminate the stress and panic that often ensues when nature calls, the company stated.
Texas-based Buc-ee's sits atop the throne as the brand with the highest-rated gas station restrooms in the nation.
QuikTrip Corp. flushed the competition for the second consecutive year in seven states — the most of any brand. Wawa Inc. came in second, leading in six East Coast states, followed by Chevron Corp., Cumberland Farms, Kum & Go LC and Maverik Inc., each topping the list in three states.
Quality restrooms are a big concern for motorists. According to GasBuddy's 2018 summer travel survey, 37 percent of respondents said one of their worst fears when road tripping is when nature calls and being unsure of where to stop for a clean restroom.
"We all understand the high level of stress when it comes to needing to use the restroom while on the road. According to our research, more than half of consumers said that a clean restroom is mandatory when considering where to stop," said Frank Beard, convenience store and retail trends analyst at GasBuddy.
"There are a couple of surprise winners in this year's top-rated restroom results, which only further proves that consumers are taking note of brands that go the extra mile to keep their facilities sparkling," he added.
Ensuring restrooms are clean makes for better business. In a recent report, gas stations with above-average restroom ratings on GasBuddy saw a 33-percent increase in foot traffic compared to those with below-average ratings.
Here is how each c-store and gas station retailer measured up in each of the 50 states:
Alaska — Tesoro

Alabama — MAPCO

Arkansas — Kum & Go

Arizona — QuikTrip

California — Quik Stop

Colorado — Kum & Go

Connecticut — Cumberland Farms

Delaware — Wawa

Florida — Wawa

Georgia — QuikTrip

Iowa — Cenex

Idaho — Chevron

Illinois — Kelley's Market

Indiana — Casey's General Store

Kansas — QuikTrip

Kentucky — Pilot

Louisiana — RaceTrac

Massachusetts — Cumberland Farms

Maryland — Wawa

Maine — Irving

Michigan — Holiday

Minnesota — Kwik Trip

Missouri — QuikTrip

Mississippi — Marathon

Montana — Cenex

North Carolina — QuikTrip

North Dakota — Casey's General Store

Nebraska — Kum & Go

New Hampshire — Irving

New Jersey — Wawa

New Mexico — Chevron

Nevada — Maverik

New York — 7-Eleven

Ohio — Sheetz

Oklahoma — QuikTrip

Oregon — Chevron

Pennsylvania — Wawa

Rhode Island — Cumberland Farms

South Carolina — QuikTrip

South Dakota — Sinclair

Tennessee — Weigel's

Texas — Buc-ee's

Utah — Maverik

Virginia — Wawa

Vermont — Mobil

Washington — Mobil

Wisconsin — Kwik Trip

West Virginia — Sheetz

Wyoming — Maverik

Hawaii — Shell
Founded in 2000, GasBuddy is a technology company designed to change the way consumers find, purchase and save money on gasoline.