Budweiser Black Crown to be Unveiled at Super Bowl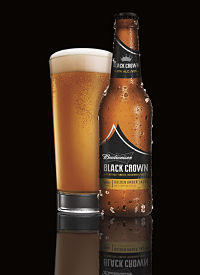 ST. LOUIS -- Anheuser-Busch announced that it will unveil a new beer in a 30-second television spot during Super Bowl XLVII on Sunday, Feb. 3. New to the "King of Beers'" lineup, Budweiser Black Crown will be available for purchase starting Monday, Jan. 21.
A year ago, Budweiser began a challenge known as "Project 12" and asked a dozen of its brewmasters to work on brand new recipe. The list of 12 beer recipes was narrowed to six that were brewed and sampled among 25,000 consumers. Budweiser Black Crown emerged as the winning beer.
"It didn't matter where in the United States we asked. This is the beer that consistently drew the best feedback, and overwhelmingly so," said Rob McCarthy, vice president of Budweiser.
Black Crown is made from a blend of two-row caramel malt, four types of domestic hops and a bed of Beechwood chips for a smooth, balanced taste, the company noted. This combination provides more body, color and hops character than the flagship lager and also has a slightly higher alcohol content at 6 percent alcohol by volume. Black Crown also retains the key characteristics of Budweiser with its original yeast strain used by Adolphus Busch in 1876.
"Our research shows that after beer drinkers try Budweiser Black Crown, 84 percent would purchase it," said Nancy Scudieri, senior brand manager for this beer. "It stays true to the original Budweiser recipe but has its own unique take. It's favorable, smooth and highly drinkable."
Budweiser Black Crown is the creation of Los Angeles brewmaster Bryan Sullivan, who personally sampled the beer with consumers at the Budweiser Made in America music festival over Labor Day weekend in Philadelphia. Brewmasters Scott Ungermann and Dave Cohen also collaborated.
"As brewmasters, we spend most of our time in the brewhouse. Project 12 gave us a chance to hear firsthand from the people we brew our beers for," said Sullivan. "Budweiser Black Crown is a great beer and it is a thrill for our whole brewing team to see it launch with a Super Bowl spot."
The commercial was filmed in Los Angeles last month and directed by Samuel Bayer, whose previous Super Bowl commercial work won an Emmy. Budweiser said that it set its sales-to-retailers date for Jan. 21 in anticipation of Super Bowl Sunday. The beer's national campaign also includes outdoor events, radio, print and a social media launch that will have interactive consumer programs on Facebook and Twitter at #TASTEIS.