Budweiser Kicks Off Military Fundraising Campaign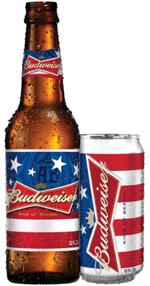 ST. LOUIS – Budweiser will continue its longtime support of the Folds of Honor Foundation in 2013 by making a donation for every case of Budweiser sold from May 5 to July 4, up to a maximum of $1 million.
In addition, the Anheuser-Busch Foundation is kicking off this program by donating an additional $500,000, making the total possible donation $1.5 million.
"The Folds of Honor Foundation gives back, through scholarships and other assistance, to the families of soldiers wounded or fallen while serving their country," said Lori Shambro, director of Budweiser. "This is why Budweiser has supported this great organization for the last several years and why, once again, buying Budweiser will benefit military families through the Fourth of July holiday."
Since 2010, Budweiser has raised more than $5 million for Folds of Honor and provided more than 1,000 educational scholarships to the families of soldiers killed or disabled in service.
Each Budweiser, including draught, sold between May 5 and July 4 will provide a donation, including some new items such as:
Budweiser's limited-edition red, white and blue packaging, which hits store shelves later this month and will be available in 12-ounce bottles and a variety of can sizes. The patriotic theme continues on secondary packaging for all top-selling configurations, including six-packs, 12-packs, 24-packs and other popular sizes.
 
Budweiser's unique bowtie-shaped can, available May 8.
"No matter what the package color, shape or size, America's beer supports America's heroes because from May to July, buying Budweiser benefits military families," Shambro added. "Our partnership with Folds of Honor is helping to make a difference in the lives of families whose loved ones have made the ultimate sacrifice to protect the freedoms we all hold so dear."
This donation program is only one component in a series of activations Budweiser has planned for its 2013 "red, white and blue" initiative. The Budweiser Clydesdales will also visit military bases across the Unites States during a series of barbecues to celebrate the men and women in the U.S. armed forces. Additional events will be announced at a later date.