C-store Customers Drive Away as Free Gas Winners
CARY, N.C. and PORTSMOUTH, N.H. -- Motorists in several states are getting an early gift this holiday season from their local convenience store chain: free gas for year.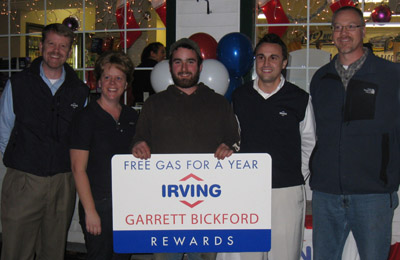 Charlotte, N.C., resident Travis Haston accepted his prize -- equivalent to $50 a week for 52 weeks -- yesterday at the Kangaroo Express store at 6500 Fairview Rd. The convenience store chain, operated by The Pantry Inc., is drawing a winner every Friday through Dec. 30.
Motorists can enter by filling up with at least eight gallons of Marathon fuel at participating Kangaroo Express Marathon locations in Charlotte, Birmingham, Ala., Greenville, S.C., and Spartanburg, S.C.
"My wife and I could not believe it when we got the call that we won; we have never won anything so significant," said Haston. "I come into this Kangaroo Express nearly every day to fill up on gas and refill my Roo Mug."
Further north, Irving Oil also awarded free gas for a year to select customers. All total, the regional company chose six New England winners to receive $2,100 worth of Irving gas cards for participating in the Irving Rewards gas savings program.
"Free gas will help me pay for other things like the electric bill or new tires for my car," explained Maine winner Julie Jones, who frequents the Irving station in South Portland, Maine.
In addition to Jones, Garrett Bickford of Andover, N.H., became the winner of free gas in his state.
"At first, I couldn't believe that I had won," said Bickford, who regularly frequents Jake's Market of Andover. "I do a fair amount of driving, especially during hunting season, so free gas for a year will really come in handy. I have a feeling my hunting buddies will make me drive a lot more this season."
Irving launched its Irving Rewards program on June 1. The loyalty initiative, which ends Dec. 31, allows customers to save on gas at more than 300 participating locations in Maine, New Hampshire, Vermont, Massachusetts, Connecticut and Rhode Island. Every $200 in fuel purchases earns 10 cents off per gallon at the next fill-up. Rewards must be redeemed by Jan. 31, 2012.
To date, more than 100,000 customers have registered their Irving Rewards cards, and nearly 61,000 customers entered for the chance to win free gas for a year or one of 100 Irving gift cards for $100.