C-store Industry Assembles for Hurricane Irma Relief
Get great content like this right in your inbox.
Subscribe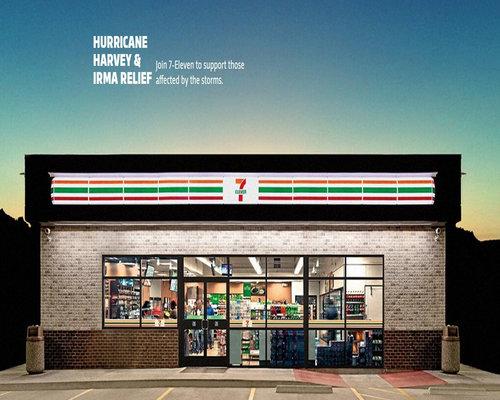 NATIONAL REPORT — Similar to relief efforts seen after Hurricane Harvey battered southeast Texas and Louisiana, convenience channel players on both sides of the supply chain have stepped in to help victims of Hurricane Irma.
Close on the heels of Harvey, Irma tore through the Caribbean as a Category 5 storm before making landfall in Florida on Sept. 9.
Here are the latest efforts: 
7-Eleven Inc.
Even before Irma hit the United States mainland, 7-Eleven Inc. pledged $150,000 to the American Red Cross for storm disaster relief efforts. With more than 800 c-stores in Florida, the Irving, Texas-based retail chain also donated 4,800 cases of 7-Select purified water for free distribution throughout the state.
In addition, 7-Eleven encouraged customers to support the American Red Cross Hurricane Irma relief efforts by adding $1 to their in-store purchase at participating 7-Eleven stores nationwide or by donate online at https://www.7-eleven.com/hurricane-relief.
"Financial support from 7-Eleven helps us deliver disaster relief services and provide food, shelter, emotional support and other essential assistance," said Don Herring, American Red Cross chief development officer. "These funds are essential to our ability to assist disaster survivors and support the first responders and volunteers who work tirelessly at the scene of a disaster."
7-Eleven provided similar support in the aftermath of Hurricane Harvey by donating $150,000 to the American Red Cross; water, food and supplies to shelters; and more than 1200 care packages to employees impacted by the storm.
Wawa Inc.
Wawa Inc. and The Wawa Foundation Inc. kicked off a chainwide, in-store crisis campaign, to provide disaster relief assistance to those communities most affected by Hurricane Irma. Held in partnership with the American Red Cross, customers can contribute by adding $1, $3, or $5 to their Wawa purchase at checkout.
The campaign is running from Sept. 12 through Sept. 22 in all of the Pennsylvania-based retailer's 760-plus convenience stores throughout Pennsylvania, New Jersey, Delaware, Maryland, Virginia and Florida.
All donations made through The Wawa Foundation's campaign will be donated to the Red Cross and will be designated specifically for Hurricane Irma disaster relief efforts.
"All of us at Wawa join the entire country in our support and hope that we can all weather these storms together. We believe we have a responsibility to provide assistance and aid to those in need especially within the communities we serve," said CEO Chris Gheysens.
"Wawa has always had a strong commitment to providing crisis response and assisting those in need, and we've been partnering with the American Red Cross in these kinds of efforts for decades," he added.
In addition to customer donations, The Wawa Foundation will be making its own $250,000 donation to the campaign.
Nestlé Waters North America
Nestlé Waters North America is working through its partners, including The American Red Cross, Americares, Gleaning For The World, Convoy of Hope, and Feeding America to direct donated bottled water to impacted communities.
Water donations and other on-the-ground assistance in Florida were also being coordinated through the Federal Emergency Management Agency, and state and local government officials.
As part of its pre-storm preparations, the Stamford, Conn.-based company activated its supply chain and delivery system spanning the U.S. to provide clean, fresh water in a timely manner, according to Nestlé Waters.
Since 2012, Nestlé Waters has donated more than $15 million worth of bottled water to disaster relief agencies to support people impacted by emergencies, including hurricanes and other natural disasters. Most recently, the company donated some 1.3 million bottles — or 47 truckloads — of bottled water to the victims of Hurricane Harvey in Texas.
Florida is home to nearly 950 Nestlé Waters associates and Zephyrhills Brand 100% Natural Spring Water, which is sourced from five natural springs in the state.
The Coca-Cola Co.
The Coca-Cola Foundation, the philanthropic arm of The Coca-Cola Co., pledged $1 million to the American Red Cross to support local relief efforts related to Hurricane Irma. These funds will help provide immediate resources for necessary food and shelter and will aid in long-term rebuilding efforts in the Southeastern U.S., Puerto Rico and the U.S. Virgin Islands.
This donation builds on the $1 million the Foundation granted for Hurricane Harvey relief efforts in August.
Atlanta-based Coca-Cola Co. and its local bottlers also continue making product donations to support communities impacted by the devastating storms in the Southeastern U.S. and the Caribbean.
The Coca-Cola system, including Coca-Cola Beverages Florida, Coca-Cola Puerto Rico Bottlers and Coca-Cola North America, have donated at least 200,000 bottles of water, juice, sports drinks and other beverages to people affected by Hurricane Irma.
This adds to the more than 1.1 million drinks distributed to the American Red Cross and other relief organizations helping people impacted by Hurricane Harvey last month.
"Because of the Coca-Cola system's local footprint in communities across the country, we are usually in a unique position to help in times of disaster. As we saw just a few weeks ago along the Gulf Coast, it's critical that businesses and people do what they can to come together and support each other," said Sandy Douglas, executive vice president and president, Coca-Cola, North America.
"We're mobilizing with our local bottlers to donate beverages and funds to support the good work being done by authorities and relief agencies," added Douglas, who also serves as a board member of The Coca-Cola Foundation.
The Coca-Cola system also is supporting its approximately 9,000 associates in affected areas of Florida and the Caribbean, in addition to the approximately 2,200 associates in Texas who were in Harvey's path. Many employees have been evacuated from their homes and it is expected that more employees will need help and care.
The company is matching employee contributions made to the Coca-Cola Employee Disaster Relief Fund up to $100,000. Proceeds will go to help Coca-Cola system associates who are impacted by the storms.
In the storm's aftermath, the Coca-Cola system continues to evaluate how it can help the impacted states of Georgia, South Carolina, Alabama and Tennessee. In Georgia, Coca-Cola and its bottling partners Coca-Cola UNITED and Coca-Cola Consolidated have been delivering as many beverages as possible to serve customers before and after the storm.
Coca-Cola is also giving consumers opportunities to support the American Red Cross in relief efforts during the aftermath of Hurricanes Harvey and Irma. People can visit Coke.com/give and enter codes found under the caps of Coca-Cola beverages — and inside multi-packs — and convert them into donations to the American Red Cross.