C-store Operators Can Win at the Checkout by Offering Balance
Get great content like this right in your inbox.
Subscribe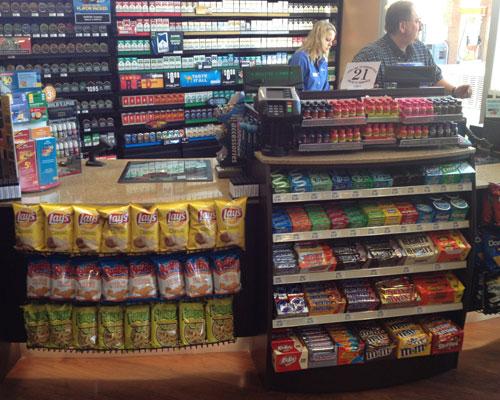 CHICAGO — The buzzword floating around the confectionery and snack industry these days is "balance," and convenience store retailers are uniquely positioned to provide just that at the checkout area.
During a "Driving Profit Through Balance at Retail Checkout" eye-opener session at the 2018 Sweets & Snacks Expo, a panel of industry insiders reassured retailers that despite the evolving retail environment and consumers' changing preferences, customers are in fact still looking to snack and reward themselves with a treat.
Participants in the panel included Larry Wilson, vice president of industry affairs for the National Confectioners Association (NCA), Hank Cardello, senior fellow at the Hudson Institute, and Cam Cloeter, founder and CEO of Impulse Marketing.
According to Wilson, candy and chocolate are consumed two to three times a week, and a hefty 80 percent of consumers say that treating or rewarding themselves with a sweet or salty snack plays a role in their mental and emotional balance. This presents a profitable opportunity to retailers, but only if they're willing to understand and guide consumers, the NCA executive explained.
"Consumers view candy as a treat, not a meal replacement. They desire choice in what they're eating, what they're snacking on, and what they're treating themselves with," Wilson explained.
In recent years, activists have affected food and beverage sales by making sugar the No. 1 public health enemy. Yet despite sweets and snacks accounting for a combined 31 percent of added sugars in a typical diet, c-store operators should be encouraged that shoppers are still asking for more varieties at checkout, Cardello noted.
"Shoppers say they don't want restrictions at checkout, despite what they're being told by activists about sugar. In fact, shoppers want more products in addition to confection," he said. "The key thing to understand is that all consumers should not be treated equal, so retailers must address individual needs."
Because the checkout area is highly elastic to fill consumers' immediate need states, and it is the last category shoppers encounter in-store, retailers should create a balance at the checkout by expanding new-age snacks, while optimizing core products, according to Cloeter. 
"Win at checkout by exceeding expectations. Your level of success is determined by understanding and merchandising to the shoppers' need states," Cloeter expressed, adding that best-in-class retailers convert 33 percent more shoppers at checkout than average retailers.
The top three drivers of conversion at checkout are:
Functional;

Snacking; and

Treating.
"Offer consumers a continuum of choice," Cloeter concluded.
The 2018 Sweets & Snacks Expo, hosted by the National Confectioners Association, took place May 22-24 at Chicago's McCormick Place West.