05/14/2012
C-store Owner Turns Passion for 'Green' Into Profit
COSTA MESA, Calif. -- Ali Farsai grew up in the convenience store business. His family has owned c-stores for more than 25 years, and currently owns four BP ampm locations in California. But it wasn't until a trip to Europe when he read the book, "Hot, Flat and Crowded," by Thomas Friedman that he discovered his true passion -- energy efficiency.
"After I read the book, I decided I wanted to incorporate everything 'green' that I could into our stores because I knew them really well, and knew they would benefit," Farsai told CSNews Online. By making small changes to the outdoor canopy and cooler doors, he is saving an average of $7,000 annually per store. "There is nothing else in the convenience store that we can invest in like this and get a guaranteed return on our money. Once you see that utility bill go down, you think, 'I should have been doing this a long time ago.'"
After seeing success in his family's four locations, Farsai decided to extend his reach to help other store owners achieve the same results. He created Green C-Store Solutions Inc., based in Costa Mesa, Calif., and is helping other franchisees in the area retrofit and convert their stores to conserve energy and money.
"We are a contracting company, so we do everything from top to bottom," he said. "Everything I've done in my stores, I can offer to other people. I won't install anything in another person's location that I have not put in my own stores."
Once an owner knows what changes are needed and purchases the products, it only takes three or four days to implement, said Farsai, who recommends contractors work at off hours -- from 10 p.m. to 6 a.m. -- so they don't affect traffic.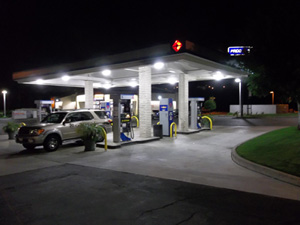 Making the Changes
The first place Farsai tackled when making changes to his stores was the outdoor canopy. While many people believe the best energy-efficient option is to replace the lighting with LED bulbs, Farsai decided after extensive research to utilize induction lighting technology instead. Not only is it less expensive to install, but it also offers a longer lifespan and is superior to LED for outdoor lighting, he said.
"LED is a good technology, but in my research, it is better for inside the store because they work better in a cold environment, which is a concern in California. That is why they are great in cooler doors," he explained. "Also, LED is more of a spotlight specific bulb, and outside by the canopy, you want it to be bright all around for security and to be seen from the street."
While induction technology is more than 100 years old, Farsai said it is getting more attention because large companies are beginning to use it. Unlike LED, which requires retailers to replace the entire lighting fixture, induction can be retrofitted to the existing fixture -- just a new bulb in most cases -- which makes the technology much less expensive for a location to install. Induction also brightens a larger area of the canopy and lasts up to 100,000 hours, he noted.
When lighting his stores' coolers, however, Farsai selected LED lights. Not only do they use less energy, but spotlight the products to grab customer attention. "We saw an uptick in cooler sales after putting in LED because the products looked more attractive from a distance," he said. Also, the LED lights last five years, which is much longer than the one to two years for T12s or T8s that many stores currently use.
In addition to lighting changes, Farsai added controls to regulate the anti-sweat heat device on the cooler doors, which keeps them fog-free when opened. "Instead of it running 24 hours per day, now the device will only turn on when the door is open long enough that it would fog," said Farsai. "Doors are only open five to 10 percent of the day, so that is a big savings."
He also replaced the motors inside the walk-in cooler with ECM motors that run at approximately one-third the wattage, and on two speeds -- high and low. The motor will operate on the high setting until the cooler reaches 40 degrees, and then will go on low speed, which runs at one-tenth the wattage.
"It comes with a fan control, and the older motors don't offer two speeds," he said.
A Big Return
While creating an energy-efficient store requires an initial investment, many utility companies are offering rebates up front, which can immediately bring return-on-investment up, said Farsai.
"It's free money available to store owners," he noted. "On the utility bill, there is usually a line item for a government-funded program. If it's on your bill, and you are paying for it, you might as well take advantage of the money."
To retrofit his first location, the overall cost was $17,000, but he also received a $3,000 rebate from the utility company, bringing his cost to $14,000. After introducing the changes, the location saw a 20-percent reduction in utility costs.
"I always tell owners, their costs [for] utilities are going up and in the future, they will have to make the changes anyway, and then the rebates won't be available," Farsai explained. "The return is immediate. Once you install the changes, you begin to get the return."
The next step for Farsai's four ampm stores is to change the indoor ceiling lights to LED. While there isn't any rebate money available for it, there is still a reduction in energy usage because those lights remain on 24 hours per day.
"In the two years since making the changes at our stores, we have made our initial investment back and now, I am reaping the benefits of a lower utility bill," he said. "In the past, we might have been around $4,000 a month and now, we are down to $2,800."