04/12/2018
C-store Retailers Have Many Opportunities to Be Changemakers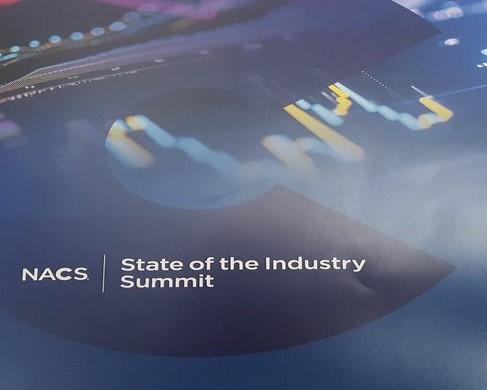 ROSEMONT, Ill. — Competitive retailers keep moving farther into the convenience channel's playing field, customer counts are down and, despite economic tailwinds, consumer spending is not as robust as retailers would like. Still, even among these not-so-bright spots, the convenience store industry continues to thrive.
Joe Sheetz, president and CEO of Altoona, Pa.-based Sheetz Inc. and chairman of NACS, the Association for Convenience & Fuel Retailing, said there's a reason why convenience is succeeding as an industry and as an association: collective DNA.
"As convenience retailers in the early days, we had to band together and share ideas — there was no roadmap," Sheetz said during the opening of the 2018 NACS State of the Industry Summit (SOI), taking place this week in Rosemont. "And NACS, like Sheetz, is obsessed with delighting our customers."
At SOI, the association gathers to review the data reflecting the pulse of the industry. The numbers highlight points along a journey: what happened, why did it happen, and now what happens, noted Kevin Smartt, chairman of the NACS Research Committee.
He pointed out that there certainly has been a lot of change on the retail scene this past year — technological advances and Amazon Go stores, to name just two. But change is not necessarily a bad thing.
"I've always thought that if you are not moving forward, or essentially standing still, you are moving backward and that's not where we want to go as an industry," said Smartt, also CEO of Kwik Chek Food Stores Inc. based in Texas.
Sure, there are disruptors to traditional retail — notably, Uber, Amazon and Netflix. But they have one thing in common with c-stores: They provide convenience.
"It's been my mission, and the mission of everyone in this room, to provide convenience to our customers, so I consider ourselves disruptors — or changemakers," Smartt explained to the 600-plus SOI attendees.
Opportunity is Knocking
Becoming a changemaker requires finding opportunities and seizing them.
For example, according to Todd Hale, principal of Todd Hale LLC, convenience store retailers can capture the aging population. Drugstores continue to miss out on trips from this consumer group as more people order 90-day prescriptions — opening the door for the convenience channel. 
Another opportunity lies along the perimeter of the store as demand grows for fresh offerings. Hale cautioned, though, against ignoring the center store, which still represents the bulk of in-store sales.
Recognizing the role indulgence plays in consumer demands is also key, he said. While there is a move toward health and wellness, not all claims are working and there's a growing demand for food that makes consumers feel good that does not necessarily have to be healthy, explained Hale, who is also a consultant with Nielsen Co., where he previously served as senior vice president, consumer and shopper insights.
As retailers from all classes of trade shutter more brick-and-mortar locations — think Radio Shack and Kmart — convenience store retailers need to keep an eye on where those stores are located and any possible residual effect on their store traffic.
However, this also presents an opportunity. If a Rite Aid store across the street is closing due to consolidation in the drug channel, a c-store operator can move to bring that consumer through its doors, noted Hale. 
The same goes for struggling restaurant chains. If close by to an Applebee's, Sonic Drive-In or Pizza Hut — three chains that are dealing with challenges — a c-store operator should look to ramp up its foodservice offering, he said.
Hale made several predictions for the industry:
The stars are aligned for growth — Are you ready and are you investing?

Clean label and ethnic are important, but so is comfort, convenience and indulgence;

Basket building through personalized marketing;

Fresh ideas for center store; 

Department trip magnets — Are you supporting the categories consumers are coming to your store for and that they cannot order from their laptops?

Private label resurgence; and

Strange bedfellows, a new area for mergers and acquisitions.
"It's a whole new game when it comes to merger-and-acquisition activity," he said, citing Campbell Soup Co.'s acquisition of Snyder's-Lance Inc. and the merger of Albertsons Cos. and Rite-Aid Corp.
"Maybe we need to start thinking about acquiring new businesses that have nothing to do with convenience stores," he suggested.
No Choice But to Change
With change comes both danger and opportunity, explained Alan Beach of 7-Eleven Inc. 
Whether industry players leverage change comes down to the choices they make. "We need to grow and protect our customer base," he said. "We need to improve, so we have choices to make."
As he pointed out, the consumer and the convenience store shopper are changing dramatically and convenience store retailers need to anticipate those changes, and evolve with them.
According to Beach, becoming a better choice for the consumer takes three things and being the best at one of them:
Product assortment;

Price value; and

The three "Fs" of service: fast, friendly and frictionless
The NACS State of the Industry Summit took place April 10-12 at the Hyatt Regency O'Hare in Rosemont.