C-stores Can Answer the Need in Food Deserts

We are all familiar with the traditional three meal dayparts: breakfast, lunch and dinner. Now more than ever, though, we are an on-the-go global society and demand a different kind of convenience to fit our busy lifestyles -- let's call it "foodvenience." A funny word, but one derived from our new lifestyle choices driven by speed and whisking through technology.
We are quickly moving out of the cities and into suburbs, taking over areas that formerly didn't have a fluid supply chain for retail venues, building retail programs that match this profile and creating doughnuts of fresh food deserts. A food desert is a low-income urban area where people are physically and economically excluded from fresh, healthy and affordable food.
Food deserts have long existed within urban landscapes, but only as of the last decade have they been brought into mainstream view at a national level. They are very bad for our economy, the health of our nation and our future.
Retailers have played to the food desert concept over the years, building in packaged food programs that maximize margins and shelf life. Who can blame them? It sells. For residents living inside these marginalized areas, it can seem like a deserted area, devoid of nutritious fresh food provisions and food equity. The only food "shopping" experience is through the neighborhood corner store, normally a haven for heavily enriched snack foods and a lifetime of bad eating habits. Where traditional, non-packaged ingredients once existed, it is now an enlarged candy aisle and a breeding ground for diabetes.
Since many of these food items could hardly be considered complete meals, they have been classified as snacks. Sixty percent of Americans already eat snacks on a regular basis as part of meal replacements and that number is rapidly increasing. In a recent study conducted at the University of North Carolina, researchers found Americans consume an average of 570 more calories a day (beyond the recommended 2,000 calories), mostly from snack food.
Today, retailers around the globe are changing to incorporate healthy food for consumers. Enter the "snackpart" daypart and the private label snack packs and product lines convenience stores have been putting together. The evolving snack food category is growing and retailers are beginning to build healthy options into their menus.
The traditional convenience store is creating a fresh food scheme, packaging its own store brand and labeled foods, such as sandwiches, fruits and vegetables. Retailers are now marketing these fresher and healthier options using financial incentives like BOGO (buy one, get one free), smaller meal options like "tasting sizes," and changing around merchandise, bringing the healthier products closer to the register.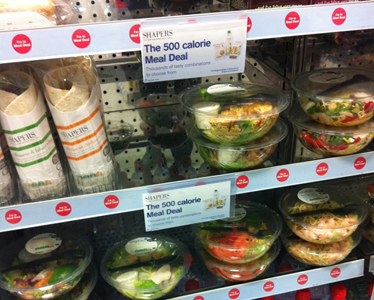 In the United Kingdom, a M&S Eat Well and Asda (Walmart's U.K. store division) program promises "5 a Day" and provides a plan for how to increase consumers' exposure to fruits and vegetables. Boots Pharmacy in the U.K. created a healthy snack package called Shapers, which consists of all under-500-calorie packages.
In the United States, Kwik Trip stores have combined efforts with their local hospital to create a wellness challenge and tagged food items to mimic that need. In New York, local convenience stores created a partnership with the Capital District Community Gardens and are now carrying fresh produce from the local community.
In New York City, the new Duane Reade store design is featuring local food and vendor partners on a wall in each store, along with a fresh food and snack area along the checkout line. And many other stores are coming to the forefront with great ideas and programs that promote the fresh, on-the-run snack food angle.
Consumers are being hand-fed healthy snack food by retailers, and it is working. Consumers are jumping on board as quickly as they can, and for every step that the retailer takes forward, the consumer is matching in purchasing power and proving the concept. This year alone, we are looking at a 12-percent increase in sales from the snackpart.
This is starting in the cities and branching out slowly to the areas classified as food deserts. So, it is coming and quickly. Soon, food deserts will be a thing of the past and buying a healthy and nutritious meal from a convenience store in your local neighborhood will be the norm.
E. Rachael Baird holds the title of "Idea Lady," and works out of the London office of TILT, a food industry think-tank that develops brand solutions for food-related organizations looking to promote fresh, healthy and affordable food to the mass consumer market. For more information, contact Baird at [email protected]
Editor's Note: The opinions expressed in this article are the author's, and do not necessarily reflect the views of Convenience Store News.