​Capitalizing on the Multicultural Opportunity in Sweets & Snacks
Get great content like this right in your inbox.
Subscribe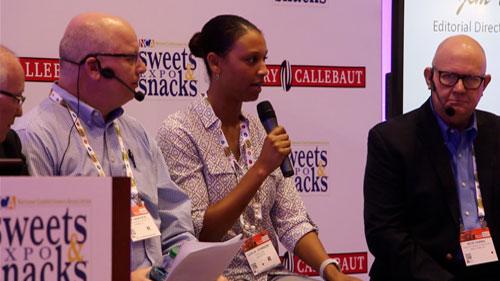 CHICAGO — Convenience store operators, grocery store retailers and consumer packaged goods companies are increasing the attention they put on the rapidly exploding multicultural market more than any other business sector in the last several years. 
At the 2018 Sweets & Snacks Expo, a high-powered panel discussed the latest insights on multicultural shoppers and made recommendations on how to capture these key demographic segments that are driving increased treating and snacking consumption.
The panel was moderated by Convenience Store News Editorial Director Don Longo and Jim Dudlicek, editorial director of sister publication Progressive Grocer. Panel participants included Leslie Johnson, assortment manager, snacks, Wawa Inc.; Jaime Enrique (Rick) Parra, executive director, multicultural/Hispanic consulting, Winston Weber & Associates Inc.; and Jeff Hancock, sales and marketing manager at Jewel-Osco.
Because the rise of multicultural is moving at an accelerated pace, the first piece of advice Parra shared is to "prepare now."
"Multicultural is growing exponentially. By 2044, the U.S. will be dominantly multicultural," he noted. "Crossover opportunities with treats and snacks spill over into all demographics, so look at taste preferences and product innovation to stay on target, as opposed to just demographics."
With Wawa having a dominating presence in Philadelphia, Johnson referred to the city as a "melting pot" and shared that for retailers operating in such areas, it is imperative to offer something local bodegas can't, such as merchandising that ties into foodservice offers.
Jewel-Osco's Hancock recommends that retailers consider short queue lanes that feature high-impulse items at checkout. After piloting a three-segmented model at the supermarket chain, results showed that the items featured at the checkout performed better than they did in their corresponding aisles.
Three segments for short-order queues include: 
Treat, like chocolate;
Refresh, like gum; and
Remind, like batteries.
When asked what candy and snack products are the most important to fit multicultural consumers' needs, Hancock said non-chocolate and gummy items tend to do well across Jewel-Osco's portfolio. Meanwhile, hot and spicy and sweet and spicy flavor profiles continue to intrigue Wawa's multicultural consumers, according to Johnson.
In Parra's opinion, c-store and grocery store operators need to offer a "taste of home" with family-influenced products.
"Target multicultural consumers by understanding the candy tradition that each country has to offer. Entertain different options while satisfying need states this way," he explained.
However, marketing to multicultural consumers isn't always that simple. Johnson admits that Pennsylvania-based Wawa, which operates 800 convenience stores across a six-state footprint, often struggles to reach these shoppers.
"Foodservice is a big part of our business, and multicultural products are a small box, so we need to figure out how to appeal to those shoppers. We try to stay abreast of the latest trends and test different flavor profiles to find where they belong," Johnson said, adding that Wawa integrates these products across different dayparts so as to not segregate them.
Hancock echoed similar sentiments and suggests that to blend in various multicultural profiles and products, retailers should experiment and reach out and lean on local vendors.
The panelists shared these final thoughts when it comes to reaching multicultural consumers:
Capitalize on trends
"Find what's the hottest trend, capture it, optimize it and let it go when you need to," Johnson concluded.
Patience is a Virtue
"Give time for your message to penetrate," Hancock said. "Build faith in consumers that you're the place they can shop at to get what they want."
Stay the course
"It's a long-term process, but you'll get rewarded," Parra expressed.
The 2018 Sweets & Snacks Expo, hosted by the National Confectioners Association, took place May 22-24 at Chicago's McCormick Place West.