Cash Payment Network to Build Traffic, Dollars for 7-Eleven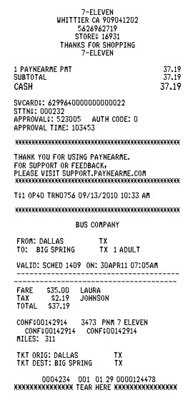 MOUNTAIN VIEW, Calif. -- PayNearMe, a Silicon Valley-based cash payment network, today announced four new initiatives with 7-Eleven that will provide consumers with an easier and quicker way to purchase transportation tickets, pay their utility bills, transfer money and make cash payments for international mobile top-up services. The new services are expected to drive traffic, as well as generate commission-related income, for the Dallas-based convenience store chain.
By integrating with the PayNearMe network, transportation companies can sell and print tickets right at 6,200 local 7-Eleven convenience stores' point-of-sale terminals, dramatically increasing customer access so millions of consumers can pay for their transportation needs with cash.
Using PayNearMe, consumers who wish to pay for tickets with cash can visit a transportation provider's Web site to book their travel. They then either print a PayNearMe Slip or pick up a free PayNearMe Card from a local convenience store and follow the instructions on the Card. They bring that Slip or Card and their cash payment to the register where they receive a ticket printed directly on their receipt.
Alternatively, transportation companies can distribute proprietary PayNearMe-powered Cards through thousands of convenience stores, or elsewhere. Consumers then call a reservation agent, read their card number to the agent and make a reservation. When ready to complete a transaction, customers bring their cards and cash payments to the counter at a participating 7-Eleven convenience store, where tickets are printed on their receipts.
This new ticketing option is particularly significant to the 25 percent of American households that do not have a debit or credit card, according to Danny Shader, CEO of PayNearMe. For these unbanked and under-banked consumers, purchasing a transportation ticket with cash has traditionally been a time-consuming and difficult process, requiring special trips to a ticket office or the purchase of an expensive pre-paid debit card. In contrast, by using PayNearMe Cards, consumers can obtain tickets in their own neighborhoods 24-hours a day, typically without paying any premium.
Transportation providers also benefit from this service by gaining access to new customers and adding thousands of virtual ticketing offices to better serve existing customers. Providers only need to integrate with the PayNearMe platform.
Greyhound Bus Lines is the first transportation provider to link up with PayNearMe, but more are expected, according to Shader, who added that network could be used to facilitate sales of any tickets, from airlines and trains to professional sports and other events.
In addition to announcing that transportation companies can now accept cash payments through PayNearMe, the company announced that utilities and other billers can now directly embed a PayNearMe barcode onto a customer's bill using PayNearMe's new Embedded Barcode Remittance (EBR) technology.
This will allow customers to take their bills to a local store, starting with any of nearly 6,200 7-Eleven stores nationwide, and pay the amount owed with cash at the register. The entire process requires less than 60 seconds to complete, and customers are provided with a detailed customized receipt.
According to Shader, 60 million adults are unbanked or underbanked, meaning they do not use bank accounts and often have to rely upon inconvenient and potentially expensive walk-up payment systems. The new PayNearMe EBR technology delivers an easy, inexpensive and convenient payment option to this unbanked and underbanked community, as well as other consumers who prefer to pay with cash.
By using ERR, billers reduce their cash-processing expenses by accepting cash payments at 7-Eleven stores instead of money orders, or cash at their own facilities. In addition, billers or billing aggregators can optionally participate in the fee structure.
To get started, billers or their aggregators simply integrate with the PayNearMe platform to import unique barcodes and print them onto customers' bills. When customers present their actual physical bills and pay with cash at a 7-Eleven register, billers are notified in real-time that guaranteed good funds have been received, assuring them there is no risk of fraud, chargebacks or nonsufficient funds.
InfoSend, a provider of bill presentment and e-billing solutions to 200 municipal utilities in California, is the first billing aggregator to integrate PayNearMe EBR.
Finally, PayNearMe also announced that providers of value remittance can accept cash for international mobile top-up, bill pay and gift-card delivery. Mobile operators and value remittance providers can work with PayNearMe to offer their prepaid mobile subscribers the ability to add minutes to their accounts at any one of the nearly 6,200 7-Eleven stores across the U.S. without the need for dedicated cards. Also, consumers in the U.S. can pay bills or load gift cards on behalf of friends or family members outside of the country.
PayNearMe doesn't require a dedicated in-store card for these transactions, which makes it easier for providers who do not currently have distribution in 7-Eleven stores. For the unbanked and those who prefer to pay with cash, PayNearMe delivers a convenient option to top-up an account anywhere in the world.
Sochitel, a provider of value remittance, is the first company to enable its U.S. customers to send airtime directly to friends and family internationally by paying with cash. As an MTN distribution partner, Sochitel can now offer MTN's subscriber base of more than 115 million subscribers worldwide access to this innovative service.
To load funds, consumers go to a participating 7-Eleven store to pick up a free PayNearMe card and text the card number to PayNearMe. They then present the card along with cash at the register and receive a customized receipt summarizing the transaction. This process allows friends or family members to top-up another subscriber's account anywhere in the world.