CEFCO Unveils New Prototype Store
TEMPLE, Texas -- CEFCO Convenience Stores celebrated the opening of its newest store yesterday. The site, located at 500 West FM2410 (Knight's Way) in Harker Heights, Texas, is the chain's third location in the city and will serve as the retailer's prototype store.
Dubbed "a crowning achievement of the CEFCO organization," the new store ushers in the next generation of store design and guest experience, the company said in a news release. The prototype location incorporates a number of innovative operational enhancements made possible by an open, fresh design with modern treatments and upgraded finishes.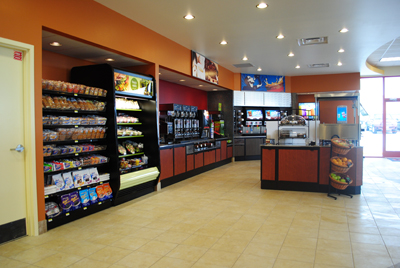 "We are tremendously proud of what the newest CEFCO store means to the organization," said Raymond Smith, COO of Fikes Wholesale, parent company of CEFCO. "It will be the laboratory for current and future business improvements, including operations, facilities design, green efficiencies, equipment, product offering and overall customer experience."
Among the attractions of the newly designed store is an enhanced hot beverages program that offers a multitude of syrups and toppings, as well as the much-lauded CEFCO iced tea program.
More than 60 varieties of craft and import beers, along with a full assortment of wines, will also satisfy every taste. Additionally, customers will find an expanded frozen food and tobacco offerings, for people with busy schedules and little time to spare, CEFCO noted.
"Our customers are very particular about how they spend their hard-earned money. We believe that they deserve a great value on top-quality product," said Brian Matlock, director of foodservice for CEFCO. "The 'Your Way' hot beverage program starts with the best-quality coffee beans that are ground on-site to ensure maximum freshness. Then, guests have a wide assortment of condiments and toppings to build their customized drinks just the way they want it. It's like coffeehouse quality at a fraction of the price."
During the first few weeks of operation, the convenience retailer will be celebrating the opening by offering special pricing on CEFCO fuel and free car washes. Additionally, 1,000 customers will be given a free mug that entitles them to free refills on any coffee, tea, fountain soft drink or frozen carbonated beverage until Sept. 15.
"We will also be sampling our new food offerings over the next few weeks," said Steve Keane, vice president of marketing, at CEFCO. "We are very proud of the great foodservice products that we offer and are anxious to have our customers try them."
Temple, Texas-based CEFCO Convenience Stores operates 123 stores in Alabama, Mississippi, and Texas, and employs more than 1,350 team members.