05/14/2013
CEFCO's New Concept Debuts Deep in the Heart of Texas
MT. VERNON, Texas -- A new era for Temple, Texas-based CEFCO Convenience Stores recently began. Approximately halfway between Dallas and Texarkana, Texas, the 250-plus-unit convenience store chain opened its first co-branded CEFCO and Huddle House location in Mt. Vernon, Texas, on April 12.
CSNews Online recently visited the prototype to see how CEFCO's collaboration with the quick-service restaurant chain -- known for its waffles, burgers and sandwich platters, as well as its "Any Meal. Any Time." slogan -- is going thus far.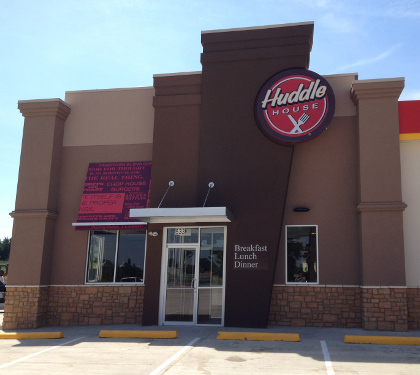 Unfortunately, when we arrived on May 8, the Huddle House was not yet open. In fact, the day CSNews Online visited, the final Huddle House signage was being affixed to the roof. But the convenience store and gas station aspects of the business were fully operational.
The location, just off exit 146 on Interstate 30, is different from many others, primarily evidenced by the rear right section of the c-store. In this separate section -- difficult to see on a first glance inside the store -- three aisles are devoted to auto products, work boots, fans, T-shirts and mugs.
A customer in a hurry may also not notice the television sit-down area next to this section. In the television viewing room, 16 seats flanked by end tables are situated throughout, and front and center is a high-definition TV with the remote handy for a customer to select the channel of their choice.
Other aspects of the store are more apparent. Immediately upon walking inside, a massive cold vault makes its presence felt, as does a lottery outpost, ATM and three aisles worth of candy, snacks and cold remedies.
After a few more steps, the front left of the new CEFCO store reveals newspapers and an aisle devoted to cowboy hats, bandanas and Southwest-style handbags.
The soon-to be opened Huddle House restaurant is positioned to the left of the store and restrooms are located in the far left corner.
The rear center of the stor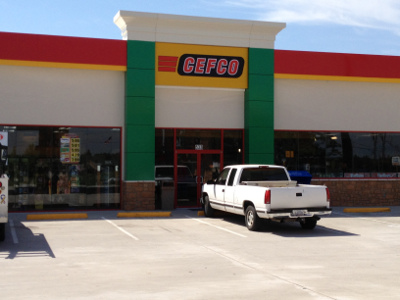 e features three coffee machines, one cappuccino machine, two soda fountains and a f'real milkshake dispenser. As for foodservice offerings, in this same area, fresh muffins can be found along with a roller grill providing a traditional hot dog, a Jalapeño Cheeseburger Dog and a Buffalo Ranch Chicken Dog.
A more exhaustive search of the store also yields fruit cups, pre-made submarine sandwiches, apples, bananas and a variety of ice cream pops.
In addition to housing the cash registers, the front center of CEFCO's new prototype store sells on-the-go breakfast and lunch sandwiches called Scooters. A treasure trove worth of tobacco products can also be found near the checkout.
Clearly, CEFCO's Mt. Vernon store is designed to be a destination for both truckers and the everyday motorist. For example, on the surrounding lot, the co-branded store is equipped with 20 gas fueling lanes, including one offering diesel exhaust fluid.
Once the accompanied Huddle House opens, customers will find a variety of options that cater to most every taste bud.
"CEFCO has a long history of taking care of our customers with outstanding service, clean facilities, best-in-class restrooms, great products and a commitment to the communities we serve,"Brett Giesick, chief retail officer at CEFCO, stated when the retailer first announced its deal with Huddle House in December. "We are just as committed toward providing these same levels of execution to our Huddle House guests."
A second CEFCO-Huddle House joint location is expected to open in Jarrell, Texas, in the near future.