06/14/2018
Chevron Giving Away a Year's Worth of Gas Every Day in June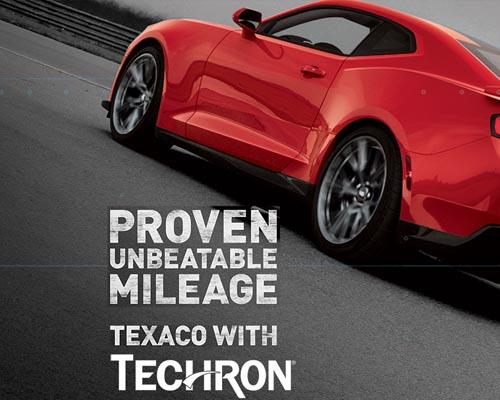 SAN RAMON, Calif. — To celebrate the new Techron "unbeatable mileage" claim, Chevron Corp. is giving away a year's worth of free gas every day during the month of June.
From June 1 through 30, consumers can access the "Play the Chevron/Texaco with Techron Proven Unbeatable Mileage Instant Win Game" via the free Chevron or Texaco mobile app. Within the instant game, they swipe away a fuel gauge to reveal whether or not the tank displays the proven unbeatable mileage of Techron with the adjoining logo. If it appears with a winning message, they've won.
Consumers can play the instant game from anywhere the first time, but to play again, they must be at a participating Chevron or Texaco station. Other rules for playing the game include:
There is a limit of one game play per day, regardless of which app is used to enter.

Players must confirm that they are 18 years or older.

Players must fill out a short registration form and accept the terms and conditions.
There is no purchase necessary to play the game. Message and data rates may apply.
One grand-prize winner will be awarded per day for 30 days with a years' worth of free gas. Additionally, 25 winners will receive $50 Chevron gift cards each day.
The instant game comes shortly after Chevron Products Co. unveiled a new marketing campaign for Chevron with Techron and Texaco with Techron fuels. The new creative comes as the fuels add proven "unbeatable mileage" to their resume, as Convenience Store News previously reported.
San Ramon-based Chevron is one of the world's largest integrated energy companies.