Choctaw Travel Plazas Streamline Fuel Pricing Process
Get great content like this right in your inbox.
Subscribe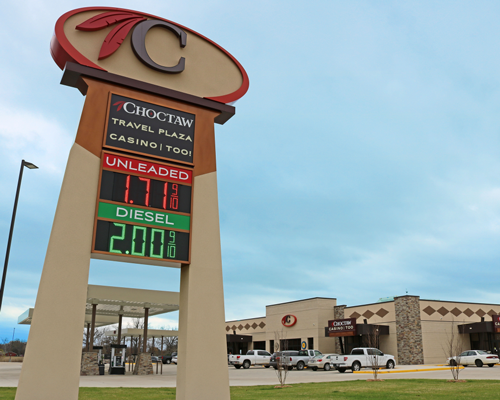 DURANT, Okla. — Choctaw Nation of Oklahoma, which operates 17 Choctaw Travel Plazas throughout Oklahoma and Texas, selected PriceAdvantage software to streamline its fuel pricing process.
PriceAdvantage, a fuel price management and price execution software, also will enable Choctaw to remove the burden of fuel price changes from store personnel.
Through this new partnership, Choctaw store clerks can use their mobile devices to upload competitor surveys to PriceAdvantage. Choctaw fuel pricing analysts can then review those competitor prices and replacement costs against volume and margin goals to make price changes. The new prices can be pushed to the stores' point-of-sale, pumps and price signs instantly.
"With PriceAdvantage, we are able to initiate real-time price changes directly from a cell phone — therefore adding increased margins," said Chuck Tillman, senior director of retail operations for Durant-based Choctaw Nation of Oklahoma.
 PriceAdvantage is a division of Skyline Products.  
Skyline Products President and CEO Chip Stadjuhar said, "Depending on busy store personnel to gather competitor surveys and then post new prices can create pricing delays and inefficiencies — which ultimately can impact your margins and volumes. Choctaw Travel Plazas will now be able to accelerate and automate those processes, improving their ability to respond to market changes and allow their store personnel to focus on the customer experience."