Circle K & PepsiCo Celebrate Football Season With 'Unreal Rookie Deal'
Get great content like this right in your inbox.
Subscribe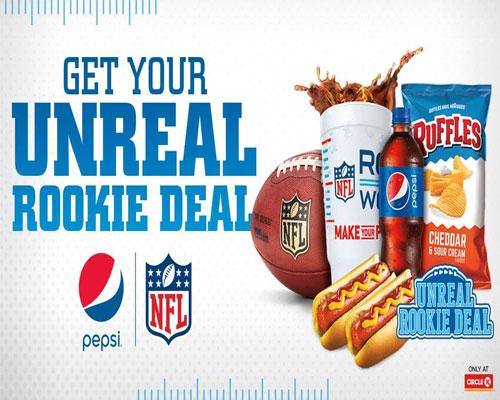 TEMPE, Ariz. — Circle K Stores Inc. is teaming up with official National Football League (NFL) sponsor PepsiCo for a campaign that spotlights rookie players.
The effort centers on an "Unreal Rookie Deal" comprised of two hot dogs, a bag of potato chips from the manufacturer's Ruffles brand, and a choice between a 20-ounce Pepsi bottle or a proprietary Polar Pop beverage. The offer is valid from Sept. 1 through Feb. 4, 2018.
In stores, clings on coolers and fountain machines, wobblers affixed to Frito-Lay floorstands and a Pepsi- and NFL-branded Polar Pop cup spotlight the deal. Digital support includes ads on NFL.com, CircleK.com, a promotional page within regional Circle K websites, Facebook covers, and a series of skits on Pepsi's YouTube channel.
Digital and in-store support serves as a gateway to PepsiCo's "Rookie of the Week '17" program, which allows consumers to vote on an NFL rookie at NFL.com/rookies. Each week during the 2017 football season, an NFL player will be selected through the page to receive "Pepsi rookie of the week" honors.
To read the full story, visit Convenience Store News sister publication Shopper Marketing.