Circle K Promo Puts Florida Resident in Driver's Seat
PENSACOLA, FL. – One Pensacola woman is feeling kind of groovy after winning the Circle K Gulf Coast Division's Summer of 69 cents sweepstakes. Alice Eady became the new owner of the 1969 restored Volkswagen Bus on Friday during a presentation at the newly remodeled Circle K at 6620 Theodore Dawes Rd. in Theodore, Ala.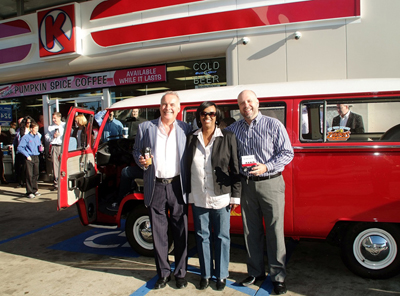 The sweepstakes ran from April 6 through Oct. 4, and took place in the Gulf Coast Circle K stores in Florida, Alabama, Mississippi, Louisiana and Tennessee. During that time, the c-store chain offered a variety of fountain drink flavors in an any-size, no-sweat cup -- 20-ounce, 32-ounce or 44-ounce drinks -- for 69 cents.
The Circle K Gulf Coast Division used the sweepstakes to publicize its any-size Thirstbuster for 69 cents offer and the entire Summer of 69 cents promotional campaign. During the summer, Circle K also worked with its supply partners to offer 69-cent bottles of Nestle water, 69-cent cans of Miller High Life beer, 69-cent Oscar Mayer hot dogs, 69-cent Hostess Honey Buns, 69-cent refills for coffee and frozen drinks.