Circle K Puts Unique Spin on Heineken's National Holiday Promotion
Get great content like this right in your inbox.
Subscribe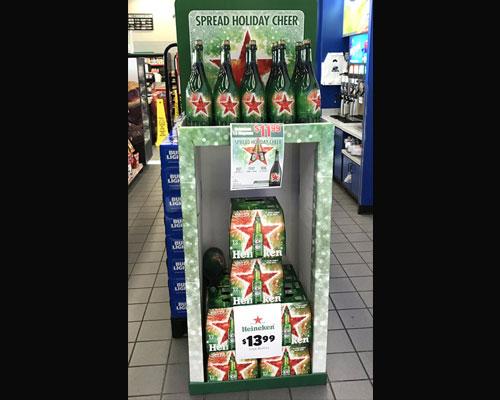 TEMPE, Ariz. — Circle K Stores put a unique spin on Heineken's national holiday promotion.
The convenience store retailer ran a sweepstakes from Nov. 1 through Dec. 31 that awarded 150 grand-prize winners with $25 prepaid debit cards by purchasing a Heineken SKU and submitting their phone number when prompted at checkout.
To promote the sweepstakes, cooler clings showcased a "treat your circle to the star" message. Additionally, floorstands plugged Heineken's national instant-win game and sweeps, which awarded four grand-prize winners with $5,000 and 120 weekly winners with either a $50 prepaid debit card or a $5 Uber code.
The game also awarded 180 $50 cards and 1,800 Uber $5 codes. Shoppers entered from Nov. 16 through Dec. 31 by purchasing a product from the brand and texting "cheer" with a picture of their receipt to a promotional number.
Circle K is the global brand of Alimentation Couche-Tard Inc. Laval, Quebec-based Couche-Tard's network comprised 9,471 convenience stores throughout North America including close to 8,129 stores with road transportation fuel dispensing. Its North American network consists of 18 business units, including 14 in the United States covering 42 states and 4 in Canada covering all 10 provinces. 
In Europe, Couche-Tard's network comprised of 2,754 stores, the majority of which offer road transportation fuel and convenience products while the others are unmanned automated fuel sites that only offer road transportation fuel. 
In addition, under licensing agreements, close to 1,700 stores are operated under the Circle K banner in 13 other countries and territories.