Circle K Renews Sponsorship of Dew Tour Summer Skateboarding Event
Get great content like this right in your inbox.
Subscribe
TEMPE, Ariz. — For the third consecutive year, Circle K Stores Inc. signed on as official sponsor of Dew Tour's summer skateboard competition and festival, which will introduce women's competitions this year.
As part of its official sponsorship of summer Dew Tour — which runs from June 28 to July 1 — the convenience store retailer will have activation in the Dew Tour Experience, including a branded location where customers can sample Mountain Dew and other Circle K products, take part in sweepstakes prizes through the Circle K mobile app, and other experiential activities.
According to Circle K, it aims to increase customer awareness and traffic both at Dew Tour Long Beach and to its year-long Dew Inner Circle loyalty program through these activation elements.
"Sponsoring Dew Tour Long Beach is an outstanding opportunity for Circle K," commented Dennis Tewell, senior vice president of operations at Circle K.
"Once again, through our partnership with Mountain Dew, we are excited to bring the Circle K experience to a large number of loyal and potential customers and let them know how they can quench their thirst and fill their appetite at one of our over 9,500 convenient North America sites," he added.
Dew Tour Long Beach will have extensive national mainstream and media exposure, featuring the skateboarding competitions and multi-faceted lifestyle activations on the NBC network and livestreamed on DewTour.com. It is expected to reach millions of sports fans and millennial followers, the company stated.
"Having Circle K as an official partner has become a signature part of the experience of Dew Tour," said Justin Faiber, senior manager, Sports Marketing, PepsiCo. "The Circle K on-site activation is popular with our fans, and allows greater exposure to our on-going brand partnership."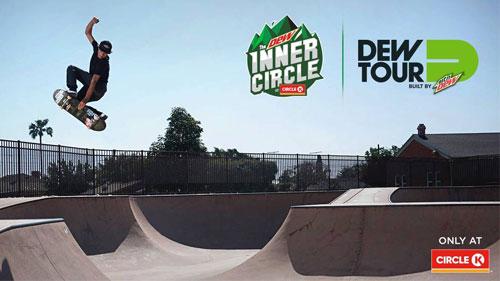 As of Feb. 4, Laval-based Couche-Tard's network comprised 10,020 convenience stores throughout North America, including 8,698 stores with road transportation fuel dispensing. Its North American network consists of 19 business units, including 15 in the U.S. covering 48 states and four in Canada covering all 10 provinces.
In addition, through CrossAmerica Partners LP, Couche-Tard supplies road transportation fuel under various brands to more than 1,300 locations in the U.S.
In Europe, Couche-Tard operates a retail network across Scandinavia, Ireland, Poland, the Baltics and Russia through 10 business units. As of Feb. 4, Couche-Tard's European network comprised 2,730 stores, the majority of which offer road transportation fuel and convenience products, while the others are unmanned automated fuel stations which only offer road transportation fuel. 
In addition, under licensing agreements, more than 1,900 stores are operated under the Circle K banner in 14 other countries and territories, which brings the worldwide Circle K total network to more than 15,900 stores.