CITGO Honors Hurricane Harvey Anniversary With Community Rebuilding Project
Get great content like this right in your inbox.
Subscribe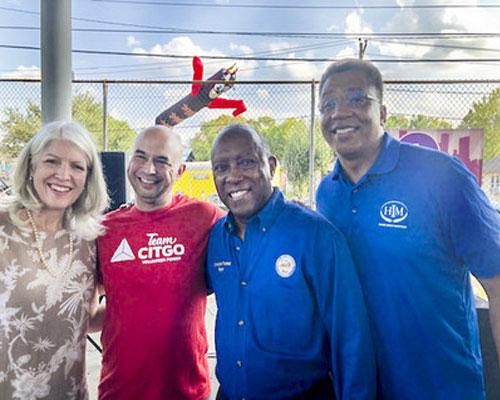 HOUSTON — Honoring the one-year anniversary of Hurricane Harvey, CITGO Petroleum Corp. joined Rebuilding Together Houston to host a rebuilding event and volunteer celebration in Houston's Independence Heights neighborhood on Aug. 25.
Members of TeamCITGO — the company's Houston-based, employee-driven volunteer group — joined community volunteers for the day-long rehabilitation project. Afterwards, a celebration was hosted by Rebuilding Together Houston partner Entercom.
"The sheer volume of volunteering we have seen following the devastation left in Harvey's wake is a testament to the Houston community," said Larry Elizondo, CITGO general manager community relations, corporate social responsibility and legislative affairs. "The character of a community truly emerges when times are tough. Houston has proven that it is strong, resilient and kind. TeamCITGO is proud to do its part alongside such committed community partners."
Houston Mayor Sylvester Turner joined volunteers in the celebration, which included prizes, games, food and beverages, a live DJ, and raffle prizes. He said that he is proud of the recovery work CITGO and Rebuilding Together Houston are initiating in Houston.
"CITGO and Rebuilding Together Houston are making a difference where it matters most — right in Houston's back yard," Turner said. "Independence Heights represents the heart of Houston and I am proud of the work that's being done to restore this community. Thank you TeamCITGO and Rebuilding Together Houston for all you are doing for the great City of Houston. The best is yet to come as we work together healing hearts and homes one at a time."
In the immediate wake of Hurricane Harvey, CITGO and Rebuilding Together Houston joined forces with an immediate goal of repairing up to 300 homes in Houston's Independence Heights community throughout the next three years, in addition to longer-term recovery efforts.
In 2017, CITGO launched its "Fueling Good. Rebuilding Lives." initiative, a larger effort dedicated to community recovery in the wake of Hurricanes Harvey, Irma and Maria. Through this initiative, CITGO has committed $10.9 million to storm recovery over the next three years, rebuilding homes and providing relief throughout Texas.
Houston-based CITGO is a refiner, transporter, and marketer of transportation fuels, lubricants, petrochemicals and other industrial products. The company is owned by CITGO Holding Inc., an indirect, wholly-owned subsidiary of Petróleos de Venezuela, S.A., the national oil company of the Bolivarian Republic of Venezuela.