CNG: The Fuel Alternative of the Future?
NATIONAL REPORT -- A fuel alterative manufactured in the United States that is cleaner burning and considerably cheaper than gasoline at the pump may sound like a pipe dream, but the technology is available today. And a group of people, all from the same state, want convenience store retailers to know about it.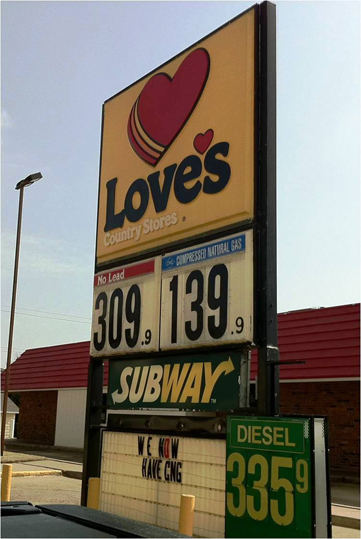 Although many say petroleum will always be the mainstay, compressed natural gas (CNG) could be sold beside it at pumps nationwide in the future, according to sources interviewed by CSNews Online. In fact, CNG is already a staple at OnCue and Love's Travel Stops & Country Stores locations in Oklahoma.
To make CNG popular throughout the country, it will require education and infrastructure spending on the part of convenience store retailers, along with a commitment to manufacturing vehicles that can accept CNG on the part of auto manufacturers.
CNG involves the transportation of natural gas via a pipeline, said Norman Herrera, Chesapeake Energy's director of market development. The natural gas is then compressed to 3600 psi, which can fuel and power a vehicle.
CNG is better than gasoline in many ways, according to Herrera. These include reduced emissions, the local availability of natural gas (at least 32 states can produce it) and the more attractive pump price. "A retailer today in Oklahoma can sell CNG for $1.39 a gallon," Herrera said. "The gasoline price may be $3.50. CNG compares really favorably to gasoline."
CNG is different from liquefied natural gas (LNG) as the latter bears a temperature of minus 260 degrees and is transported to a fueling point. "It's often used only by 18-wheelers because of the weight composition of carrying a liquid product vs. a compressed product," Herrera explained. Therefore, CNG stands a much better chance than LNG of making inroads with consumers.
However, there are some challenges when it comes to CNG. Consumers need to have vehicles that can accept the fuel and at a price tag with which they are comfortable. The Chevrolet Express and GMC Savana vans accept natural gas and are affordable, with price tags starting at $24,985 and $28,940, respectively. But consumers may not be interested in purchasing vans that look like commercial vehicles.
According to Herrera, General Motors will produce a natural gas-accepting Chevy Silverado, due to be released late this year. It's unknown what the cost of the pickup truck, which will offer both petroleum and CNG tanks, will be. However, the 2012 Silverado hybrid, a similar model, has a sticker price of $39,265.
Therefore, consumers searching for a sleeker vehicle only have one option right now. The Honda Civic NG (Natural Gas) looks promising, thanks to an manufacturer suggested retail price starting at $26,155 and an estimated 27 miles per gallon city/38 miles per gallon natural gas fuel efficiency.
Despite a promising outlook, though, only 13,000 Honda Civic NGs have sold during its 13 years of production, the Associated Press reported. A main reason for paltry sales number -- the lack of gas stations offering CNG at the pump.
Everywhere, but in Oklahoma, that is. The state has been a hotbed for CNG gas stations thanks to its favorable political climate for alternative fuels, as well as two retailers in the state that strongly support CNG, OnCue and Love's Travel Stops & Country Stores. Chesapeake Energy provides natural gas to both. "Chesapeake approached us about a year ago about CNG," Kyla Turner, communications manager at Love's, told CSNews Online. "We are both headquartered in Oklahoma City, so we knew them really well. They really wanted to get the word out about the advantages of CNG. We have a great network for distribution, so it seemed like a perfect fit. We look at it as a way to offer our customers an alternative to traditional fuel, which has become very popular."
Love's, which operates 286 locations in 39 states, began selling CNG at one store in Kingfisher, Okla., in February 2011. "That store is doing really well," Turner reported. "We are seeing increasing usage and increased demand for CNG."
Love's has been so pleased with the sales there that the retailer announced it would install CNG pumps at 10 more locations. According to Turner, those conversions are expected to be completed by the end of this month.
Steve James, CFO of OnCue, which offers CNG both in standalone pumps and at islands next to petroleum pumps at 13 of its stations, said Oklahoma has a lot of oil and gas as part of its economy. "So, a lot of people who use CNG are in the oil and gas industry. They are encouraged by the price," he said. "We offer CNG for $1.39. Gasoline sells in the low $3 range and diesel is in the $3.60 range. So, they save money and the customer knows [he/she] is putting money back into their own local industry."
A bugaboo always evident when a new technology is considered by a c-store retailer is infrastructure costs. But James said such costs are well worth it. "One of the advantages of being in this part of the country is natural gas lines go to so many places. Unlike gasoline, where we have a tank truck that hauls fuel out to all of our locations, we tap into natural gas transmission lines," said James. "Our source and supply comes from there. The infrastructure costs primarily consist of having a compressor and bringing natural gas to 3600 psi."
OnCue's CEO Jim Griffith added that demand for CNG trumps all other factors in the cost equation. Demand for CNG is high, he said. "It's just simple math. We can make CNG work financially as well."
Turner holds a similar sentiment. "There is a cost to construct the pumps," she said. "But we already see a demand in place in Oklahoma. We saw that value was there to go ahead and construct the pumps."
One independent convenience store owner who is incredibly bullish about the future of CNG is Bruce Bennett, owner of the 4,000-square-foot Bruce's Store in Buckhannon, W. Va. "In 10 or 15 years, everyone is going to [sell] natural gas," he told CSNews Online. "It just has to happen. Any people who are looking to buy [c-store] sites better be looking for ones that offer pipelines."
Bennett does not sell traditional fuel at his site. However, if he expands his business in the near future, he said he would definitely offer natural gas.
Natural gas has another champion on its side: politicians. When he served as Oklahoma's Speaker of the House, Rep. Chris Benge was the brainchild behind the efforts to make CNG prominent in his state. Benge, now senior vice president of government affairs for the Tulsa, Okla., Chamber of Commerce, said he first championed CNG in February 2008, when the economy was still strong but gas prices were approaching $4 per gallon.
"During years in legislative positions and as an average citizen, I watched with frustration as the federal government could not come up with a consensus to create any type of energy plan," he said. "The issue wasn't being ignored, but it wasn't as high on the priority list as it should have been. Energy affects so many of our lives. I thought Oklahoma had the opportunity to lead on that issue."
To further sweeten the pot, Benge sponsored a law that provides Oklahoma c-store retailers with a 75-percent tax credit for CNG infrastructure expenses. Also, Oklahoma renewed a 50-percent tax credit on the purchase of natural gas-powered vehicles. "We wanted to be aggressive with [the tax credits] because we wanted to be a leader in the nation, and we also felt like there was a sense of urgency," said Benge. "High fuel prices increase dependence on foreign energy sources. That's a policy direction that can lead us to vulnerability from a national security standpoint and needed attention very quickly."
For Bennett, he believes it's only a matter of time before other states and the federal government follow suit with natural gas tax incentives. "Sooner or later, the federal government will see the need. It's all going to happen overnight," he said. "And once it does, they will give huge incentives. They need to make sure the fueling stations are in place. Once that happens, automobiles will switch over to natural gas overnight. Natural gas technology for vehicles has been around for 20 years. The big problem has been there are not enough fueling stations. People need to be able purchase natural gas at the pump."
A Nationwide Alternative
Clearly, CNG is working in Oklahoma, despite the challenges. Yet, questions still remain as to whether CNG can be implemented effectively nationwide.
OnCue's Griffith said one way to increase CNG's popularity is by incorporating CNG with all other gas pumps. "The more mainstream it becomes, the better," he said. "If customers buying gas see others fueling up with CNG, they will realize those customers are paying $2 less [per gallon]. That will definitely get their attention. We have electronic signs that advertise the price, so everyone who drives down the street sees the difference."
Turner, of Love's noted that a lot of municipalities and fleets are converting to CNG. "The difference is education and awareness of CNG in Oklahoma. I really think Chesapeake has made a good case for [CNG] and is really putting the education and awareness out there. I get a lot of calls directly to my office from consumers who just bought a new pickup truck here in Oklahoma City that is CNG-compatible because they see the advertised price for CNG is $1.39 per gallon."
As for the future possibility of expanding CNG pumps to the 38 other states where Love's operates c-stores, Turner said the company will first monitor the level of demand in Oklahoma. "That will determine our expansion plans outside [Oklahoma]," she said.
Chesapeake Energy's Herrera echoed that education is vital to move the CNG movement forward, particularly altering the perception that CNG is only designed for fleet vehicles. He admitted it can be a challenge to convince gas station operators who have sold traditional gas their entire lives to add CNG to the mix. However, CNG is definitely viable, he stressed.
"Italy already has 800 CNG stations, and California has many as well," he said. "Chesapeake's goal is to convert 5,000 stations nationwide to CNG in the next four years. That would equal about 2 percent of the total station count. We think it's realistic to achieve."