08/15/2018
Coca-Cola to Acquire Minority Ownership Stake in BODYARMOR, With Deeper Investment to Come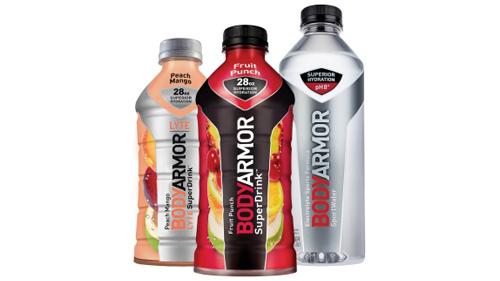 ATLANTA — The Coca-Cola Co. inked a definitive agreement to take a minority ownership stake in BODYARMOR.
The initial investment will create value for both companies and allow Coca-Cola to increase its ownership stake in the future under defined terms. Financial terms of the agreement were not disclosed.
With the investment, BODYARMOR will join the Coca-Cola North America Venturing and Emerging Brands investment portfolio. The brand will continue to operate independently under the leadership of Chairman Mike Repole and the current management team.
"In a fast-moving and dynamic industry, and during a time of unprecedented change at Coca-Cola, we're challenging the status quo and bringing innovative, boundary-less thinking to our strategic relationships to ensure we are offering the products consumers want," said Coca-Cola North America President Jim Dinkins.
"BODYARMOR is one of the fastest growing beverage trademarks in America and competes in exciting categories. I have no doubt it will prove to be a strong offering to our system alongside our already powerful hydration portfolio as we accelerate our position as a total beverage company," he added.
The BODYARMOR trademark includes BODYARMOR Sports Drink, BODYARMOR LYTE Sports Drink and BODYARMOR SportWater.
"BODYARMOR is revolutionizing the beverage industry by providing the hydration that more and more of today's athletes want and need. We are confident that this agreement gives us the best opportunity to significantly accelerate our mission to make BODYARMOR the world's best premium sports performance and hydration brand," said Repole, who founded the company with Lance Collins. "This is thanks to the strength and scale of Coca-Cola's newly refranchised and energized bottling system in North America, as well as longer-term opportunities for international growth."
Repole has had success co-founding and incubating other brands including smartwater and vitaminwater, which joined the Coca-Cola portfolio in 2007, and have since become billion-dollar brands with global availability, according to a joint release from the two companies.
Through the transaction, Coca-Cola will become the second largest shareowner in BODYARMOR, behind Repole.
An Analyst's Take
According to Bonnie Herzog, managing director of tobacco, beverage and convenience store research at Wells Fargo Securities LLC, Coca-Cola's investment will drive significant value long term by:
Transitioning BODYARMOR to its expansive bottling system, which should enable BODYARMOR to accelerate its growth domestically; and

Expanding BODYARMOR globally over the long term.
"In short, we think BODYARMOR will benefit from being a part of Coca-Cola's nimble, entrepreneurial culture — and see this as an opportunity for Coca-Cola to further innovate and accelerate growth across its portfolio," Herzog said.
While Wells Fargo Securities see the deal as a positive for BODYARMOR, Herzog said it is a negative for Keurig Dr Pepper and PepsiCo Inc., which will face increased competition to its Gatorade portfolio.
Keurig Dr Pepper owns a roughly 12.5-percent stake in BODYARMOR, which Dr Pepper Snapple amassed in 2015-2016. According to Herzog, Wells Fargo Securities learned BODYARMOR notified Keurig Dr Pepper that the sports drink company is terminating their existing distribution agreement, although the timing is uncertain.
"All-in, we would not be surprised if Coca-Cola eventually acquires the remainder of BODYARMOR, and would see this as a significant positive for Coca-Cola," she said.
Atlanta-based Coca-Cola is a total beverage company, offering 500-plus brands in more than 200 countries and territories. In addition to the company's Coca-Cola brands, the portfolio includes several other beverage brands, such as AdeS soy-based beverages, Ayataka green tea, Dasani waters, Del Valle juices and nectars, Fanta, Georgia coffee, Gold Peak teas and coffees, Honest Tea, innocent smoothies and juices, Minute Maid juices, Powerade sports drinks, Simply juices, smartwater, Sprite, vitaminwater and ZICO coconut water.