09/06/2018
Coca-Cola Acquiring Global Coffee Brand Costa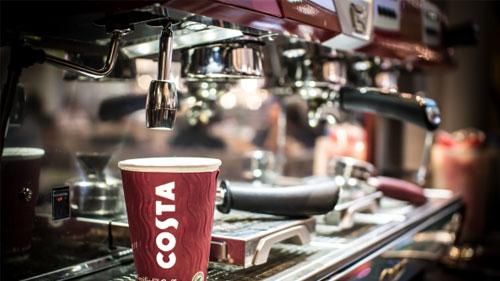 ATLANTA — The Coca-Cola Co. has reached a definitive agreement to acquire Costa Limited, U.K.'s leading coffee company.
The acquisition of Costa from parent company Whitbread PLC is valued at $5.1 billion and will give Coca-Cola a strong coffee platform across parts of Europe, Asia Pacific, the Middle East and Africa, with the opportunity for additional expansion.
Costa's operations include a leading brand, nearly 4,000 retail outlets in 32 countries, and about 8,200 Costa Express vending machines across multiple countries, in addition to for-home coffee formats, a state-of-the-art roastery and an extensive loyalty program.
"All of this provides Coca-Cola with ready-made brand equity, which should translate into a strong platform for growth globally as well as access to expertise across the coffee supply chain," commented Bonnie Herzog, managing director of tobacco, beverage and convenience store research at Wells Fargo Securities LLC. "In short, we see plenty of opportunities to expand the Costa brand in the RTD [ready-to-drink] coffee category, both hot and cold, similar to Coca-Cola's highly successful and complete Georgia offering in Japan."
Herzog added that the acquisition is very positive and a big opportunity for Coca-Cola over the long term, since it is an accelerator of the company's strategy to be the global beverage and coffee leader.
Additionally, the acquisition solidifies and enhances President and CEO James Quincey's thoughtful and strategic vision for Coca-Cola as it:
Doubles the company's addressable market;

Fills a critical gap in its portfolio; and

Further builds out its global distribution platform as it executes on its ambition to truly become a "total beverage company."
For Coca-Cola, the expected acquisition adds a scalable coffee platform with critical know-how and expertise in a fast-growing, on-trend category, the company stated.
Given Costa's existing international footprint, expansion and integration into other geographies will be a key focus of Coca-Cola to generate revenue synergies. While Costa has a retail presence in 31 international markets, the majority of their stores are in the U.K. (63 percent), Europe (12 percent) and China (12 percent). Coca-Cola plans to expand Costa's retail format east towards Asia, where coffee consumption habits are less established.
Meanwhile, in geographies like the U.S., where consumer coffee habits are more mature, the company will focus on developing ready-to-drink (RTD) and in-home products.
"Costa gives Coca-Cola new capabilities and expertise in coffee, and our system can create opportunities to grow the Costa brand worldwide," Quincey said. "Hot beverages is one of the few segments of the total beverage landscape where Coca-Cola does not have a global brand. Costa gives us access to this market with a strong coffee platform."
Upon closing, Coca-Cola will acquire all issued and outstanding shares of Costa Limited, a wholly owned subsidiary of Whitbread. This subsidiary contains all of the existing operating businesses of Costa.
Whitbread will be seeking shareholder approval for the transaction, which is expected to take place by mid-October. The deal is subject to customary closing conditions, including antitrust approvals in the European Union and China. It is expected to close in the first half of 2019.
Coca-Cola expects the transaction to be slightly accretive in the first full year, not taking into account any impact from purchase accounting. For the fiscal year ending March 1, 2018, Costa generated revenue and EBITDA of $1.7 billion and $312 million, respectively.
Coca-Cola said it plans to retain the existing management team from Costa and establish compensation incentives to promote employee retention.
"The Costa team and I are extremely excited to be joining The Coca-Cola Co.," said Costa Managing Director Dominic Paul. "Costa is a fantastic business with committed and passionate associates, a great track record and enormous global potential. Being part of the Coca-Cola system will enable us to grow the business farther and faster.
"I would like to say a huge thank you to our customers and to everyone in the Costa team who have helped us build the business to this position, and I look forward to the next exciting chapter in Costa's vision of Inspiring the World to Love Great Coffee," he added.
The Coca-Cola Co.'s advisers to the deal included: Rothschild as exclusive financial adviser; Clifford Chance as legal counsel; and Skadden, Arps, Slate, Meagher & Flom as tax counsel.