Community Service Spotlight
NATIONAL REPORT -- Giving back through community service efforts and charity donations is a positive force that keeps many retailers and suppliers of this industry moving ahead. On a regular basis, Convenience Store News will highlight these philanthropic efforts in this special section.
Here are the latest company spotlights:
Love's Travel Stops
Love's Travel Stops gave a $1 million gift to the Science Museum Oklahoma to support renovations and improvements.
"The Science Museum is a true educational gem serving children and families in Oklahoma," said Jenny Love Meyer, director of communications for Love's. "This partnership furthers Love's commitment to support education and youth-focused programs in our home state."
Within the next five years, Science Museum Oklahoma will invest $30 million in new exhibits and facilities. A comprehensive master plan has identified two high impact projects that will be completed within five years. These projects include a new iconic main entrance and a major permanent exhibit for families with young children.
Casey's General Stores
Casey's General Stores raised more than $667,000 during October as part of its 20th Annual St. Jude Halloween Promotion. The program raises funds to support St. Jude Children's Research Hospital.
Throughout October, Casey's asked customers to donate $1 or more in exchange for a pumpkin-shaped pinup they could personalize.
Since Casey's joined the program in 2000, the company has raised more than $3.4 million, $1 at a time, for the children of St. Jude. The hospital began the Halloween program in 1992 and to date has raised more than $52 million.
TETCO Inc.
More than 12,000 underserved children aged 3 to 12 in San Antonio will wake up Christmas morning to find a gift under their tree, thanks in part to a $10,000 donation by TETCO and the Turner family.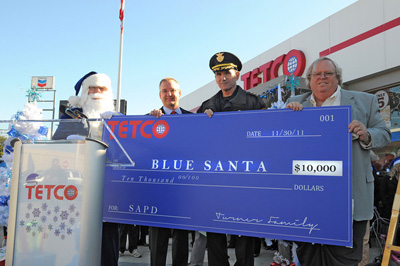 In addition to the $10,000 donation, TETCO is encouraging its customers to make a cash donation or purchase a paper blue Santa hat for $1 at all of its San Antonio stores from now until Dec. 31 in support of Operation Blue Santa. All proceeds benefit the Blue Santa Program.
TETCO launched Operation Blue Santa in 2008. Since then, it has donated more than $125,000 to San Antonio Police Department's holiday program.
The Blue Santa Program began in 1976 when officers from the Community Relations Unit adopted needy families at Christmas time. The officers provided these families with groceries for Christmas dinner and presents for their children. These police officers, wearing their blue uniforms, became known as "Blue Santas."
Saunders Oil and CITGO Petroleum Corp.
Wisconsin- and Illinois-based CITGO marketer Saunders Oil, in partnership with CITGO Petroleum Corp., recently launched the Saunders Oil "Be a Star. Buy a Star." campaign to support Wisconsin- and Illinois-area schools.
Running half the month, through Friday, Dec. 16, participating CITGO stations are selling "Stars" for $1 each. All of the proceeds will go toward new books for school libraries at five local elementary schools. The goal is to raise $1,000 during the campaign, which will allow Saunders Oil and CITGO to donate 350 books.
"All of our local school districts are battling budget cuts. We wanted to find a way to ensure that the schools have the tools they need to help kids fall in love with reading," said Karlene Saunders, secretary and general manager of Saunders Oil. "I hear from our customers about the challenges the schools are having, and we wanted to provide a solution. A single dollar can go much farther than people realize."
In addition to the "Be a Star. Buy a Star." fundraising effort, the participating stations will offer a series of activities for customers, including coloring contests and book readings.
Quality State Oil Co.
Quality State Oil Co. awarded Lakeland College, a liberal arts college with locations throughout Wisconsin, a $3,250 grant through the BP Fueling Communities Program. The gift was made possible through the work of Scott A. Stangel, wholesale marketing manager at Quality State, a BP distributor.
BP's Fueling Communities provides grants to local organizations that are nominated by BP branded marketers to support the communities in which they do business. The program allows local marketers to support organizations that focus on health, education, youth, food and housing to spread charity and goodwill among neighborhoods in need.
The Coca-Cola Co.
The Coca-Cola Foundation, the philanthropic arm of The Coca-Cola Co., awarded $17.8 million in grants to 83 organizations worldwide during the fourth quarter. The grants include $3.6 million to support water stewardship projects; $3.7 million to support fitness and nutrition programs; $3.9 million to support education programs; and $1.6 million to support recycling initiatives.
Additionally, $4.9 million will support other local priorities, such as disaster relief, HIV/AIDS prevention, youth development, arts and culture, and local civic initiatives.
In 2011, The Coca-Cola Foundation awarded more than $70 million to 263 community organizations worldwide.
Michelob ULTRA
Michelob ULTRA and Lance Armstrong are partnering this holiday season to support World Bicycle Relief, an organization that designs quality and sturdy bicycles for people living in sub-Saharan Africa, helping them access education, health care and independence.
Now through Dec. 31, Michelob ULTRA is donating 10 cents to World Bicycle Relief every time a consumer purchases a 12-, 18-, 20- or 24-pack, with a maximum donation of $25,000. Michelob ULTRA will also donate 10 cents for every new "like" the Michelob ULTRA Facebook page receives through the end of the year.
"In the United States, we often view cycling as a fitness or recreational activity, but in many parts of the world, bicycles can make a significant improvement in people's lives as their primary means of transportation," said Lance Armstrong. "I'm thrilled to join Michelob ULTRA this holiday season to help raise awareness and funds in support of World Bicycle Relief."
Since its inception in 2005 as a response to the tragic Indian Ocean tsunami, World Bicycle Relief has designed and distributed more than 91,000 bikes and trained 750-plus field mechanics in Africa. The organization offers sustainable transportation to improve access to education and economic opportunity through the increased carrying capacity and reduced travel time that bicycles provide to individuals in need.