Community Service Spotlight: Big Red Stores, Stewart's Shops & General Mills
Get great content like this right in your inbox.
Subscribe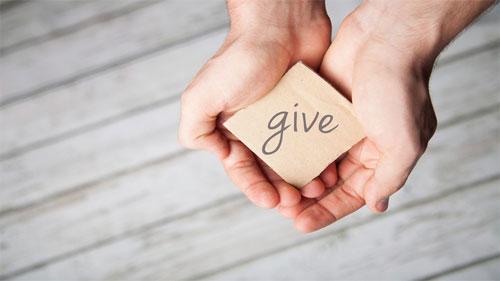 NATIONAL REPORT — Giving back through community service efforts and charitable donations is a positive force that keeps many retailers and suppliers of this industry moving ahead. On a regular basis, Convenience Store News highlights these philanthropic efforts in this special section.
Here are the latest company spotlights:
BIG RED STORES
Big Red Stores, its employees and customers raised $150,541 in its annual Arkansas Children's Campaign through bake sales and raffle tickets. This year's contribution surpasses the convenience retailer's goal of $115,000.
"Big Red Stores have achieved incredible success this year through their fundraising campaign for Arkansas Children's. Collectively surpassing their goal by more than $30,000 speaks to Big Red Store's commitment to child health and wellbeing. We are grateful for community partners like Big Red Stores who are championing children across the state," stated Kait Ross, senior development officer of the Arkansas Children's Foundation.
Over the course of 10 years, Big Red Stores has raised more than $730,000 for Arkansas Children.
CITGO PETROLEUM CORP.
CITGO, Official Fuel Sponsor of the Boston Marathon, sent eight teachers, three Marketers and six employees to run the historic race on April 15.
New this year, teachers from school districts in the company's operational footprint had the chance to participate in a contest to run the marathon courtesy of CITGO. More than 175 teachers submitted entries and eight were chosen based on their responses to three simple questions:
What does running the Boston Marathon mean to you?

How has CITGO helped your school/district?

What does that partnership mean to you as an educator?
"Education is one of the pillars in our corporate social responsibility program, and we know how hard our teachers work for our local communities," CITGO General Manager Community Relations, CSR and Legislative Affairs Larry Elizondo said. "That's why we wanted to reward them with an opportunity to showcase their commitment, perseverance and skill. The Boston Marathon is one of the elite athletic events of the year and we are proud to support these incredible individuals as they pursue this accomplishment."
Continuing a tradition started in 2017, CITGO hosted a "cheer zone" located 1 mile from the finish beneath the CITGO sign in Kenmore Square.
"With our sign in Kenmore Square, CITGO is always present for the marathon," continued Elizondo. "And serving as the Official Fuel Sponsor is just another way for us to champion this great American tradition by directly supporting and recognizing all the athletes and educators who put in the time, sweat and effort to finish the 26.2 mile race."
CITGO was also honored the 2018 Corporate Conservationist of the Year by the Louisiana Wildlife Federation at the 55th Governor's State Conservation Achievement Awards Banquet in Baton Rouge, La., on April 27.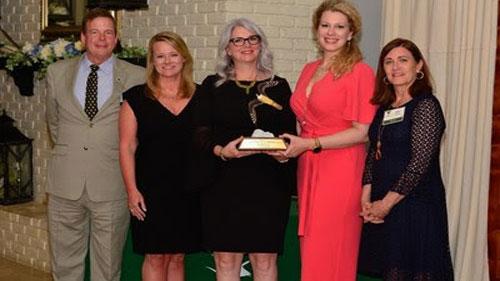 Presented by Louisiana Secretary of the Department of Natural Resources Tom Harris, the award honors individuals and businesses that have achieved significant pollution abatement, land use planning and management, conservation education and awareness, and habitat stewardship.
"It is such a great honor for CITGO to be recognized by Louisiana as Corporate Conservationist of the Year," Elizondo said. "This award is a testament to our passion for environmental protection and restoration. It is also a reflection of our commitment to supporting the communities in which we live and work, especially in Southwest Louisiana, where this year, CITGO celebrates 75 years of operations at the Lake Charles Manufacturing Complex."
In remembrance of Hurricanes Katrina and Rita, CITGO launched Caring for our Coast (CFOC) in 2014 as an environmental campaign focused on Gulf Coast conservation and restoration. Through the CFOC program throughout the operational footprint of CITGO, 6,218 volunteers have volunteered 25,287 hours in 250 restoration, conservation and education events throughout 2018.
CITGO has also supported 11 nonprofit organizations whose work has resulted in 1,042 acres of land restored or enhanced, 106,282 trees, shrubs and grass plugs planted, 92,944 pounds of trash collected, and 279 miles of shoreline cleaned.
"It has been incredibly inspiring to see so many people come together through Caring for Our Coast to promote environmental stewardship in Louisiana and at large," added Elizondo. "Together with our community partners and volunteers, we've been able to enhance coastal wetland and watershed systems, protect vulnerable coastal communities from storm surge and flood risks, restore native wildlife and fisheries, and so much more."
ENMARKET
Georgia-based Enmarket and Healthy Savannah announced the speakers for its sixth annual Enmarket Encourage Health Educational Series at a kickoff event in Savannah.
The popular speaker series presented in a lunch-and-learn format offers the public a free opportunity to hear local experts discuss health-related topics in a non-commercial atmosphere.
This year's speakers date, names and topics include:
April 30: Cleveland Beach, speaker for Meditation for Stress Relief
June 25: Desirae Suggs, speaker for Food Insecurity Issues in Savannah
Aug. 27: Dr. Michael Vaughn, speaker for Facts and Fictions of CBD Oil
Oct. 29: Katie Balthrop, speaker for the Importance of Strength Training at Any Age
This marks the sixth year for the Enmarket Encourage Health Education Series conducted in partnership with Healthy Savannah, the Charles H. Morris Center at Trustees' Garden, Cha Bella, the City of Savannah, Clover Health, Sandfly Family Dental, Savannah Morning News, Savannah Magazine, St. Joseph's/Candler and WRHQ.
Savannah-based Enmarket operates 123 convenience stores and 14 quick-serve restaurants.
GENERAL MILLS
General Mills released its 2019 Global Responsibility Report, outlining the company's approach to creating environmental, social and economic value in the countries where it operates, and highlighting the progress it made in 2018.
"We know that food plays a central role in people's lives and has a profound impact on the environment and communities worldwide," said Jeff Harmening, chairman and CEO of General Mills. "Serving the world as a food company requires innovation at every level, from how we source ingredients and make our food, to how we engage with consumers, our employees and other stakeholders."
Among some of the developments made in 2018 include:
A Regenerative Agriculture Measurement Protocol, which outlines how to determine the impact of agricultural management on soil health throughout General Mills' network of regenerative farmers and ranchers.

Regenerative Agriculture Scorecard, a self-assessment tool to help farmers understand how their practices influence soil health, biodiversity and economic resilience in farming communities.

In 2018, General Mills' greenhouse gas emissions footprint decreased 13 percent compared to 2010, across its value chain in the areas of agriculture, packaging, producing, shipping, converting, selling and consuming.

The company and its foundation donated more than $102 million to charitable causes and enabled 29 million meals for food-insecure children and families through General Mills food donations globally. 
To read more of General Mills' philanthropic contributions in 2018, click here.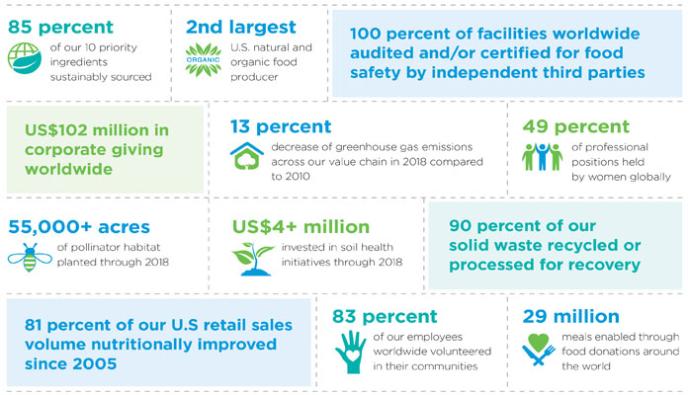 ONCUE EXPRESS
OnCue Express donated more than $45,000 of non-perishable food and personal care products that were dispersed to several local food banks, pantries and soup kitchens. A large portion — 5,090 pounds — of assorted grocery products went to the Regional Food Bank of Oklahoma.
"One of OnCue's core values is being a good neighbor in the communities where we live and work. It was extremely gratifying to visit every OnCue, collecting more than 5,000 pounds to deliver to area food banks!" said Scott Minton, director of business development, OnCue.
While most of what OnCue donates is packaged food items, it also gives personal care products. In OnCue's hometown of Stillwater, Okla., the Stillwater Public School's Pioneer Pantry — which provides students with access to basic hygiene items to help eliminate barriers that can affect their education — is a regular recipient of OnCue product donations.
"Because of the donations from OnCue, we are able to keep our shelves stocked with items for students in need," said Robin Johnson, Pioneer Pantry manager. "Necessities like hygiene and grooming products, laundry items and other household basics are staples in our pantry and are a life saver to many students in need. We are so appreciative of OnCue and their ongoing support of The Pioneer Pantry and the students that we serve."
OnCue operates more than 75 convenience stores in Oklahoma.
STEWART'S SHOPS
Stewart's Shops/Dake Family Foundation awarded a $125,000 grant to the Adirondack Sky Center & Observatory (formerly the Adirondack Public Observatory) to support the Campaign for the AstroScience Center museum and planetarium.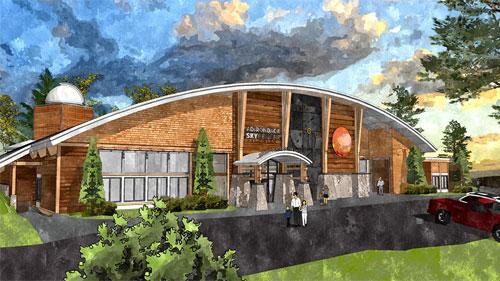 The Adirondack Sky Center will receive the grant toward the campaign's "LAUNCH!" phase, which has received $1 million in grants from the state of New York.
"Stewart's Shops have been serving the Adirondacks for more than 40 years starting in Lake George and then opening our Tupper Lake shop in 1985. We are committed to supporting and enhancing all our shops' communities," commented Susan Dake, president, Dake Family Foundation. "The Adirondack Sky Center will not only serve as an education center but also a destination for tourists and scientists who wish to expand their horizons literally and figuratively."