Community Service Spotlight: Circle K, NATSO & Swisher Sweets
Get great content like this right in your inbox.
Subscribe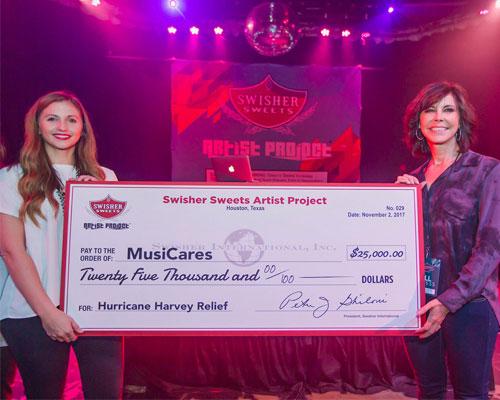 NATIONAL REPORT — Giving back through community service efforts and charitable donations is a positive force that keeps many retailers and suppliers of this industry moving ahead. On a regular basis, Convenience Store News highlights these philanthropic efforts in this special section.
Here are the latest company spotlights:
Chevron Corp.
Chevron made additional contributions of more than $2 million as part of its long-term commitment to help the Greater Houston area recover from Hurricane Harvey.
Based on a methodical needs-assessment approach, Chevron will contribute:
$750,000 to Save the Children's Journey of Hope program that will provide mental health support to 50,000 children affected by the devastating storm.

$226,000 to the Houston Food Bank for two new temperature-controlled mobile food pantries that will provide 400,000 meals per month.

$200,000 to the Houston Habitat for Humanity for heavy equipment to restore more than 1,800 low-income homes damaged by the storm.

$400,000 to the American Red Cross through Chevron's Humankind program, which the company will match two-to-one.
The additional contributions from Chevron, its employees and retirees increase the total donated to Harvey Relief and Recovery efforts to more than $4 million. Immediately after the storm, the company donated $1 million to the American Red Cross and another $1 million to the company's Fuel Your School program to help Harris County teachers rebuild their classrooms.
Circle K Stores Inc.
Circle K teamed up with the Muscular Dystrophy Association (MDA) to launch the "Live Unlimited" pinup program, which ran from Nov. 1 through Dec. 6 at more than 480 Circle K c-stores through North Carolina, South Carolina and Georgia. Customers added a Live Unlimited pinup to their purchase at check-out for a $1, $5 or $10 contribution.
The Live Unlimited program highlights the can-do spirit of individuals and families living with neuromuscular disease who do extraordinary things every day to show the world that the physical and societal limits that a disease like muscular dystrophy can bring will never define them, the company stated.
Each year, Circle K locations also participate in a Summer Camp fundraising program to help send local kids with muscular dystrophy to the "best week of the year" at MDA Summer Camps at no cost to their families. Circle K Stores and their vendors also participate in an Annual MDA Golf tournament in Charlotte, N.C., for additional fundraising and support opportunities.
Since first teaming up with MDA in 2009, Circle K and its customers have raised more than $4.8 million dollars for the organization.
Mars Inc.
Mars reinforced its commitment to supporting military personnel and their communities by celebrating the delivery of Operation Gratitude's 2,000,000th and 2,000,001st Care Packages at the non-profit's facility in Los Angeles on Dec. 9.
With a surprise announcement in front of thousands of people, two Marine Corps Lance Corporals who recently returned from an overseas deployment received the milestone care packages that included a pair of Super Bowl tickets and two VIP experience NASCAR tickets to the Charlotte 600, courtesy of Mars.    
Operation Gratitude sends 250,000-plus individually addressed care packages annually to soldiers, sailors, airmen, Marines, and Coast Guardsmen, as well as their children, first responders, veterans, new recruits, military families, wounded heroes and their caregivers. Each package contains snacks, hygiene products, entertainment and handmade items such as scarves, hats, and paracord survival bracelets, as well as personal letters of support.
Mars has been an Operation Gratitude partner since 2014.
NATSO
The NATSO Foundation awarded $25,000 in scholarships through the Bill Moon Scholarship program to further the education of five students with ties to the truckstop and travel plaza industry.
Open to truckstop and travel plaza owners and operators, their employees and their families, the Bill Moon Scholarship program was established in 1993 to help advance the education of industry participants. The scholarships provide assistance to those who are planning for their post-secondary education. The program has awarded more than $300,000 in scholarships since 1993.
The winners of the NATSO Foundation's 2017 Bill Moon Scholarship each received $5,000. Winners are:
Seth Drey, Love's Travel Stop #490, Jasper, Tenn.

Stefani Duncan, Hood's Service Center, Bois D'Arc, Mo.

Austin Rofe, TravelCenters of America, Westlake, Ohio

Susan Ridenour, Sacramento 49er Truck Plaza, Sacramento, Calif.

Katarina Schubert, Truck World, Hubbard, Ohio
The scholarship is named after Bill Moon, who founded the Iowa 80 Group and made substantial contributions to NATSO, actively supporting and participating in industry-related government affairs issues. He served as chairman of NATSO in 1989 and as the first chairman of the NATSO Foundation in 1990.
"The NATSO Foundation is pleased to honor the recipients of these scholarships for their pursuit of education and their commitment to the truckstop and travel plaza industry," said NATSO Foundation President Lisa Mullings. "This scholarship program plays a key role in advancing the educational goals of the NATSO Foundation by helping to drive the future success of our industry. We wish each of these scholarship winners academic excellence."
The NATSO Found is research, education and public outreach subsidiary of NATSO, the trade association of America's travel plaza and truckstop industry.
Rutter's Farm Stores
York, Pa.-based Rutter's made an additional $370,000 in charitable donations to bring the 2017 total to more than $715,000 given to Central Pennsylvania charities.
Some of the charities Rutter's supported in 2017 are:
Crispus Attucks

—

$50,000
YMCA of York County

—

$42,800
Junior Achievement

—

$28,300
Make-A-Wish Greater PA & WV

—

$27,200
Leg Up Farm

—

$25,900
Penn-Mont Academy

—

$25,000
Second Century Scholarship Fund

—

$25,000
Creative York

—

$25,000
Appell Center for the Performing Arts

—

$20,000
Rutter's employees also went out to the community and donated to organizations of their choice during "Office Secret Santa." In total, they donated $29,000.
Over the past 14 years, Rutter's Children Charities has donated more than $6.2 million to support charities in the communities it serves.  
Swisher Sweets
The Swisher Sweets Artist Project — an ongoing initiative to provide unique opportunities for artists to create, share and pursue their passion — held a free show at Numbers Nightclub in Houston featuring Grammy-nominated rapper B.o.B and Texas artists Lyric Michelle, KB the Boo Bonic, Gloria Prince and DJ Chose.
At the event, the Swisher Sweets Artist Project made a donation of $25,000 to MusiCares for Hurricane Harvey relief. Debbie Carroll, senior executive director of MusiCares, accepted the donation, which will go toward assisting local musicians directly affected by Hurricane Harvey.
Now in its third year, the Swisher Sweets Artist Project awarded $10,000 in grants for emerging artists in 2017.
The Spinx Co.
During the month of October, Spinx stores and Stewart Spinks, founder and chairmen of the board of The Spinx Co., collectively raised $168,863.54 for the American Cancer Society. Stewart Spinks presented the check to Kelly Jamerson, corporate relations manager for the American Cancer Society, on Nov. 27.
All 80 of Spinx convenience stores in South Carolina contributed to the donation. Stewart Spinks, a cancer survivor himself, matched the donations raised in the top five Spinx stores that had the highest percentage of customers donate.
VERC Enterprises
Massachusetts-based VERC purchased a computer for a rural school in Nepal. The gift came at the request of Rawal Tek, manager of VERC's Lynnfield Gulf. Tek contacted Leo Vercollone, CEO of VERC Enterprises, shortly before traveling to his homeland Nepal in early fall. In his travels, he planned to visit the school he attended as a child in the rural village on the far-Western side of Nepal.
"I want to give one computer to my village school and am asking if you would like to help," Tek wrote in his appeal to Vercollone, noting his pride in working at VERC Enterprises. "I'm happy to be a part of a company that does much in the way of social service."
In less than one day, Vercollone responded with a donation to purchase a Hewlett-Packard laptop computer. "I was delighted when Rawal contacted me and feel privileged that VERC Enterprises could help make a small difference in the village where this valued employee comes from," Vercollone stated.