Community Service Spotlight: CITGO, Murphy USA & Hershey
Get great content like this right in your inbox.
Subscribe
NATIONAL REPORT — Giving back through community service efforts and charitable donations is a positive force that keeps many retailers and suppliers of this industry moving ahead. On a regular basis, Convenience Store News highlights these philanthropic efforts in this special section.
Here are the latest company spotlights:
CITGO Petroleum Corp.
CITGO, the Muscular Dystrophy Association's (MDA) largest corporate sponsor, raised more than $14 million in 2018 to transform the lives of individuals living with muscular dystrophy, ALS and related neuromuscular diseases with breakthrough therapies and innovations in care.
Throughout the year, CITGO employees, marketers and retailers hosted more than 100 fundraising events and sponsored a number of local MDA events, including:
MDA Corporate Golf Challenge in April;

Presenting sponsor for the MDA New York Muscle Team gala;

Golf tournaments hosted by Lake Charles, Lemont and Corpus Christi refineries;

St. Patrick's Day bowling event and the Chicago Muscle Team event hosted by the Lemont refinery;

Walks, golf tournaments, letter writing and other donation campaigns organized by terminal employees;

MDA Shamrocks program, for which CITGO marketers remain the number one seller; and

Founding Sponsor of MDA Team Momentum, the MDA endurance initiative, since 2013.
"We have partnered with MDA over the last 30-plus years because we share similar values and believe in what the organization is doing — working to find a cure for these devastating diseases. Through our continued efforts, we hope to be at the forefront when MDA discovers that cure," said CITGO Executive Vice President Rick Esser.
CITGO has contributed $240 million to MDA since the two organizations began working together in January 1986.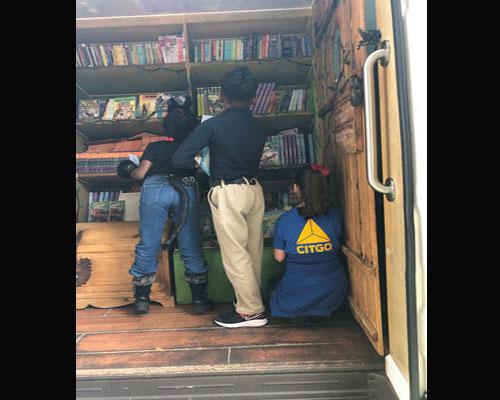 Additionally, in conjunction with National Reading Month, CITGO continued its decade-long partnership with the mobile literacy outreach program Bess the Book Bus for its 2019 nationwide tour.
Since 2008, CITGO has worked alongside Bess the Book Bus to provide children in underserved communities with access to new books in an effort to narrow the achievement gap.
"Bess the Book Bus is one of our favorite initiatives," said Larry Elizondo, CITGO general manager community relations, CSR and legislative affairs. "We've been partners for more than 10 years now, but seeing the look on children's faces as they explore the bus and leave with an armful of books will never get old. Sparking a love of reading is one of the most important ways to foster a spirit of education amongst our youth, which is a core pillar of the CITGO corporate social responsibility program."
Murphy USA
Murphy USA will receive the Arkansas Governor's Corporate Sponsorship of the Arts Awards after being nominated by Laura Allen, executive director of the South Arkansas Arts Center (SAAC). According to Allen, she nominated Murphy USA for its continuous sponsorship of the center's summer musicals.
In the five years since the company began sponsoring SAAC's summer musicals, Murphy USA contributed:
About $100,000, allowing SAAC to produce shows on a grand scale;

About 400 people have been able to participate in the shows; and

About 10,000 people have attended as audience members during this time.
The Governor's Arts Awards were established in 1991 to recognize individuals and corporations that contribute to the arts in the state. 
"We're obviously very excited [to win the award]. We were actually surprised in seeing that we were nominated by the Arts Center," said Keri Kent, communications specialist at Murphy USA. "We're just proud that our love and support of the Arts Center is being recognized and we know that we're making a difference."
Murphy USA's five-year sponsorship agreement with SAAC will run out after this summer's production of "Hunchback of Notre Dame." The company will consider extending the agreement after the production, according to Kent.
Parker's Convenience Stores
Savannah, Ga.-based Parker's donated $27,000 to Beaufort County Schools as part of the company's Fueling the Community program, which donates 1 cent of every gallon of gas sold on the first Wednesday of each month to local schools.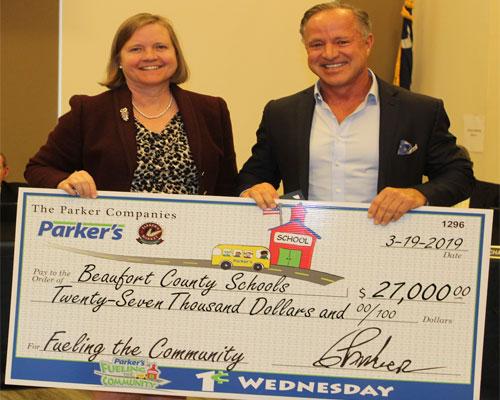 A portion of the Parker's donation funds the school district's annual Support Person of the Year recognition program, which honors school nurses, social workers, bookkeepers, office managers, teacher assistants, school secretaries and technology and data specialists. Other funds go to specific schools designated by Parker's PumpPal customers when they purchase their gasoline on the first Wednesday of each month.
"At Parker's, we're committed to giving back to the Beaufort County community and supporting local schools through our Fueling the Community program," said Parker's founder and CEO Greg Parker. "We know education has the power to transform lives, reduce crime and expand opportunities. We're grateful to all the Beaufort County School District teachers, administrators and staff who work hard every day to support student success in the classroom."
Beaufort County School Board Chair Dr. Christina Gwozoz accepted the donation on behalf of the school district
Pilot Flying J
Travel center operator Pilot Flying J raised $1,068,243 in support of the American Heart Association's (AHA) "Life Is Why We Give" campaign. The contribution exceeds the company's goal of raising $1 million during the month of February, surpassing the $981,000 it raised in 2018.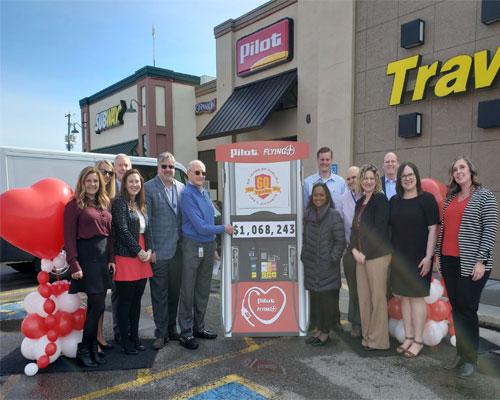 The donation places Pilot Flying J third among top national fundraisers for the AHA's Life Is Why We Give campaign.
"It is always a source of pride to support great organizations such as the American Heart Association, and I am overwhelmed by the combined efforts of our Pilot Flying J team members and guests to make such a big impact for the cause of heart health," said Mike Rodgers, senior vice president and chief strategy and information officer at Pilot Flying J. "We set a lofty goal, and we're thrilled we reached it. But our true hope is that participating in this campaign has raised awareness and action in pursuing heart health and helping those impacted by heart disease and stroke. On behalf of everyone at Pilot Flying J, I extend a huge thanks for all of the support."
The Hershey Co.
The Hershey Co. announced its Makers of Good teen summit will be held June 20 in New York City. The one-day event will bring together teens from across the country to collaborate and develop strategies for overcoming social isolation in their communities.
The Makers of Good teen summit is a program of The Heartwarming Project, Hershey's initiative dedicated to helping teens, parents and teachers create more inclusive and empathetic communities. Beyond Differences, Boys & Girls Clubs of America, Making Caring Common and WE are among the nonprofit collaborators for the teen summit.
Beyond the summit, students across the country will have the opportunity to apply for grants from The Heartwarming Project to bring their social inclusion strategies to life in their hometowns.
"Hershey has remained relevant with consumers for the past 125 years because of our commitment to making meaningful connections between people — a legacy dating back to our founder, Milton Hershey," said Leigh Horner, vice president, corporate communications and sustainability, The Hershey Co. "There are pressing issues facing teens today, and we believe we can help make a positive difference with Gen Z in tackling social isolation and loneliness in a uniquely Hershey way."
Contest details, entries and speaker information will be shared on the summit's Instagram channel.
The Hershey Co. is also taking action to protect forests and restore forest cover in the cocoa growing regions in West Africa as part of the company's commitments as a founding member of the Cocoa & Forest Initiative (CFI). 
Hershey's CFI action plans are organized under three strategic pillars: Forest Protection and Restoration, Sustainable Production and Farmers' Livelihood and Community Engagement and Social Inclusion.
Plans include:
Distributing 900,000 multi-purpose trees to farms in Ghana and Cote d'Ivoire by 2022.

Distributing more than 2.5 million improved cocoa seedlings to farmers in Ghana and Cote d'Ivoire by 2022.

Satellite mapping of 50,000 farms across Ghana and Cote d'Ivoire in the Hershey supply chain by 2019.
"Cocoa, the key ingredient in chocolate, is beloved by people around the world," said Beatrice Moulianitaki, head of sustainable sourcing. "We want to ensure that this cherished product continues to be available for a growing number of consumers worldwide without damaging the forests close to where most of the world's cocoa is grown. With the proper care and resources, we are confident that cocoa can continue to grow while protecting sensitive forests and habitats in the region."
Hershey's CFI action plans will be delivered through its Cocoa For Good sustainable cocoa strategy, announced in April 2018. The plans focus on sensitive forest areas and are designed to inhibit encroachment on these protected areas by implementing locally tailored development programs.