09/14/2018
Community Service Spotlight: CITGO, Speedway & TravelCenters of America
NATIONAL REPORT — Giving back through community service efforts and charitable donations is a positive force that keeps many retailers and suppliers of this industry moving ahead. On a regular basis, Convenience Store News highlights these philanthropic efforts in this special section.
Here are the latest company spotlights:
CITGO
CITGO Petroleum Corp. was named the Habitat for Humanity Texas' 2018 Business Partner of the Year, which recognizes a Habitat for Humanity partner that has displayed a deep commitment to achieving the mission of the organization, excellence in community giving and hands-on volunteerism.
In the wake of the devastating impact of Hurricane Harvey, CITGO volunteers immediately rebuilt 22 homes in the Rockport, Texas, community alongside Habitat. The company also dedicated more than $1 million to Habitat for Humanity Texas and local affiliates to rebuild, rehabilitate and repair homes in impacted areas over the course of the next few years.
Habitat for Humanity Texas' 2018 award ceremony will take place during the annual Lone Star Summit, a convening of more than 50 local Habitat affiliates in Texas.
"We will always believe that actions speak louder than words. And I think that this award proves that belief. We are humbled to be selected as the Habitat for Humanity Texas' 2018 Business Partner of the Year, but we are even more humbled to be part of this great Texas community. It is an honor to give back when it is in need," said Rafael Gomez, CITGO vice president of strategic shareholder relations, government and public affairs.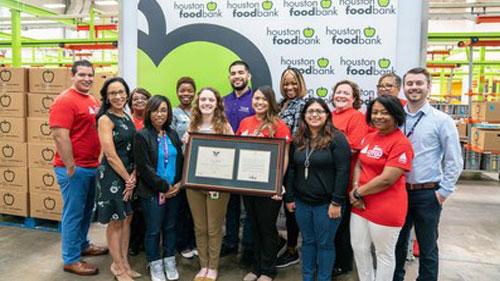 Additionally, TeamCITGO, the company's employee-driven volunteer group, was awarded the Bronze President's Volunteer Service Award by the Houston Food Bank. The award recognizes the Houston-based team's cumulative volunteer time at the Food Bank in 2017, including more than 3,000 community service hours across 67 volunteer opportunities for 44 unique organizations and school districts.
"To be honored for our service initiatives in any capacity is meaningful, but to be recognized on the national level truly distinguishes TeamCITGO," Gomez commented. "Volunteerism is one of the core principles of CITGO. Every day, our volunteers across the nation carry out the company's commitment to bettering the communities in which we work and live. This award is a reminder of the impact we can make, and the work we have yet to accomplish."
TeamCITGO was founded more than 30 years ago with the purpose of making a difference throughout the CITGO operational footprint. 
Church's Chicken
As part of the 2018-2019 Church's Scholars Program, Church's Chicken will distribute scholarships to 227 high school students across the U.S.
Now in its fourth year, Church's Scholars has awarded more than 600 in scholarships to deserving high school students. This year, the program $227,000 worth of scholarships, made possible by the support of Church's Partners Foundation Inc., which oversees the program that recognizes students for their educational merit, and Church's Chicken franchise restaurants.
Each one of the 227 scholarship recipients will receive $1,000 toward their tuition during the 2018-2019 academic year at an accredited two-year or four-year college, university or vocational/trade school in the United States.
In addition to the funds supplemented by direct contributions from franchisees and vendor partners, an annual coupon booklet sale purchased by customers at Church's Chicken restaurants is one of the primary generators of funding.
Cumberland Farms
The Westborough, Mass.-based c-store retailer hosted a one-day fundraiser on July 27 for the Officer Michael Chesna Family Fund at its two Weymouth, Mass., locations. On that day, the company donated 20 cents for every hot and iced coffee and Chill Zone beverage purchased to the association.
Michael C. Chesna, 42, was a member of the Weymouth Police Department for six years and was killed in the line of duty during a shooting in early July. He was also an Army veteran and a Purple Heart recipient who served two tours following 9/11. 
"We have great respect and appreciation for those who protect and serve our communities and are deeply saddened about the passing of Officer Chesna," said Ari Haseotes, CEO of Cumberland Farms. "Our thoughts go out to those affected by this loss, and we hope our donation will help lend some support to Officer Chesna's family and the Weymouth community during this difficult time."
Cumberland Farms also kicked off its 7th annual Cups for Kids campaign, a month-long fundraiser that benefits pediatric care programs at five regional hospitals. Throughout the month of August, 5 cents from every iced coffee or Chill Zone beverage, including HYPERFEEZE, purchased at participating retail locations across the Northeast will be donated directly to pediatric care programs at partnering children's hospitals. 
"The time has already come to kick off another Cups for Kids fundraiser. Last year, we donated over $145,000 to our hospital partners and we couldn't be more proud to give back to the local hospitals in the communities we serve," commented Haseotes. "To help us exceed our donation from last year, we encourage our customers to head to their local stores and support the fundraiser this month."
Participating hospitals, as well as their selected Cumberland Farms beverage for the fundraiser, are:
Floating Hospital for Children at Tufts Medical Center — Iced coffee

Children's Hospital at Dartmouth-Hitchcock — Iced coffee

Bernard & Millie Duker Children's Hospital at Albany Medical Center — Chill Zone beverages

Connecticut Children's Medical Center — Chill Zone beverages

The Barbara Bush Children's Hospital at Maine Medical Center — Chill Zone beverages
Kwik Trip Inc.
Wisconsin-based Kwik Trip raised more than $81,000 during its 2018 coin canister campaign to support the Partnership for a Healthier America (PHA). Throughout the month of June, all 570 Kwik Trip locations in Wisconsin, Minnesota and Iowa urged guests to support PHA's work with the placement of canisters at every checkout.
"Kwik Trip is proud to help raise money and awareness in the communities we serve in support of the Partnership for a Healthier America's mission and efforts to promote healthier eating options, fitness initiatives, and lifestyles for our youth," said Dave Ring, Kwik Trip's Community Relations manager.
The convenience store retailer first partnered with PHA in 2014 and has made a number of advancements to make healthier choices more accessible for their guests, which included growing its EatSmart program and becoming the first convenience store to offer a PHA-approved snack bundle. In 2016, Kwik Trip expanded its PHA commitment to offer an increased variety of healthier options, including healthier packaged foods like nuts and whole grain granola bars throughout the store, and increasing healthier options in the checkout area.
Parker's
Parker's Convenience Stores is teaming up with the Chatham Emergency Management Agency (CEMA) before and after major storms to help Chatham County residents.
When a mandatory evacuation order is issued during a major storm, the c-store retailer will provide nutritional assistance to residents. Parker's has also agreed to use three of their locations after the storm to serve food to Chatham County employees. The stores will also provide fuel to the county if necessary.
"We have a profound need to support the community during a time of crisis. In the case of an emergency, convenience stores are the last to close and first to open to service the needs of the community. Parker's takes this job very seriously," said Parker's President and CEO Greg Parker.
Parker's will be reimbursed for all their expenses. 
Sheetz Inc.
Sheetz For The Kidz raised more than $598,000 during its annual July campaign through customer donations. The nonprofit set a new record, exceeding last July's fundraising total by more than $34,000. One-hundred percent of customer donations are used to directly support Sheetz For The Kidz programs.
"We are grateful for our customers and employees who continue to drive our fundraising campaigns every July and December," said Sarah Piper, executive director of Sheetz For The Kidz. "All donations will support local children during the holidays and grant wishes for children with life-threatening medical conditions living in our communities!"
Throughout the 2018 holiday season, Sheetz For The Kidz will support close to 9,500 children — which amounts to 16 children from each of Sheetz's 578 stores — through partnerships with The Salvation Army and Make-A-Wish.
Speedway LLC
Speedway LLC raised more than $2.5 million for Children's Miracle Network (CMN) Hospitals during the 27thannual Speedway Miracle Tournament held at NCR Country Club in June. The Speedway Miracle Tournament is the centerpiece of Speedway's annual CMN Hospitals fundraising efforts and set a new record again this year thanks to the generous support of Speedway's vendor partners.
Speedway Miracle Children and their families, representing 32 CMN member hospitals, were in attendance at the event. The outing had nearly 800 golfers participate. The event also included a celebration dinner with a medals ceremony for the kids, along with a surprise visit from golf legend Jack Nicklaus and his wife Barbara, who are long-time supporters of CMN Hospitals and founders of the Nicklaus Children's Health Care Foundation.
"As a partner of Children's Miracle Network Hospitals for the past 27 years, Speedway has raised over $100 million to support 58 Children's Hospitals throughout the communities where Speedway operates," said Tony Kenney, president of Speedway. "This incredible milestone is a testament to the generosity of Speedway's customers, business partners, and employees. It is amazing to witness the life-changing work these hospitals do to help so many sick and injured kids and their families, each and every day of the year."
Since 1991, Speedway has raised more than $100 million for CMN Hospitals, primarily through year-round fundraising in the stores and other initiatives such as an employee payroll deduction program.
TravelCenters of America LLC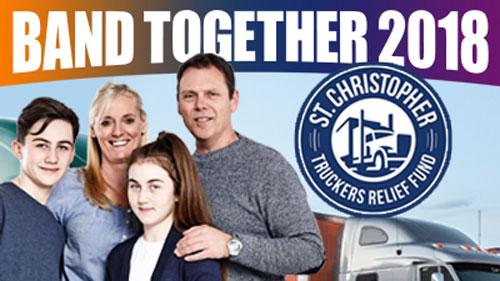 On Aug. 15, TravelCenters of America (TA) kicked off its annual campaign in support of the St. Christopher Truckers Develop and Relief Fund (SCF), a nonprofit helps truck drivers suffering financial hardship due to being out of work for an illness or injury. The month-long campaign is running at participating TA and Petro locations through Sept. 30.
During the event, guests and employees at TA and Petro Stopping Centers are invited to make contributions. New this year, commemorative 3"x 3" window clings will be made available for $1, along with the annual wristbands and SCF keychains for $1 and $5, respectively. Contributions may be made at participating TA and Petro restaurants, travel stores, fuel buildings and truck service facilities. One hundred percent of proceeds go directly to SCF.
"With driver health and wellness becoming a higher priority within the truck driving industry, we understand how important it is for drivers to have access to appropriate medical and financial support that will help get them safely back on the road," said Barry Richards, TA president and chief operating officer. "We are honored to continue our support with SCF this year and look forward to another successful Band Together campaign."
TravelCenters has been supporting drivers through the SCF since 2010. The TA and Petro annual campaign marks the largest single contribution the Fund receives each year.