09/23/2020
Community Service Spotlight: Enmarket, Kraft Heinz, MAPCO, PepsiCo & Van's Kitchen
NATIONAL REPORT — Giving back through community service efforts and charitable donations is a positive force that keeps many retailers and suppliers of this industry moving ahead. On a regular basis, Convenience Store News highlights these philanthropic efforts in this special section.
Here are the latest company spotlights:
Casey's General Stores
Ankeny, Iowa-based Casey's supported local, community needs in some of the areas hit hardest by the derecho. Among the convenience retailer's efforts:
The American Red Cross stationed in Cedar Rapids, Iowa, received a truckload of 19,500 bottles of water, and the American Red Cross of Central Iowa received water and snacks for volunteers.

A $10,000 donation was distributed among two food banks in eastern Iowa and central Illinois, including HACAP in Cedar Rapids and River Bend Food Bank in the Quad Cities area of Iowa and Illinois.

Approximately 2,000 pizza slices were provided to frontline energy workers who came from all areas to support Alliant Energy's recovery work in Iowa.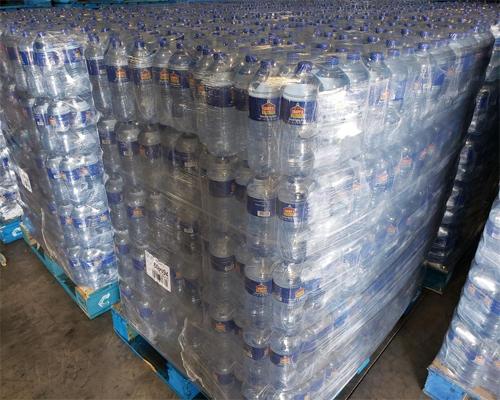 "This was a devastating storm and the recovery continues in many towns that Casey's calls home. Our guests are the people you see stepping up for each other in these tough times, so we have been working to be here for them," said Katie Petru, director of communications and community at Casey's. "Our dedicated team members worked tirelessly to continue to serve guests in the immediate aftermath. And, we have been sending resources to the American Red Cross, including a truckload of water today, and donations to food banks."
Casey's also kicked off an in-store fundraising campaign on Sept. 8 to benefit Feeding America and 58 local food banks across the Midwest during Hunger Action Month. As part of the retailer's partnership with Feeding America, Casey's has set a goal for Hunger Action Month to donate 10 million meals to school-aged children and their families who are experiencing food insecurity within its communities.
To help achieve this goal, Casey's has engaged Coca-Cola in the effort, including special offers on Coca-Cola at Casey's stores. For example, when consumers buy a Coca-Cola four-pack for $5, Casey's will donate $1 directly to Feed America, up to $50,000.
Customers can also donate change by rounding up in-store purchases.
Chevron Corp.
San Ramon, Calif.-based Chevron contributed $250,000 from the Chevron Global Community Fund to the American Red Cross to support relief efforts for wildfires in California. The company will also match any qualifying donations to wildfire relief efforts made by employees and retirees.
"Our thoughts are with those impacted by the overwhelming effects of this situation and the people on the front lines battling to contain and extinguish the fires," said Dale Walsh, vice president of corporate affairs for Chevron. "This donation reflects our ongoing commitment to help people in the communities where we do business during challenging times."
The company has also previously committed $2 million to the California Fire Foundation (CFF) for a four-year program to support CFF's direct victim assistance program, Supplying Aid to Victims of Emergency (SAVE).
EG Group
EG Group and the 1,682 convenience stores it operates across the United States kicked off an in-store fundraising campaign with United Way. Donations will help drive funding for youth development and educational resources across the communities in which EG Group c-stores operate.
Customers can visit any Cumberland Farms, Certified Oil, Fastrac, Kwik Shop, Loaf 'N Jug, Minit Mart, Quik Stop, Tom Thumb and Turkey Hill location to participate by donating a dollar amount of their choosing to a local United Way chapter at checkout. The campaign runs Sept. 9 to Oct. 9.
"We're proud to help support the United Way in its efforts to improve the lives of children through education," said George Fournier, president of EG America. "Supporting the communities in which we serve has always been something we believe in, and this partnership is a key part of our commitment. We encourage everyone to stop by their local store to participate."
Enmarket
Savannah, Ga.-based Enmarket sponsored a coalition of local businesses who donated 51,000 reusable 20-ounce translucent water bottles to returning students in Savannah-Chatham and Effingham County public schools. The effort was intended to help ensure a safer experience for students since state guidelines recommend that schools turn off school water fountains during the COVID-19 pandemic.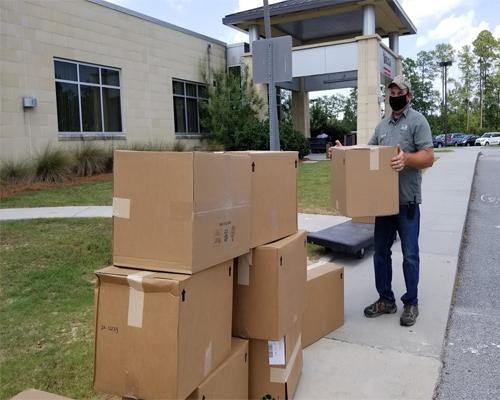 Enmarket became the project's principal sponsor, providing 32,000 bottles to be distributed to 14,000 students. The retailer joined the project's initial sponsors, Thomas & Hutton, Savannah Technical College, Gulfstream Aerospace Corporation, ServiceMaster of Savannah, the YMCA of Coastal Georgia and Healthy Savannah.
"When we became aware of this need, we saw a way to give back to the community, give back to the education system and to make school a safe experience for students," said Brett Giesick, president of Enmarket. "When school officials deem it's safe for students to return, then they will have these bottles to use."
Kraft Heinz Co.
Capri Sun, a Kraft Heinz brand, swapped its juice for filtered water and donated 5 million filtered water pouches to schools in the Chicagoland area and Granite City, where its factory is located.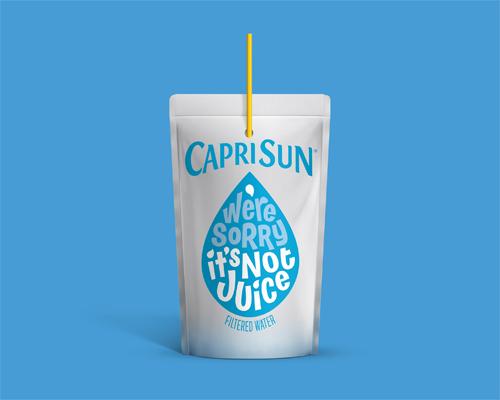 "As a brand that exists to support families, when Capri Sun heard water fountains were going to be off limits when schools reopened, we saw an opportunity to step up and help out," said Naor Danieli, associate director – kids hydration, Kraft Heinz. "With a tremendous amount of collaboration across all our Capri Sun teams, we worked quickly to create Capri Sun Filtered Water and hope it will make life easier for parents while making water slightly more fun for kids."
As part of the reveal, Capri Sun invited real kids to test out the new product to capture their unfiltered reactions. The inevitable letdown when they learn it's filtered water and not juice can be seen in a new video online. 
Kum & Go LC
Kum & Go donated $10,000 to Capital City Pride (CCP), one of the country's fastest growing Pride Organizations in the country, for commitment as a platinum sponsor for the organization's 2020-2021 LGBTQ+ virtual run, Pride Stride, for National Coming Out Day.
"Kum & Go believes that supporting Pride is about more than a financial contribution to a weekend festival. It is about showing up for LGBTQ+ communities in meaningful ways, welcoming all individuals into our stores as customers and associates, continuously educating ourselves, and actively demonstrating this support through a yearlong partnership," said Kum & Go Philanthropy Manager Emily Bahnsen. "While 2020 has been a difficult year, Capital City Pride remains committed to these same values. We are proud to return as a platinum sponsor because of this commitment."
Kwik Chek
Kwik Chek, headquartered in Spicewood, Texas, raised $2,631 for Texas CASA and several local CASA programs through the Round Up for CASA program, which raises funds at the register from guests who round their purchase up to the nearest dollar.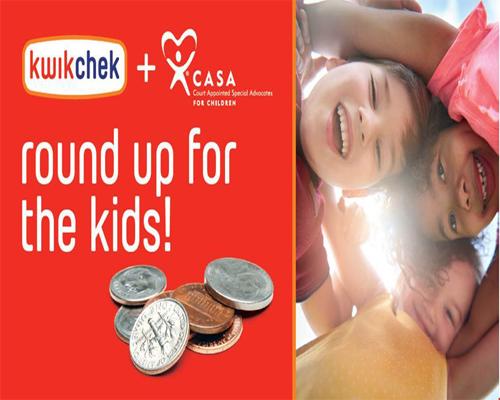 Since 2008, Kwik Chek has donated more than $622,000 to Texas CASA, whose mission is  to improve the child protection system through legislation and other positive public policy changes while speaking up for children in the system and pairing volunteer advocates with every child in state care due to abuse and neglect. 
Love's Travel Stops & Country Stores
Love's kicked off an in-store campaign to support Children's Miracle Network (CMN) Hospitals. From Aug. 31 to Oct. 31, customers can donate any amount to CMN Hospitals, or purchase a raffle ticket or CMN Hospitals merchandise, including face coverings, to benefit the organization.
"Now more than ever, it's important for us to help sick and injured kids in the communities where we live and work because of the impacts of COVID-19," said Jenny Love Meyer, chief culture officer and executive vice president of Love's. "We are honored to continue our partnership with Children's Miracle Network Hospitals because we know the impacts of their life-saving work."
In addition, on Sept. 29 for National Coffee Day, customers were able to purchase any sized coffee for $1 with all proceeds going to CMN Hospitals. Coffee purchases had to be made through the Love's Connect app for the deal. And, for the first time, customers were able to reply to Love's social media posts on National Coffee Day with a photo of their Love's coffee and the travel center operator donated an additional $1 to CMN Hospitals.
Oklahoma, City-based Love's also announced it has raised more than $845,000 in its Round Up the Change campaign to support CMN Hospitals and help with the national coin shortage.
Love's partnership with CMN Hospitals began in 1999 and the company has raised more than $31 million for the organization.
MAPCO
During Childhood Cancer Awareness Month (September), MAPCO participated in a mask sale donation campaign to benefit St. Jude Children's Research Hospital. The company planned to raise $100,000 from in-store facemask sales across its seven-state footprint.
The mask donation campaign provided guests with the unique opportunity to protect themselves from COVID-19, while also helping support the St. Jude mission, the convenience retailer said. Twenty-five percent from every facemask purchased at a MAPCO location was donated to St. Jude.
"Being active members of the community is part of our mission, so making high-quality masks available at a convenient price and helping St. Jude during Childhood Cancer Awareness Month is a perfect match for MAPCO," said Frederic Chaveyriat, CEO of MAPCO. "While we're focused on preventing the spread of COVID-19, we need to say thank you to all of our customers and team members for the confidence that they have given to MAPCO that make possible to us continue supporting the community, especially to St. Jude's mission to fund critical research, aid families, and ultimately save children's lives."
MAPCO guests were also able to support St. Jude and other charity organizations by donating to in-store coin boxes or by going to MAPCO's website.
Murphy USA
El Dorado, Ark.-based Murphy USA kicked off its Home Office 2020 United Way campaign the week of Sept. 14, generating record employee pledges in excess of $375,000. With the company's match, the total donation of $750,000 will support Union County United Way organizations.
Additionally, the c-store operator donated $10 million to the Murphy USA Charitable Foundation, which will continue to support positive changes in local communities with an emphasis on El Dorado and southern Arkansas. The Foundation funds the company's matching gifts, including United Way, as well as sponsorships like Murphy USA's national partnership with Boys and Girls Club of America, where customers in 2020 have already rounded up more than $1 million.
This gift will further sustain existing local programs like the Murphy Arts District as it looks to reopen post COVID-19, as well as new community programs like the Summer Youth Work Program, which is coordinated with the City of El Dorado.
"In the midst of everything that has happened in 2020, I couldn't be more proud of our generous customers and engaged employees who have truly stepped up to help these organizations make a positive impact in a time of need to the communities we serve and support together," said Murphy USA President and CEO Andrew Clyde.
Parker's
Savannah-based Parker's donated $30,000 to Beaufort County Schools in South Carolina as part of the company's Fueling the Community program, which donates 1 cent of every gallon of gas sold on the first Wednesday of each month to local schools.
A portion of the Parker's donation funds the school district's annual Support Person of the Year recognition program, which honors school nurses, social workers, bookkeepers, office managers, teacher assistants, school secretaries and technology and data specialists. Additional funds go to specific Beaufort County schools designated by Parker's PumpPal customers when they purchase fuel on the first Wednesday of each month.
"At Parker's, we believe in the power of education," said Parker's founder and CEO Greg Parker. "We know education has the ability to transform lives and to create opportunities right here in Beaufort County. We're honored to give back to the Beaufort County community and to support hardworking teachers, staff and students during this challenging time."
Launched in 2011 with a mission to give back to every community where Parker's does business, the Parker's Fueling the Community charitable initiative distributes more than $200,000 annually to public and private schools throughout Georgia and South Carolina.
PepsiCo
PepsiCo's Lay's brand is converting millions of potato chip bags to feature the real smiles of 30 "ordinary" people doing extraordinary things in their communities. The new Lay's bags continue the brand's mission to inspire even more smiles in 2020, with up to $1 million in proceeds benefitting Operation Smile, an international medical charity that provides access to safe surgical care to those who have cleft conditions.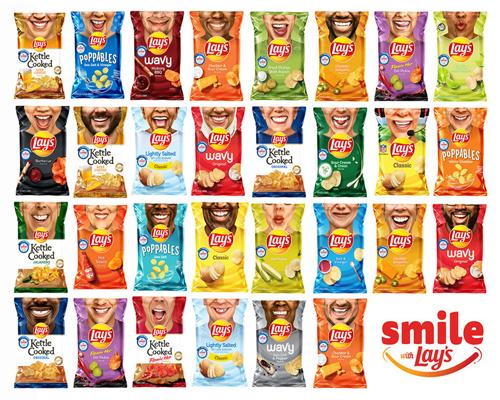 The Lay's Smiles packaging and brand's digital media channels will also spotlight the unique stories of these 30 "Everyday Smilers" whose impact includes helping the homeless, veterans, youth, elderly and more — in hopes that their inspiring work will bring smiles to the faces of people across the country, the company stated.
The Lay's Smiles bags are available nationwide while supplies last.
Additionally, Frito-Lay and Feed the Children have partnered to launch the "Building the Future Together" initiative, assisting thousands of students across the U.S. in the 2020-2021 school year. The campaign will provide 250,000 shelf-stable meals, Frito-Lay Variety Packs, educational supplies, personal care products and books to schools in underserved communities, including Atlanta, Baltimore, Dallas, Detroit, Houston, Los Angeles, Orlando, Fla., and Phoenix.
Monthly distributions will consist of:
1,000 pounds of shelf-stable items such as canned veggies, peanut butter, tuna, cereal and pasta  

1,000 pounds of personal care items such as shampoo, conditioner, toilet paper and beauty supplies

Up to 2,400 books per school each semester

2,300 individual items that includes educational school supplies and additional personal hygiene items such as toothbrushes, toothpaste and deodorant

1,200 bottles of hand sanitizer  

500 bags of Frito-Lay Variety Packs
The program is a shift from a one-day community event to a year-long initiative to meet the current needs of underserved students navigating a completely different learning environment, Frito-Lay stated.
Pilot Co.
Pilot Co. and the Haslam family donated $5 million to East Tennessee Children's Hospital to renovate the Emergency Department (ED) at the hospital's main campus on Clinch Avenue in downtown Knoxville. The facility will be named Pilot Emergency Care Center, in honor of past, present and future Pilot Co. team members and their families.
The new ED will feature a dedicated behavioral health care section, providing safe spaces for patients receiving treatment or awaiting inpatient placement. Sensory sensitive rooms also will be available. Additional enhancements will include dedicated trauma rooms and an expanded lobby to safely separate sick and injured patients. All exam, treatment and meeting areas will provide increased privacy for patients and families.
"East Tennessee Children's Hospital is a beacon of hope in our community. The new Emergency Department will enhance the offerings and efficiency of the world-class children's hospital in the heart of Knoxville, as well as provide improved comfort and amenities to families seeking treatment," the Haslam family said in a statement. "We are grateful to partner with East Tennessee Children's Hospital in setting the standard for pediatric emergency medical care in our region."
TravelCenters of America Inc.
TravelCenters of America (TA) launched its first point-of-sale (POS) fundraising campaign to benefit the St. Christopher's Trucker Relief Fund (SCF). Customers have the option to round up their order to the nearest dollar, which will be donated toward helping professional drivers who may be out of work due to an illness or injury.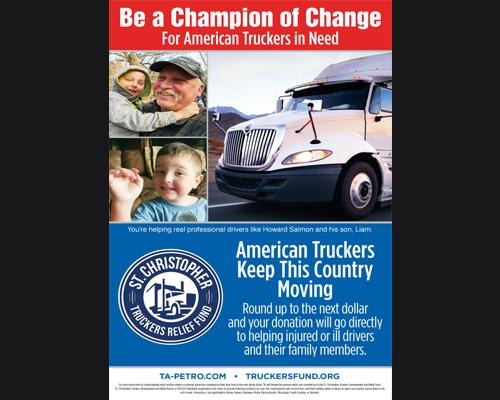 "We're committed to giving back to the millions of professional drivers who call us their home away from home," said Barry Richards, president of TA. "These men and women sacrifice so much for our country, including their own physical health. This point-of-sale campaign provides an easy way for fellow drivers, our other customers and our employees to help those in need."
The campaign will run at participating TA, Petro and TA Express travel centers through Nov. 30. TA began its support of SCF in 2010 and has raised nearly $3 million for the organization.
Van's Kitchen
Van's Kitchen, the flagship brand of VAN Oriental Food, continues to donate more than 90,000 egg rolls, or 45,000 meals, to local foods banks in North Texas every month. This is a tradition the company has kept for more than 14 years.
"We believe that all people are 'Made to Love,' so every egg roll we make is an extension of love for people. We can't help but share that love with others," said Chief Strategy Officer Carl Motter.
In addition to monthly donations, Van's Kitchen also supports local heroes. In June for National Egg Roll Day, a national day that Vanss Kitchen founded in 2019, Motter hand-delivered care packages of egg rolls to local fire stations to help them celebrate and to thank them for their hard work during the pandemic.
The Wills Group
Family-owned the Wills Group, operator of Dash In convenience stores, raised more than $153,000 in support of the Blackie Wills Community Leadership Fund at its fourth annual Blackie Wills Golf Classic event.
"Our communities need us now, more than ever. COVID-19 has shone a bright light on the disparities in our communities and the increased needs of our most vulnerable neighbors," said Lock Wills, chairman, CEO and president of the Wills Group. "We are thankful for everyone who participated in this year's golf classic and contributed to the Blackie Wills Community Leadership Fund. These contributions will enable the Wills Group to continue our efforts to end childhood hunger."
Since March, the Wills Group has donated $500,000 through the Blackie Wills Community Leadership Fund to support regional food banks and nonprofit organizations as they address increased hunger and food insecurity as a result of COVID-19.