06/27/2018
Conagra Brands to Acquire Pinnacle Foods, Growing Frozen Food & Snacks Presence
CHICAGO and PARSIPPANY, N.J. — Conagra Brands Inc. is one step closer to acquiring Pinnacle Foods Inc.
Both companies' boards of directors unanimously approved a definitive agreement under which Conagra Brands will acquire all outstanding shares of Pinnacle Foods.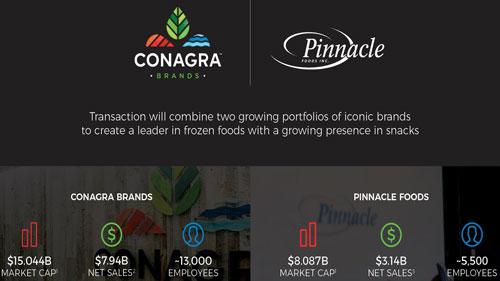 The cash and stock transaction is valued at approximately $10.9 billion, including Pinnacle Food's outstanding net debt. Under terms of the deal, Pinnacle Foods shareholders will receive $43.11 per share in cash and 0.6494 shares of Conagra Brands common stock for each share of Pinnacle Foods held.
"Today's transaction provides Pinnacle Foods shareholders with substantial and immediate value, as well as the opportunity to participate in the significant upside potential of the combined company," said Pinnacle Foods CEO Mark Clouse. "Because of our employees' incredible work, Pinnacle's total shareholder return is approximately 275 percent since our IPO, and today marks an important milestone in the company's journey.
"The portfolios and capabilities of both enterprises are impressive and complementary. We look forward to working through a seamless transition with the Conagra Brands team," he added.
According to the companies, the combination of two growing portfolios of iconic brands will serve as a catalyst to accelerate value creation for shareholders. The transaction will enhance Conagra Brand's multi-year transformation plan and expand its presence and capabilities in its most strategic categories, including frozen foods and snacks.
Pinnacle Foods's portfolio of frozen, refrigerated and shelf-stable products includes well-known brands such as Birds Eye, Duncan Hines, Hawaiian Kettle Style Potato Chips, Hungry-Man, Log Cabin, Tim's Cascade Snacks and Wish-Bone. The company's annual net sales exceed $3 billion.
"The acquisition of Pinnacle Foods is an exciting next step for Conagra Brands. After three years of transformative work to create a pure-play, branded food company, we are well-positioned to accelerate the next wave of change," said Sean Connolly, president and CEO of Conagra Brands. "The addition of Pinnacle Foods' leading brands in the attractive frozen foods and snacks categories will create a tremendous opportunity for us to further leverage our proven innovation approach, brand-building capabilities, and deep customer relationships.
"With greater scale across leading, iconic brands, an unwavering focus on driving profitable growth, and a strong balance sheet and cash flow, we are creating a tremendous platform to drive meaningful shareholder value," he continued.
Other compelling strategic and financial benefits of the acquisition, according to the companies, include:
EPS Accretive
On a percentage basis, Conagra Brands expects the transaction to be low single-digit accretive to adjusted EPS in the fiscal year ended May 2020 and high single-digit accretive to adjusted EPS in the fiscal year ended May 2022. 
Synergy Opportunities
Conagra Brands expects to achieve approximately $215 million in annual run-rate cost synergies by the end of fiscal year 2022, with one-time cash costs to achieve the synergies estimated at approximately $355 million, inclusive of expected capital expenditures of approximately $150 million.
Integration Capabilities
The two organizations share complementary portfolios, supply chains, and results-oriented cultures, which are expected to facilitate integration.
The $10.9-billion purchase price is expected to be financed with $3 billion of Conagra Brands equity issued to Pinnacle Foods shareholders and $7.9 billion in cash consideration funded with $7.3 billion of transaction debt and approximately $600 million of incremental cash proceeds from a public equity offering and/or divestitures.
Goldman Sachs and Centerview Partners are acting as financial advisors to Conagra Brands, and Jones Day is acting as its legal advisor. Evercore and Credit Suisse are acting as financial advisors to Pinnacle Foods and Cravath Swaine & Moore LLP is acting as its legal advisor. Morgan Stanley and Rothschild & Co. provided strategic advice to Pinnacle Foods.
The transaction is expected to close by the end of the year. It is subject to the approval of Pinnacle Foods shareholders, as well as regulatory approvals and other customary closing conditions.