Conagra Creates Specialized Team Around Protein Snacking
Get great content like this right in your inbox.
Subscribe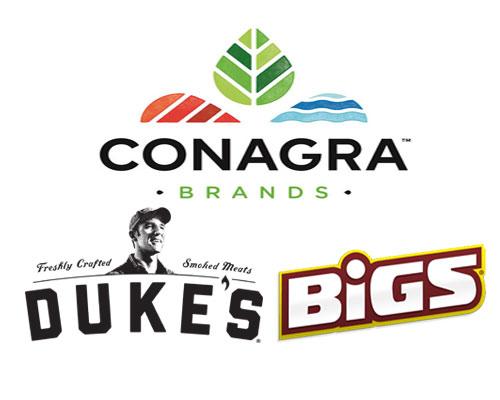 CHICAGO — With its acquisition of Thanasi Foods LLC in the books, Conagra Brands Inc. is ready to taking protein snacking to a whole new level.
"I think [the acquisition] is a critical signal that Conagra is committed to growing in this space," Adam Beane, senior brand manager, Slim Jim, told Convenience Store News in an exclusive interview.
Based in Chicago, Conagra Brands already managed the Slim Jim meat snack and David Seeds brands. This March, the company entered into a definitive agreement to acquire Thanasi, maker of Duke's Premium Smoked Meats and BIGS seeds. The deal was completed in April.
Although Conagra already had a strong portfolio of snack brands, the company started thinking about the number of other snack investments it had, and believed there was an upside to growing in the space, Beane explained. Upon evaluating what Thanasi could offer with the Duke's and BIGS brands, Conagra knew those products could fit well into its existing portfolio without "stepping on the toes and sources" of the Slim Jim and David brands.
"The acquisition is not meant to say we didn't believe in our existing brands, it's to say that the Duke's and BIGS brands are now a strong complement to the brands we already have," Beane stressed.
To leverage the uniqueness that the combined entity now offers, Conagra recently formed what is internally known as the "Protein Snacking Group," a specialized cross-functional team of subject matter snacking experts. Combining legacy Conagra and Thanasi members into one team, the Protein Snacking Group brings together experts in brands, sales, consumer insights, sourcing, branding and more, who are hyper-focused on the meat snacks and seeds categories, as well as on the convenience channel.
"As the name implies, you can gather that yes, today we're thinking about meat and seeds snacks, but we didn't call ourselves 'Meat and Seeds.' We called ourselves 'Protein Snacking' because that leans more toward potential future innovation," said Beane. "Conagra ultimately believes that it has the brands and teams in place and the opportunity to become the No. 1 manufacturer in the meat snacks and seeds categories."
Now that Conagra and Thanasi are moving forward as one team, an "innovation engine" has been created and gives the convenience channel the opportunity to benefit from the acquisition, Erik Havlick, vice president, sales for Thanasi, explained to CSNews.  
Collaboration within the team has provided a vision to articulate what these two categories could look like in the convenience channel and beyond, starting with how a product would go to market and then continuing on to how that product would be promoted and the ways it could disrupt the categories effectively from a display and merchandiser standpoint, said Havlick.
Conagra has the ability and intelligence on the category management side to be able to focus on convenience in a way the company hasn't in the past, he noted.
"The message that we want to send out there is that Conagra is serious about snacking, and I think that by extension that means that Conagra is serious about the convenience channel. When you start to combine these pieces, you start to realize the awesome opportunity and awesome responsibility that we have at Conagra to be a true trade partner to our c-store customers and help guide these categories," the sales VP said.
To get the message out to convenience retailers, suppliers and consumers about what Conagra has planned for the meat snack and seeds categories, messaging about the combined power of the portfolio debuted at the 2017 Sweets & Snacks Expo, which took place soon after the Thanasi acquisition closed. 
Since then, the team has been sharpening its protein snacking strategies and meeting with core convenience distributors, while continuing to drive the message home with its brokerage partners and direct sales force, leading up to the 2017 NACS Show, which will take place at Chicago's McCormick place Oct. 17-20. The team expects to land "an impactful message" at the NACS Show from both a booth and team standpoint, according to Havlick.
MEATY INNOVATION
Innovation in meat snacks has been "interesting," according to Beane, and he says this will continue to be the case in terms of forms, sourcing and product claims.
Today, Conagra's meat snack portfolio has 22-percent share in the convenience channel, which is roughly half the size of Jack Link's, which holds the No. 1 share at 45 percent. However, Conagra has the No. 1 meat stick brand with Slim Jim; the No. 1 premium smoked sausage snack brand with Duke's; and the No. 1 pickled sausage brand with Penrose, Beane noted.
Innovation has been leading the way in the Duke's brand, especially with its line of Smoked Shorty Sausages. The product launched in 2016 in a form that was completely new to the market and is currently available in seven varieties. 
"From a brand, segment and form standpoint, it's pretty exciting to take the leadership position in that [format]," Havlick said. "There is so much mojo and growth of Shorty Sausages, which has been explosive. Last year, the segment grew 130-plus percent, which is indicative of tremendous adoption out there."  
At the 2017 NACS Show in Chicago, Duke's will debut a line of 100-percent grass-fed brisket strips. According to Havlick, some jerky is overly dry and tough to eat, so consumers have to muscle through it, while other jerky tends to be tender but has a higher sugar content than consumers would like. The brisket strips aim to be an alternative that closes that gap by delivering a tender, flavorful bite without using sugar as a tenderizer. Flavors will include sea salt, original, honey bourbon, chipotle barbeque, and chili lime.
Innovation is also playing a part in Conagra's Slim Jim brand. In 2016, the key Slim Jim launch for the year was its first-ever 100-percent turkey stick, which brings the flavor experience of a Slim Jim, while delivering half the fat and half the calories of a traditional stick.
Slim Jim will show off more of its latest creations at the NACS Show with the introduction of a Premium Smoked Sticks line. The line essentially takes the idea of a shorty sausage and puts a Slim Jim twist on it, bringing the intense, bold and spicy flavors the brand is known for. The premium line is also designed in such a way to attract and keep Slim Jim lovers who may be easing out of the brand due to attitude or product format, according to Beane.
"This product makes sure [those consumers] have somewhere to go and stay in the Slim Jim franchise and the Conagra franchise longer their as preferences change," he noted.
Slim Jim Premium Smoked Sticks feature 100-percent grass-fed beef or 100-percent premium pork with contemporary flavors. The sticks are free from artificial colors, flavors or added MSG. Each serving contains at least 10 grams of protein. Three flavors are available: Smokehouse Original, Thai Style Chili, and Memphis Style BBQ.
CRACKING OPEN SEEDS' POTENTIAL
The seeds side of the business is seeing some exciting movement as well. For starters, the David brand is coming out with a new spicy queso-flavored sunflower seed through a partnership with Chicago Cubs second baseman and temporary shortstop Javier Baez.
Conagra worked with Baez directly to develop the new flavor and add his name and image to the packaging. The partnership — which also includes the Cubs team — will use and leverage Baez across Conagra's social media. The partnership will continue into next season.
"David in the sunflower category, in general, has a strong historical tie to baseball, so being able to partner with Javier, who is such a young, dynamic star within MLB and is a David seed lover himself, is a really great opportunity for us," Beane shared.
Conagra is also in the final stages of what it believes will be "one of the biggest and boldest licensing partnerships for BIGS," according to Havlick.
BIGS — which is known for its iconic ingredient partnerships with companies like Vlasic, Hidden Valley Ranch and Old Bay, is "excited to continue that legacy with another flavor introduction in the near future that will carry with it a very relevant partnership," Havlick said, noting that the company could not disclose further details at this time.